Complete the two steps below and come closer to reaching your goal!
Step 1
Fill out an online application.*
*If you are honorably discharged military, the fee is waived,
and a representative will send a waiver.
Step 2
Complete and sign an online enrollment packet.
---
Access to the right technology will be vital to your success at Escoffier.
If you do not currently have access to a computer, we highly recommend purchasing one before your start date. Chromebook computers are typically a very affordable option, and will meet all requirements of our programs.
How do I get a Chromebook?
You can get a Chromebook in any one of the following ways:
Purchase from a retailer:

Walmart offers many options, and some of their Chromebooks even include monthly finance plans.
Amazon is another retailer that offers a variety of Chromebook options at affordable prices.
Purchase one in-person. Walmart, Target, Best Buy, and other large stores sell Chromebooks in-store. This option allows you to bring your Chromebook home that same day.
Purchase through Escoffier: If you're unable to purchase directly from a store or retailer such as Walmart or Amazon, talk to your Financial Aid Advisor to find out more about buying one through Escoffier's Chromebook program. Financial Aid Advisors are available at (877) 452-5489 Option 1.
The Essential Culinary Career Guide
The Essential Culinary Career Guide
What's your ideal culinary career: Fine dining? Your own restaurant? Pastry? Get our self-evaluation guide to find out!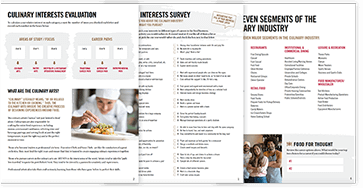 We've compiled a checklist of all of the essential questions into one handy guide: career options, culinary interest surveys, educational opportunities, and more.
YES, I want the guide!