Escoffier Is the #1 Ranked Culinary School in the World1
Largest In The
Nation
Escoffier is the largest culinary school brand in the USA (2)
130+ Chef
Instructors
With experience as executive chefs, restaurant owners, and more
Most Students Receive Financial Aid
Most Escoffier students use federal financial aid to help pay for culinary school.(3) Financial Aid is available to students who apply and qualify.
8,900+ Culinary Employers
Over 8,900+ culinary employers have had an Escoffier student or graduate in their kitchens
What Sets Us Apart
Affordable. Acclaimed Chef Instructors. The Farm To Table® Experience and sustainability. A foundation in French cooking and the enduring heritage of the King of Chefs, Auguste Escoffier himself. These are only a few of the many things that set Escoffier apart from other culinary schools. Come find out for yourself. In the meantime, tap or mouseover the blocks below to learn more about us.
International Network of Escoffier Students & Alumni
I feel my experience at the school has truly gotten me on the right path. I feel supported in a way no other school has ever offered. It's reassuring to know I have a sounding board for my career decisions."*
Rama Kho
Culinary Arts Student
Being at Escoffier taught me to be flexible and to keep pushing through even if everything is going down. [It] taught me how to become the leader and get each task done."*
Joseph Han
Pastry Arts Graduate
"I decided to invest in myself and go to culinary school because I needed that backing. As for the management portion, that's really where Escoffier is helping me learn how to run a restaurant and business."*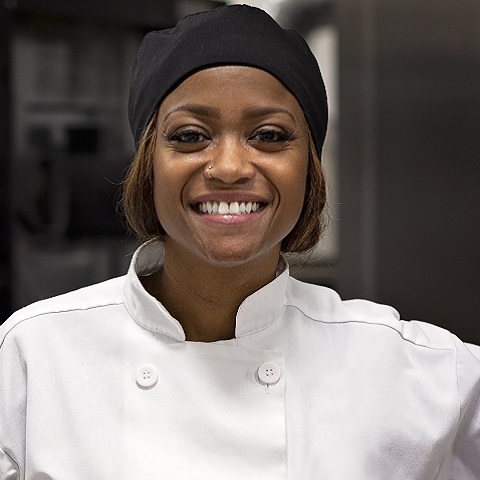 Tiffany Moore
Culinary Arts Graduate - Online