Gone are the days of having to put your life on hold to pursue advanced learning in the field of your dreams.
Our online programs offer an affordable and effective option for learning the culinary arts, baking & pastry, hospitality & restaurant operations management, plant-based culinary arts, food entrepreneurship, and holistic nutrition & wellness through a 100% online curriculum that includes hands-on industry externships.
Curious about applying to online culinary school? Download: How to Enroll in Escoffier: The Essential Guide.
See how online culinary school helps students develop the same skills as ground campus students:
The online culinary arts and pastry arts classes we created for our programs mirror the hands-on and technique-based training received at our residential campuses — just in a more convenient package perfect for working adults or those without access to a traditional campus.
Offered through the Boulder campus, Escoffier's online diploma and associate degree programs provide an affordable, accessible, and quality alternative to more traditional, on-site education.
Online Programs
Our online programs are taught by highly qualified Chef Instructors with years of experience as executive chefs, entrepreneurs, master bakers, and more. Students receive similar training to that which traditional culinary school students receive, but they get to complete the coursework from their own kitchens.
Receive personalized, 1-on-1 feedback from a Chef Instructor on your assignments
Complete coursework around work and family obligations
Attend live course lectures and/or watch recordings of live instruction as your schedule allows
Participate in one or more hands-on industry externships in a professional kitchen
I would absolutely recommend Escoffier. It's affordable, it's flexible, and it's comprehensive."*
The Essential Culinary Career Guide
The Essential Culinary Career Guide
What's your ideal culinary career: Fine dining? Your own restaurant? Pastry? Get our self-evaluation guide to find out!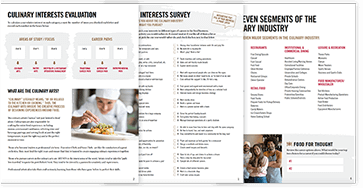 We've compiled a checklist of all of the essential questions into one handy guide: career options, culinary interest surveys, educational opportunities, and more.
YES, I want the guide!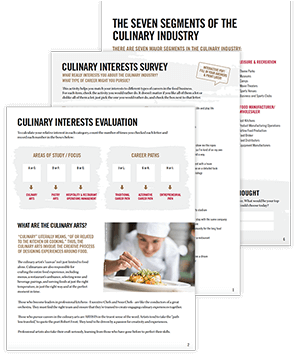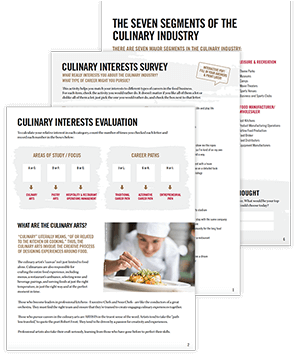 #1 IN THE WORLD
Ranked best culinary school in the world by Chef's Pencil (1)
7700+ STUDENTS
Over 7,700 students currently enrolled on-campus and online (2)
TOP 10 SCHOOLS
Top 10 culinary schools in the United States - USA Today (3)
100% ONLINE
The only U.S. accredited institution offering 100% online degrees with culinary classes and hands-on industry externships.(4)
Kirk Bachmann
PRESIDENT, AUGUSTE ESCOFFIER SCHOOL OF CULINARY ARTS, BOULDER
Throughout his esteemed career as both an educator and a chef, Kirk Bachmann has always promoted the highest standards of quality – honoring the craft of cooking and supporting students, educators and guests from all walks of life.
Bachmann is a fourth-generation chef who began his culinary career in the pastry kitchen of his father, a master pastry chef. In addition to serving as President of Escoffier's Boulder campus, Kirk most recently served as the Vice President of Culinary Training & Development at Rouxbe Online Culinary School. Prior to that, he held Executive positions with renowned Le Cordon Bleu Cooking Schools.
After graduating from the University of Oregon, he went on to receive his formal culinary training at The Western Culinary Institute in Portland, Oregon. He also holds a master's degree in education, is a Certified Executive Chef (CEC) and a member of the American Academy of Chefs (AAC). Bachmann is active in the industry and is a Culinary Salon medalist. He is also a member of The International Association of Culinary Professionals, Chaîne des Rôtisseurs, Antonin Careme Society, Disciples d'Escoffier and The International Food and Beverage Forum.
If you're interested in our culinary and pastry arts programs, the best way to learn is to see them for yourself.
Allow one of our admissions representatives to walk you through a virtual tour of how our school's curriculum works for the online culinary and pastry arts programs!
Or call 1-877-452-5489