Application Process
Step 1


Apply Online 24/7
Speak to an Admissions Representative

Applying to the Auguste Escoffier School of Culinary Arts is fast and easy. To begin the process you may apply online (it only takes 10 minutes to complete!) or contact our Admissions Department. Once we receive your application, an Admissions representative will contact you to complete an admissions overview and discuss further steps needed to complete your application.
Step 2:


Submit Required Admissions Forms
Completed application
Proof of high school graduation (a high school or college diploma, professional degree, G.E.D., or other high school equivalency)
A copy of a valid driver's license, passport or photo I.D.
Step 3:


Submit Financial Planning Documents

Our Student Finance department staff will help you investigate all of the available financing options for our affordable programs. Financial aid is available to all those who qualify, and the majority of our students rely on financing their education. Get more information about financial aid and scholarships.
Application Deadlines
Applications are accepted on an ongoing basis for upcoming class terms. Due to the demand for our programs, students who apply might be placed on a waiting list. Students who complete and submit all admission requirements and financial planning documents will have preference of their start date, shift and program.
Everyone at the Auguste Escoffier School of Culinary Arts campus was so welcoming – it felt like a family. I also felt like everyone here wants you to understand the industry and to really learn the things you come here to learn. You're not just another number here. They care about you as a student.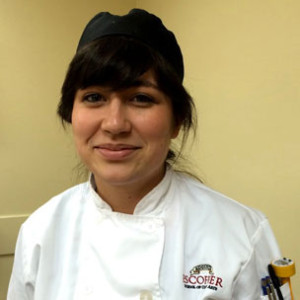 Brittney Castro
Pastry Arts Student
Personal visit
---
We invite you to schedule an in-class observation and a tour of the school — in person or virtually! Find out what an Escoffier education can offer you and your career path. Schedule your tour today!
International Students
Our online programs are available worldwide. For on-campus programs, Auguste Escoffier School of Culinary Arts cannot provide F1 student visas. International students who have the ability to remain in the country without a student visa may apply. Due to the short length of some of our programs, international students may find that our courses are a more feasible option.
Non-Discrimination Policy
Auguste Escoffier School of Culinary Arts does not discriminate on the basis of race, national origin, age, gender, sexual preference, or disability. In the case of mental or physical disability, each application is assessed on a case-by-case basis, taking into account the demanding physical and mental nature of cooking. Any individuals with a physical or mental handicap will be assessed on a case-by-case basis. The facilities meet health code standards, but are not equipped to accommodate all individuals with physical impairments.