Come Join Us at Escoffier, The Nation's Largest Culinary School Brand(1)
There is a reason more than 7,700 students are currently enrolled on-campus and online at Escoffier.(2) With a curriculum that balances kitchen skills and practical business skills, a faculty that includes award-winning Chef Instructors from every imaginable background, and career services, Escoffier brings you everything you need to launch or accelerate your career.
Austin, Texas Campus
Boulder, Colorado Campus (Residential and Distance Learning – Online)
The Essential Culinary Career Survey
The Essential Culinary Career Survey
What's your ideal culinary career: Fine dining? Your own restaurant? Pastry? Get our self-evaluation survey to find out!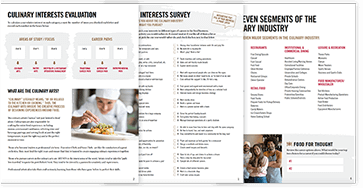 We've compiled a checklist of all of the essential questions into one handy guide: career options, culinary interest surveys, educational opportunities, and more.
YES, I want the survey!