Are you thinking about a career in the culinary arts after having served in the military? Did you know that you can use your GI Bill® for culinary school and start your education online even while you're still enlisted?
No matter where in the world you may be deployed (or living or working as a veteran), you, your spouse, or your children can get the culinary training you may need from one of the most recognized institutions in the culinary world.
This article can help you understand how you can pay for culinary school with the GI Bill® and other grants. We'll cover a variety of financing options available to qualifying active military, veterans and their spouses and children, including an explanation of the most common GI Bills®.
In addition, there are several special grants for qualifying military and their dependents that are available directly from Escoffier schools.
If you have questions, you can contact one of our Financial Aid representatives to better understand the loans and grants you or your spouse may be able to access. While these Escoffier representatives can help guide you, you will ultimately want to contact the VA with all of your inquiries about your military benefits. However, an advisor can help you create that list of questions so you can have an informed discussion with the VA.
Why Do Military Veterans Make Such Great Chefs?
It's true: for many reasons, those who have served in the military can also serve up excellent food.
The military attracts a very special kind of individual: they're adventurous, but they like routines. They're independent thinkers, but also understand the value of teamwork. They're not afraid to lead, but also know the importance of following a leader. They're willing to take calculated risks in order to succeed. They like to serve others… and they love a good challenge.
But it's the structure of professional kitchens themselves that gives people with a military background a distinct advantage over their peers. The "kitchen brigade" system, known as the brigade de cuisine and used by top professional kitchens everywhere, was created by our school's namesake, Auguste Escoffier – who was a soldier himself.
Brigade de Cuisine: A Familiar Concept for Veterans
Auguste Escoffier's brigade system involved a high level of discipline, structure and respect. The uniform, system of communication, assignment of duties, chain of command – all of these Escoffier adopted from his military experience… and for good reason. Efficiency, speed, and teamwork are all paramount in a bustling restaurant or commercial kitchen.
Our veteran students and alumni often tell us that they appreciate this sort of structure. In fact, veterans can often excel under the brigade rules and routines.
Just like a top-notch military unit, a great kitchen has a structured hierarchy based on the level of skill and training required for each position, with opportunities to advance along the way if you want to climb in the ranks. There are also plenty of opportunities for steady, reliable employment if you want stability in your work life.
Lance McWhorter is a military veteran and a graduate of Escoffier's online culinary program. He appeared as a contestant on Food Network's "Chopped" and is currently Executive Chef and Owner of Culture ETX in Tyler, Texas.
"I was excited to find an online culinary program. When I first started school I was working 80- to 100-hour weeks as an Executive Chef, and it actually worked within my schedule."*
How to Get Started with the GI Bill® for Culinary School
We recommend that you apply for your GI benefits for culinary school early… and complete the application online. This route is generally faster and more efficient than filling out paperwork and mailing it in.
If you're still on active duty, you might have an education services office on your base or ship. Ask them to help you set up an online account, then reach out to the VA to learn more about your potential VA benefits.
The application can take over a month to be reviewed, accepted, and funded, so be sure to get moving as soon as you've decided on your college. You don't want any roadblocks to getting your next career started.
You'll also need to start your application to the school. We recommend that you contact an Admissions representative to have them walk you through our school's application process.
Remember: under 2017's "Forever GI Bill®," if you left the military after January 1, 2013, there's no time limit on when you can use your GI Bill® benefits. But if you left the military before then, you have to use your Post-9/11 GI Bill® within 15 years of your last 90-day period of active duty service.
The Most Common GI Bills Used to Pay for Culinary School
The following GI Bills can be used for training at Escoffier, whether it's through our Austin or Boulder campus residential programs, or with a distance learning program. Keep in mind that some of these funds only apply to service members who have entered the military before or after certain dates. Also be sure to check with Veterans Affairs to clarify your funding eligibility. Once that's done, Escoffier Financial Aid representatives are here to help.
Montgomery GI Bill (MGIB) – Chapter 30
Whether you're an Active Member of the Armed Forces or a Reservist, the MGIB can provide a monthly education benefit to you when you attend our school. These funds go straight to your bank account, and you'll have to pay your tuition, housing, and school supply expenses yourself.
If you're waiting on MGIB funds, reach out to the Financial Aid Office… we need to know if there's a delay in receiving your award that prevents you from paying your tuition on time.
At present, if you entered the service after 2013 and already applied for your MGIB, you can't change your application to access the Post-9/11 GI Bill® (Chapter 33), except under special circumstances. There is an appeal process you may be able to follow in such circumstances by contacting the VA office.
Post-9/11 GI Bill – Chapter 33
The Post-9/11 GI Bill® shares many of the same benefits as the Montgomery Bill and is an accepted use of GI funds for our culinary school. If you apply for this benefit, you'll have to give up your MGIB benefits, and as of now, that decision can't be reversed. Be sure to check with the VA office if you're considering switching to this benefit.
This fund entitles you to 36 months of post-secondary education, and it doesn't have to be used all at once. The funds, unlike the Montgomery Bill Grant, go directly to the school, which many students find more convenient. It's also transferable within your family, which is another benefit active members and veterans appreciate. If you are looking to transfer benefits to a direct family member, please see your Education Office on your base. If you are a veteran, please contact the VA.
The Yellow Ribbon Program within this bill may give students expanded access to funds for tuition assistance. Be sure to check with the VA office to see if the Yellow Ribbon Program can supplement your GI Bill® funding, especially if you decide to attend our campus in Austin or Boulder.
Survivors' and Dependents' Educational Assistance – Chapter 35
This fund is dedicated to veterans who survived circumstances such as capture or a permanently debilitating injury. It may also be used by dependents between the ages of 14 and 31, or a surviving spouse. If you're faced with having to leave military service, or you're a spouse having to re-enter the workforce, this funding option can get you on the right track.
The Fry Scholarship may also be able to help in some circumstances. To qualify, the student must be a dependent of a veteran who was killed or missing while on active duty. It's best to consult with Veterans Affairs to establish whether you're entitled to this benefit.
Montgomery GI Bill – Selected Reserve (MGIB-SR) – Chapter 1606
If you're a member in good standing of the Selected Reserve – including the Army, Navy, Air Force, Marine Corps, Coast Guard Reserves, the Army National Guard, or the Air National Guard – you may be eligible for MGIB-SR and may qualify to receive Tuition Assistance from Auguste Escoffier School of Culinary Arts. This may apply to on-campus or online programs.
Military Spouse Career Advancement Account (MyCAA)
We're proud to support MyCAA, a program dedicated to providing financial support to spouses of active service members. Your spouse may be eligible for up to $4,000 over two years to pursue an education with us in the culinary arts.
Ryan Hodros, a former member of the U.S. Navy, an Escoffier graduate, and now an Escoffier Chef Instructor, describes his experience:
"When I first got out of the Navy, I immediately attended Colorado University and quickly discovered that lecture-style courses are hard. Not because the material is difficult, or because the school itself is flawed, but simply because being surrounded by hundreds upon hundreds of strangers (between me and the exits) was much more stressful than I expected.
My first weeks at Escoffier, by contrast, were as personal as you can reasonably get in an education. There were 14 students in our class, plenty of one-on-one time with Chef Suzanne, and a relaxed yet structured environment where you knew what you were supposed to be doing at all times."*
The Essential Culinary Career Guide
The Essential Culinary Career Guide
What's your ideal culinary career: Fine dining? Your own restaurant? Pastry? Get our self-evaluation guide to find out!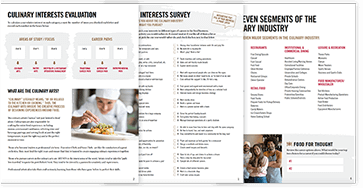 We've compiled a checklist of all of the essential questions into one handy guide: career options, culinary interest surveys, educational opportunities, and more.
YES, I want the guide!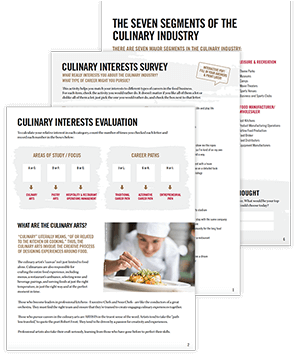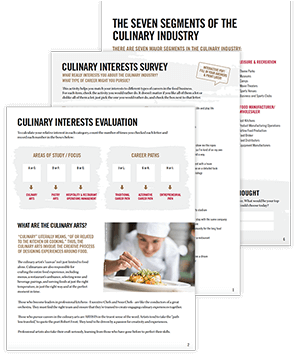 Grants from Auguste Escoffier School of Culinary Arts
Our culinary school also offers grants to qualifying service members, their spouses and dependents. Please talk to one of our Financial Aid officers to explore your options for the following grants:
Military Grant
Students who are on active duty may qualify for a $1,000 grant towards tuition and educational expenses. This includes Active Duty, Drilling National Guard, and Drilling Reservist Service Members. It can't be used in conjunction with any other institutional grant and/or scholarship, so be sure to clarify whether or not this grant will suit your overall financial needs.
Veterans Grant
Escoffier is also pleased to provide a $1,000 grant to select, honorably discharged Veterans of the U.S. Military in order to make their culinary education more affordable. Please check with our Financial Aid office to find out if you qualify for this grant – again, it can't be used in conjunction with any other grants and/or scholarships. Our staff can explain your financing options.
Veterans Spouse or Dependent Grant
There are opportunities for spouses and/or dependents of honorably discharged Veterans of the U.S. Military to get financial aid through this $500 grant. Please consult our Financial Aid staff to find out if this grant applies to your family circumstances.
Where Do I Start?
Whether you're still on active duty, or you've been living civilian life for a while and want a different career, the best place to start is by contacting us. We can explain all the options available to you… not just how to pay for your education, but all the opportunities that may exist once you have your education. We pride ourselves on supporting our graduates to find their best professional path.
Tiffany Moore, Escoffier online culinary graduate and Chef & co-owner of Event Hall @ Cascade in Atlanta, GA, wanted to open her own restaurant after serving for 11 years in the United States Army:
"The management portion is where Escoffier really helped me to learn how to run a restaurant, run a cafe or run a business. And that's what I want. I want my own restaurant."*
You've served in the military and know what it takes to work hard… and work smart. The GI Bill® can give you amazing benefits to help you get going on your next career. That career just might start with a degree or diploma from Auguste Escoffier School of Culinary Arts.
If you're still enlisted, check in with the education services office on your base, visit the Veterans Affairs website for information or request more information on our programs. We're here to help you embark on your new career path, no matter where that path might take you.
Related articles you might find useful:
The Boulder, Colorado campus at Auguste Escoffier School of Culinary Arts is a 2021-2022 Military Friendly® school.
This article was originally published on April 27, 2020, and has since been updated.
*Information may not reflect every student's experience. Results and outcomes may be based on several factors, such as geographical region or previous experience.