This article is a general guide on understanding the FAFSA® process for culinary school. For specific information on financial aid for Escoffier, see our school's guide for how to apply for financial aid.
You might be counting down the days to your high school graduation, or making a plan to take the leap and change careers. Maybe you're returning to the workforce after serving in the Armed Forces. Whatever the case, you're looking forward to pursuing your passion—a career in culinary arts, baking & pastry, plant-based cuisine, hospitality management, or holistic nutrition and wellness.
An education in the culinary arts opens up a world of possibilities…and you can enter that world in some capacity, no matter your stage in life.
You might be concerned that your finances will get in the way of pursuing your new career, but money doesn't have to be a roadblock. There are many forms of financial aid for culinary school available to those who apply and qualify—and the best way to begin is by completing the Free Application for Federal Student Aid (FAFSA®).
Download Our FAFSA® Guide for Culinary School
To get instant access to the step-by-step FAFSA® guide and other resources, visit our Downloads page.
We know that the FAFSA® application process can be intimidating. But if you approach the task like you would approach a recipe, you'll realize it's a dish you can whip up in no time at all… with the right ingredients and knowledge. We're here to assist you in getting started, and to help speed up the process as you renew your FAFSA® application from year to year.
Here's the FAFSA® process for culinary school in six simple steps:
Step 1: Get a Federal Student Aid ID
Getting a Federal Student Aid (FSA) ID is your first step. You'll need your Social Security number and a few minutes on a computer to create a username and password.
Follow this link to get started. This way you'll have quick access to your application online, even on your mobile phone. It will also give you access to the myStudentAid app available on both Apple and GooglePlay.
Be sure to use a permanent email address! If you're still in high school, don't use your school-server email address, since it will disappear after you graduate—along with all of your information. You can create a free Gmail account if you don't have a personal email address.
If you're a dependent student (more on this below), a parent will need to get an FSA ID so they can sign your application. If you need help, one of our Financial Aid representatives will be happy to walk you through the process.
Step 2: Gather the Documents You Need to Fill Out Your FAFSA® Application
There are several pieces of identification and information you'll need to have ready before applying for financial aid for culinary school. This list will be a bit different if you're applying as a dependent student versus an independent student.
In general, a dependent student is still living at home with one or both parents, isn't an active member of the military, is under 24 years old, isn't married, and doesn't have any children. If you are uncertain as to whether you qualify as a dependent or independent student, follow this guide on the FSA website.
Here are the documents you'll need:1
Your Social Security number
Your parents' Social Security numbers (if you are a dependent student)
Your driver's license number if you have one
Your Alien Registration number (for non-U.S. citizens only)
Federal tax information or tax returns including IRS W-2 information, for you, your spouse if married, and for your parents, if you are a dependent student. This could include:

IRS 1040
Foreign tax return, IRS 1040NR, or IRS 1040NR-EZ for non-resident aliens
Tax return for U.S. territories Puerto Rico, Guam, American Samoa, the U.S. Virgin Islands, the Marshall Islands, the Federated States of Micronesia, or Palau

Records of any untaxed income, such as child support received, interest income, and veterans noneducation benefits, for you and for your parents, if you are a dependent student
Information on financial assets including cash, savings and checking account balances, investments (including stocks, bonds, and real estate but excluding the home in which you live); and business and farm assets for you and for your parents if you are a dependent student
Sometimes dependent students aren't able to access information from their parents. If that's the case for you, be sure to check with one of our Financial Aid representatives for alternatives.
By providing the Federal Student Aid office the clearest possible picture of your financial situation, you can have access to the most funding options available for your specific circumstances.
Tip: Try filling out the FAFSA® web worksheet as a "test run" to figure out what you need to have on hand. You can't file this specific worksheet, but if you're filing online, this will be a huge help when you do.
The Essential Culinary Career Guide
The Essential Culinary Career Guide
What's your ideal culinary career: Fine dining? Your own restaurant? Pastry? Get our self-evaluation guide to find out!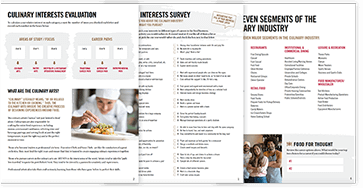 We've compiled a checklist of all of the essential questions into one handy guide: career options, culinary interest surveys, educational opportunities, and more.
YES, I want the guide!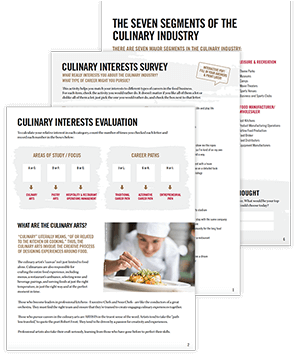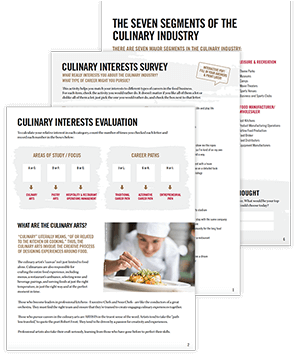 Step 3: Pick a Filing Method
Technically, you have three options for filing your FAFSA® application, but we only recommend two:
Fill out the form online using your FSA ID, or
Fill out the form on your mobile phone using your FSA ID and the myStudentAid mobile app.
The third option requires you to download and print a PDF, handwrite your answers, and then mail in the form. This can take quite a bit longer. Do yourself a favor and complete your application on a computer or mobile phone!
The online system also has links to information in case you're unsure how to answer a question. This can be especially helpful if you're a dependent or eligible noncitizen student, since much of the terminology may be new to you. After starting, you can create a "Save" key that allows you to come back to your application if you realize that you're missing something or get interrupted. This is a temporary password that you can use to access your application-in-process or to hand off the application to a parent if you're a dependent student.
If you don't have access to your own computer or mobile phone, try your public library. Just be sure to log out of the application and close the browser you use to protect your personal information.
Want to save even more time? Choose the online option to link your FAFSA® application to your IRS records, and ask your parents to do the same if you're a dependent student. This will:
Save you the effort of pulling together your tax returns and other statements
Eliminate errors in the fields regarding income
Potentially open up funding possibilities you didn't even know were an option
All of the information you submit has to be verified anyway, so why not speed up the process by linking your application to your tax return?
Step 4: List the Schools You Plan to Apply To
During the application process, you must list the schools that you wish to receive your FAFSA® information. These schools will use the financial data to assess what kind of aid you are eligible to receive, and how much.
You can list up to 10 schools during the online or app-based application process. Make sure to list every school that you think you may apply to, even if you haven't started your applications yet. There is no penalty for listing a school and then choosing not to apply!
Step 5: Sign Your Application
This gets its own step for a reason! In our experience, many people forget to sign their application, which results in a rejected FAFSA® after submission. So double- and triple-check that you've signed your application before submitting it.
Step 6: Submit Your Application
Finally, don't forget to click "Submit," and if you are a dependent, make sure that your parent also signs and submits. If this doesn't happen, a reject code occurs.
Make sure you get confirmation that your application has been submitted, and then be prepared to wait at least three days for a response from the Federal Student Aid office. They'll verify your information and send your application to our culinary school. We'll then work with you to identify your financial aid eligibility.
Finally, we'll send you a Financial Aid Award offer as quickly as we can, so that you can get on the road to your career in the culinary or pastry arts.* At any point during the process, your FSA ID makes it easy to check on the status of your application.
Three Myths that Keep People from Applying for Aid
Too often, people fail to apply for financial aid because they believe things that simply aren't true. These are the top three:
Myth #1: "I—or my parents—make too much money to qualify for Federal Student Aid."
Not true. There are many reasons students can access financial aid for culinary school. Your income, or your parents' income, is just one part of the equation when you're seeking assistance. And your tax return from two years ago might not reflect your future financial situation—for example, a pending layoff might affect your eligibility.
If you or your parent's financial situation has changed since your last tax return, it's possible that your federal aid could be adjusted. After you submit your FAFSA®, you can contact the school to discuss your current financial status and how it might impact your eligibility.
Bottom line: no matter what your or your parents' income is, apply. You might not qualify for a grant, but maybe you'll qualify for a low-interest loan to ease the month-to-month expenses as you get your culinary education.
Myth #2: "Grants and loans are only for people who attend college and university on a semester system… not culinary schools or online schools."
Not true. Eligible, accredited culinary schools like Escoffier are able to work with you to make sure you get the most support based on the schedule and needs of their school. Your Financial Aid representatives are there to help you access financial aid for culinary school, whether it's by funding tuition, housing, or books.*
Myth #3: "If I submit an application with FAFSA®, I'm committing to borrowing money or applying to your school."
Not true. If you're thinking about attending one of our culinary or pastry programs and trying to figure out financing options, filling out your FAFSA®—and using their simple FAFSA® Student Aid Estimator is a great idea.
But it's not a commitment to attend our school or to borrow money. FAFSA is designed to help you explore and access opportunities for further education, so if you ultimately decide it's not the option for you…no problem.
Remember, FAFSA® starts with the word "Free." You have nothing to lose by investing the time to explore financial aid eligibility for culinary school. Going through the application process might open doors for you. We think it's worth the effort.
If you're new to the post-secondary school system, an eligible noncitizen, or getting back into the workforce after a long hiatus, there are so many resources you can access. We're here to help you find them… and make the most of them.
For more information on the types of financing available to those who apply and qualify at Escoffier, see our guide to financing your education, and our dedicated page on culinary scholarships and grants.
Did you find this article helpful? You might enjoy these, too.
*Information may not reflect every student's experience. Results and outcomes may be based on several factors, such as geographical region or previous experience.
This article was originally published on May 27, 2020, and has since been updated.
1Source: www.studentaid.gov