The decision to go to culinary school usually brings up a couple of questions: How much does it cost, and how will you be able to pay for it?
At the time of publishing this article, the tuition for Auguste Escoffier School of Culinary Arts' 60-week Diploma in Culinary Arts and Operations is $19,495.
At first glance, you might think this makes culinary school appear to be out of reach. But keep in mind that the actual net cost of school is different for everyone because it depends on your current life circumstances.
Thousands of students from all walks of life have earned their degrees and diplomas at Escoffier. In 2021 alone, more than 8,200 students were enrolled!1
The takeaway: No matter your present socioeconomic background or particular life circumstances, there's a financial plan for your specific situation to get you not only into school, but all the way to graduation… and into a career that you love.
But before we get ahead of ourselves, let's understand more about why culinary school tuition costs are what they are, and how you can pay for it.
How Much Does Culinary School Cost?
How much culinary school costs depends on the type of program you choose (in-person or online), the location (Boulder or Austin), and the program itself. Escoffier offers diplomas and degrees in culinary arts, baking & pastry, plant-based culinary arts, hospitality, and holistic nutrition & wellness.
Escoffier's program tuition ranges from $16,466 to $33,975. But wait…keep reading to find out how you might be able to reduce this figure.
Head over to our tuition page for a full breakdown of costs and fees for all of our programs.
What Do Tuition and Fees Actually Get You?
What constitutes tuition costs, not just at culinary schools, but at all quality educational institutions? As you'll see, when you invest in a quality education, you're paying for quality instructors, educational platforms, ongoing research, and more.
Remember, all educational institutions have to pay qualified instructors who have industry experience and/or academic credentials in their respective fields—people who could be earning salaries elsewhere. These are the people who will become your mentors and guides, the people who can help you achieve your culinary career goals. Obviously, you don't want to forgo that, and neither do we!
When you choose a culinary institution for your studies, you want to make sure that you are learning from Chef Instructors who can help you discover a variety of approaches to success in the culinary arts.
Culinary colleges and schools often attract culinary professionals who have worked as Executive Chefs and/or who have credentials like Master Baker, Certified Master Chef, Certified Culinary Administrator, and other industry recognitions. You might think of these designations in the culinary industry similarly to the way other industries have credentials such as MBA, CPA, and PhD.
Costs That Go Into a Culinary School's Tuition & Fees
Here are just a few of the costs that tuition pays for at culinary school:
Learning Technology Platform & Tools
Curriculum and Course Planning & Development
Kitchen Toolkit
Externship Program Services
Career and Job Placement Services
Alumni Programs & Networking Platforms
Other Staff (Admissions, Counseling & Coaching, etc.)
To facilitate one-on-one interactions and personalized feedback for online students, there are technology costs required to build, maintain, and update online learning tools.
Schools must also invest in ongoing research for improving the quality of education itself, so that what is taught are best practices in the industry.
Finally, accreditation processes ensure that peer-reviewed industry educational standards are met or exceeded.
How Can You Pay for Culinary School?
Now that we've covered what goes into tuition costs, let's dive into the logistics of paying for culinary school. The good news is that decades ago, the federal government passed the Higher Education Act of 1965, which, through the Office of Federal Student Financial Aid, helps make college education possible for more than 10 million students each year.
We've already covered the fact that, for many, instead of paying the program's listed tuition and fees, the actual net cost could be much lower. There are numerous opportunities for students to receive scholarships and grants, in addition to federal student loans.
We've previously detailed various scenarios on how long it takes to pay back student loans. In our example case, $8,000 financed at 2.75%, paid back over 10 years, comes to about $76 per month.
The investment you're making is for the purpose of opening more doors, leading to more opportunities and a potentially higher income than you would otherwise have if you just worked your way up in a professional kitchen.
The Essential Culinary Career Guide
The Essential Culinary Career Guide
What's your ideal culinary career: Fine dining? Your own restaurant? Pastry? Get our self-evaluation guide to find out!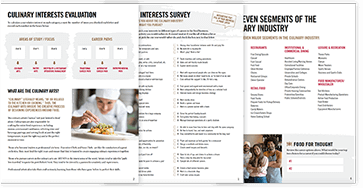 We've compiled a checklist of all of the essential questions into one handy guide: career options, culinary interest surveys, educational opportunities, and more.
YES, I want the guide!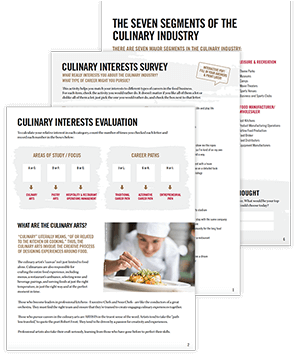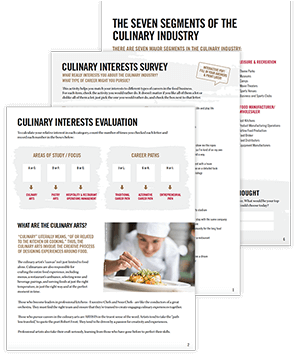 Financial Aid Is Available to Those Who Apply and Qualify
A common disclaimer that you'll see at all educational institutions is, "Financial aid is available to those who apply and qualify." This ensures that higher education institutions don't misrepresent costs, and how financial aid works, to prospective students.
If you happen to fall into those who do not qualify for aid, don't despair! At Escoffier, our Financial Aid department can work with you to understand all of your options, including flexible payment plans, scholarships, and Gift of Education certificates.
Here's How Financial Aid Works at Culinary School… In a Nutshell
Reach out to the Admissions team at your school to let them know your intention to attend that school.
Create your Federal Student Aid ID (FSA ID) on the government's student aid website.
Fill out the government's Free Application For Federal Student Aid (FAFSA®) form.
The FAFSA will give you your Estimated Family Contribution (EFC), Cost of Attendance (COA), and Financial Need.
Talk to a Financial Advisor at your school to formulate your plan.
Apply for scholarships and grants.
Apply for loans.
Go to school!
Keep applying for scholarships and grants!
A Few More Tips on Paying for School
Involve your parents early
If you're a dependent, it's best to have your parents on the phone with you when you talk to your Financial Advisor. Remember, even if you're over 18, you might still be considered a "dependent" for the purposes of qualifying for Federal Student Aid. Parents who choose to assist their children in paying for their education have options for PLUS loans – a Federal Direct Student Loan program.
Earn your Title IV funding by going to class and getting good grades
Federal financial aid, also known as "Title IV funding," isn't just doled out without requirements. If you qualify for financial aid, you don't just receive your funding… you have to "earn it." After the Department of Education determines a student's eligibility for Federal or "Title IV" funding, the Department of Education will disburse funds to the school in which the student is attending and will continue to do so as long as the student continues to be enrolled and pass the courses in which they are taking.
Keep applying for outside scholarships
There are dozens of industry sources for scholarships! As long as you are a student enrolled at Escoffier, we can always rework the scholarship funding into financial aid later. So it's a good idea to just keep applying for scholarships, even after enrollment.
Pay your loans on time and on schedule
Maintaining a good credit score makes life easier in so many ways, so do everything you can to pay your loans on time and on schedule. When you consistently make loan payments in a timely manner, your credit score can start to improve, as lenders can see that you are financially responsible. If you have trouble with making payments, it's always better to work with your lender and come up with a plan than to simply default. The Department of Education is the lender of Federal Loans and if you are unable to make the payments it is important to to keep in contact with them so they can speak to the student about other possible options.
You Too Can Invest in a Culinary Education
There are always avenues to make your dream happen. We live in a world where quality matters. Restaurants have higher demands than ever before. New employees are often expected to know what to do and contribute right away. Getting educated in the culinary arts, pastry arts, plant-based culinary arts, holistic nutrition and wellness, or hospitality and restaurant operations could be just the edge you need.
A quality culinary education requires bringing together a team of Chef Instructors—masters of their craft, experienced in the business and entrepreneurial aspects of restaurants and food service companies, and able to teach and train the next generation of chefs.
Now you may understand a lot more about the costs and payment options for culinary school. You should have a better idea of what it might take for you to realize your dream.
And that's a whole other way of looking at costs. What's the cost of not following your passion? What would it cost to spend a lifetime working someplace that's draining you of your creative gifts? Take the next step and explore what a culinary education might look like for you…
…and then get a plan in place to make it happen.
More Reading on How to Plan for Culinary School:
This article was originally published on April 2, 2021, and has since been updated.
*Information may not reflect every student's experience. Results and outcomes may be based on several factors, such as geographical region or previous experience.
1Based on comparable student population data for Austin and Boulder as currently reported in Integrated Postsecondary Education Data System (IPEDS)