You've probably heard the saying, "you've got to pay your dues." But in the culinary world, this process can look different for everyone.
If you want to become a chef or own a restaurant, you might be considering whether you should attend culinary school or get hands-on experience by working your way up in a professional kitchen. It turns out that these can actually be complementary pursuits! There's no one clear path for aspiring culinarians, so let's explore the benefits of getting a formal education vs. working in the industry first.
Why You Should Consider Going to Culinary School First
If you're an aspiring chef, a seasoned cook who needs a formal education to make that next career move, or an entrepreneur who wants to open your own food service establishment: culinary school may be perfect for you.
There are many roads to becoming a chef. If you already have professional kitchen experience, that's a great thing! But you also don't need it in order to get a culinary education. In fact, culinary school can allow you to explore your passions, hone your practical and business skills, network with like-minded people… and much more.
Culinary School Can Help You Quickly Hone Fundamental Culinary Skills
A good culinary curriculum should provide you with a well-rounded education. Escoffier's culinary arts programs, for example, start with foundational coursework in kitchen terminology, basic seasoning and cooking methods, knife skills, mise en place, and food safety and sanitation.
After these courses, you might start building more advanced knowledge, like patisserie skills, menu design, and sustainable practices. Like working in a kitchen, you can also hone these skills through practice. But getting instant feedback and tips for improving – in an environment where you're not under pressure to prove yourself in order to keep your job – is a definite perk of culinary school.
"Honestly, without [culinary education] I wouldn't be nearly as successful. The knowledge I gained helped me rise quickly as a chef. I may have still started at the bottom rungs of the ladder, but I certainly wouldn't be working where I am now."*
Max Feist, Culinary Arts Graduate
Get Practical Business Education if You're a Budding Food Entrepreneur
If your goal is to become an executive chef, restaurant manager, or restaurant owner, it can certainly be beneficial to have the business side of things down rather than winging it as you go. Fortunately, you can start to explore these foundations in culinary school.
Escoffier's curriculum includes topics like cost control and inventory management, foodservice operations and principles of great customer service, effective communication, and more. When working in a kitchen, it can be easy to spot what you like and dislike – then try to create your ideal environment when you open your own restaurant. But actually putting your ideas into practice isn't always a straightforward process, and managing team dynamics and business-related challenges might be a whole lot easier with formal training.
A Culinary Degree Stands Out for Future Employers
Once you've completed your education you'll be able to include this accomplishment on your resume. This could help open new doors and show that you won't necessarily need the same level of coaching and training as someone without a culinary degree or diploma. After all, if you've successfully made it through a culinary program, you probably have the focus, discipline, and passion to work in a professional kitchen.
"If somebody goes to culinary school, it shows extra commitment and follow through…it's a 'gold star' on their resume."
Josh Hasho, Executive Chef, Omni Hotels & Resorts
It also can help demonstrate your commitment to your career – something many employers are looking for during their hiring process, especially these days. When a hiring manager is looking through tens or hundreds of applications, that culinary education can really stand out in the stack. It can show that you're able to set big goals, persevere through challenges, and follow through to achieve your aim.
The Essential Culinary Career Guide
The Essential Culinary Career Guide
What's your ideal culinary career: Fine dining? Your own restaurant? Pastry? Get our self-evaluation guide to find out!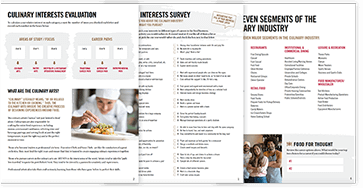 We've compiled a checklist of all of the essential questions into one handy guide: career options, culinary interest surveys, educational opportunities, and more.
YES, I want the guide!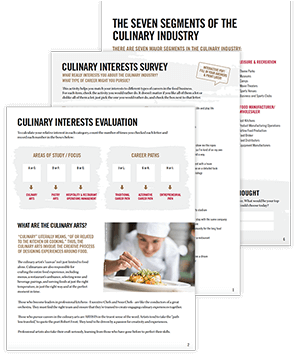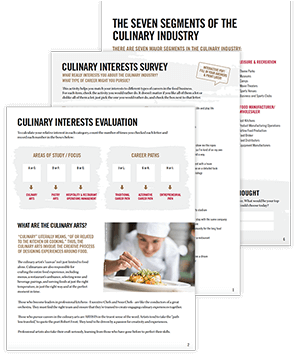 Get a Headstart on Building Your Professional Network
Undoubtedly one of the biggest benefits of attending culinary school is getting the opportunity to network with exceptional chefs. Escoffier's curricula are taught by seasoned, professional Chef Instructors. These staff members have built their own careers – many of them achieving extraordinary levels of culinary excellence – and are now available to impart their knowledge onto the next generation of culinarians.
You might have classes with Certified Executive Chefs, award-winning restaurant owners, cookbook authors, professional food stylists, and more. Whereas a mentor in a restaurant may be limited in their time or capacity to teach you new skills or answer your questions, Chef Instructors are there for your continued growth. They may be helping you perfect a certain technique, focus on a sub-specialty, or build your confidence in a business-related skill.
Besides Chef Instructors, it's also very worthwhile to surround yourself with like-minded peers. You can learn from each other's successes and mistakes, share tips and tricks in the kitchen, and encourage each other throughout your program. In fact, many graduates have kept in touch with their culinary school mentors and fellow students long after graduation.
Culinary School Lets You Explore a Variety of Global Traditions
In a busy kitchen atmosphere where you're constantly getting slammed with orders, it can be difficult to carve out time to try new niches. After all, restaurant managers and head chefs have their bottom line to think about – they don't necessarily want you using their ingredients to experiment with global cuisines.
In culinary school, you may have the opportunity to dive into all sorts of different culinary traditions. The World Cuisines course at Escoffier, for example, allows you to explore global cuisines. Then, an externship can allow you the chance to put these concepts into actionable practice outside the classroom. Escoffier's degree and diploma programs require graduates to have completed one or two hands-on industry externships in a professional foodservice setting. (And yes, many of these have led to job offers!)
"Culinary school taught me to be in touch with the classic dishes from around the world. Most of all, it was a concentration on technique. Also, it provided the opportunity to work in a team environment with a bunch of other chefs to put together a meal."*
Jeffrey Lammer, Kitchen Manager, Root Down Restaurant; Boulder Culinary Arts graduate
Does This Mean You Should Always Get a Culinary Degree Before Working?
Not necessarily. In fact, many people can benefit from working in a kitchen first. And if you enroll in an online culinary school program, you may not have to wait at all – many students work full-time and earn their degree virtually. Here are some advantages of taking this route instead.
Get a Taste of the Culinary Arts by Working in a Kitchen
Plenty of people don't realize that their passion lies in the culinary world until they've got some professional kitchen experience under their belts. That was certainly the case for Chef Shane Witters Hicks, an Escoffier graduate who followed his fervor for the plant-based culinary arts by working in a restaurant.
"[Chef Jensen] was actually who I met when I first toured Escoffier, and he was probably the one who convinced me that this is where I want to be. He was so willing to work with me. And I just loved that authenticity. I got the sense from him that the chef instructors here truly care about the students and the quality of the education. Having gone through the entire Escoffier experience in Boulder now, that's the one thing that stands out to me above other educational experiences that I've had."*
Shane Witters Hicks, Escoffier Boulder Graduate, Culinary Specialist at Hungry Planet®
Prior to that, he worked as a power systems engineer. When he recognized that he wanted to merge his plant-based lifestyle with his environmental science education and background, he applied for inexperienced line cook positions. Then, after 18 months of working in restaurants, he knew he was ready to further his knowledge and skills – so he enrolled in a degree program at Escoffier, which set him up for a very successful culinary career.*
A Kitchen Job Can Give You More Time to Prepare for Your Next Move
If you're considering attending culinary school, there's value in having a bit of prior experience in a restaurant (although this isn't a requirement.) You can get a better understanding of the bustling atmosphere, the kitchen hierarchy and team dynamics, and what the day-to-day operations look like. That way, when you attend school, you can reference concepts through the lens of your own experiences instead of hypotheticals.
Besides, working in a kitchen might help you discover a specific niche that a culinary education can help complement as you progress in your career. For example, you might work in a vegan restaurant and decide you'd rather enroll in a plant-based degree program instead of a traditional culinary arts program. You can be researching the best academic fit for you – considering time, format, costs, and prospects upon graduation.
"I had researched culinary schools for a couple of years. Escoffier kept coming up in my top five. I looked at graduation rates, retention rates, enrollees, and how many people were working in the industry after three to five years. Escoffier was consistently at the top of the list."*
Brent Unruh, Escoffier Boulder Culinary Arts Graduate
Many folks who have worked in restaurants for years are already near the top of their game and just need that extra education piece to achieve their career peak. In culinary school, you'll find that not all of your peers are industry newbies – many are accomplished cooks and chefs in their own right, pursuing a degree for the first time.
Whether You've Worked in a Kitchen or Not, Get a Good Start with Culinary Education
Have experience in a kitchen? Great! You'll probably be a strong asset to your culinary school program and peers. No restaurant experience? Don't worry. You can get plenty of hands-on experience in your classes and through your industry externship.
Escoffier's world-class Chef Instructors provide one-on-one training and are available to answer your questions as you learn and practice, which might not always be possible in a restaurant or resort's hectic kitchen. Escoffier has degree and diploma programs in Boulder, Colorado, Austin, Texas, and online. Don't get stuck working in a job you hate and lose your passion for the culinary arts. Start working on your future and dreams today, with a solid education.
Like this article? Here are some others you might like, too:
*Information may not reflect every student's experience. Results and outcomes may be based on several factors, such as geographical region or previous experience.
This article was originally published on May 20, 2020, and has since been updated.