Looking for quality, long-term employees for your restaurant or hospitality business? It probably seems impossible in the current labor market.
The turnover rate in the hospitality industry was already extraordinarily high at 78.9% in 2019. But in 2020, during the COVID-19 pandemic, this metric skyrocketed to 130.7%.1 And there are other costs you may not have considered.
With the average employer spending upwards of $2,000 to recruit and train a new restaurant employee, the cost jumps up to $15,000 if that employee is in a management position.2 Clearly, employee turnover in restaurants is a massive problem.
Most restaurant owners just accept these dismal statistics as a fact of life.
But it doesn't have to be that way.
Formally educated employees in the culinary arts may require less training and deliver more value out of the gate than other new hires. Why? Because they're usually interested in a culinary career, not just a job. By taking simple steps, hiring managers can identify candidates who want to cook professionally, not just picking up shift work.
How to Identify the Right Candidates
There are some critical traits in career-focused candidates that you can quickly spot when reviewing candidate applications and throughout the interview process.
Industry Experience Counts in High-Quality Candidates
How much does experience matter in a restaurant role? Seeing a history of similar positions held — with lengthy periods of employment listed — is an excellent indicator that a candidate may have what it takes to fill your vacancy. On the other hand, candidates who have no experience or have job-hopped every couple of months, can be quickly weeded out at this early stage.
Note the relevance of the past work to the job you're hiring for. Has the candidate worked in an establishment similar to yours before? If you're hiring someone who needs expertise in managing a kitchen staff of 40+, but they've worked their entire careers managing a small front desk team in a boutique hotel, there might be a significant learning curve — which translates into higher training time and a greater financial investment for the restaurant.
When hiring for entry-level positions, a candidate may not need direct industry experience. But have they worked in a similar role (i.e., another service or customer-facing position)?
Finally, remember that internships and externships certainly count, especially for those junior-level positions. These jobs — paid or unpaid — still show real-world experience cooking professionally in a foodservice establishment. The Escoffier Works program can help employers across the country access Escoffier externs and graduates to meet immediate and long-term workforce needs across a variety of interests and experience levels.
Candidates Who Invest in Themselves Can Stay on the Job… And Build a Career
Who would you rather hire: a candidate with industry experience and no education, or a candidate with industry experience and a culinary degree or diploma? Obviously, anyone with a formal culinary education already shows the ultimate commitment to their career path.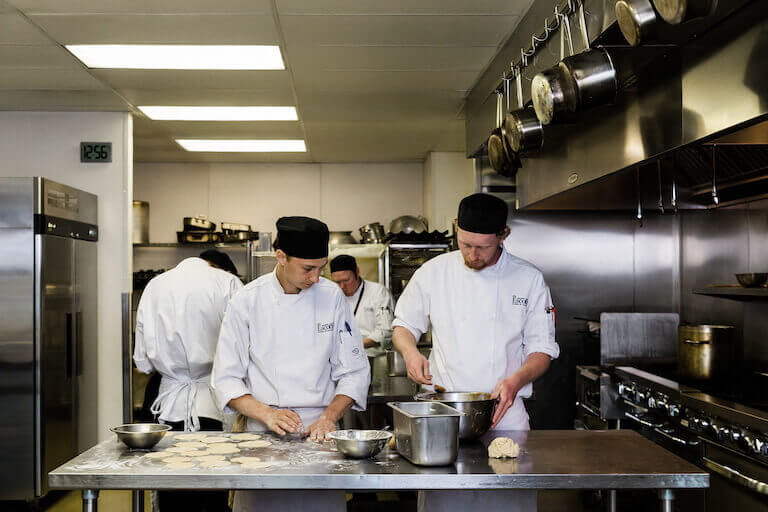 They've invested the time and capital in studying their craft, and they'll likely need significantly less training upon hire. A culinary degree or diploma is especially helpful for kitchen staff and management roles. It can help prepare candidates for the working environment and equip them with tools and techniques to help make them more efficient, effective employees. Even if a candidate doesn't have a degree or diploma yet, if they possess the desire or are planning to pursue this in the near future, that is typically a good sign for hiring managers.
Of course, if a candidate has any additional certifications — such as those from the American Culinary Federation — they're probably going to be top-notch culinarians. Just remember that they'll likely ask for a higher salary and expect ample career advancement opportunities. They'll also likely bring more stability, knowledge, skills, experience, and commitment to the job, which can add tremendous value.
More Stats on the State of the Industry
There are 70% more restaurant job openings than prior to the pandemic.3
There were 12.5 million restaurant industry employees at the end of 2020, 3.1 million below expected.4
The ten-year projected growth rate for food and beverage work is 17%, over double the average growth rate for all occupations.5
The average job tenure of a restaurant employee is one month and 26 days.6
51% of restaurateurs ranked hiring staff as a top challenge.7
Additional Training Indicates a Career-Focused Candidate
So, what if a candidate hasn't pursued higher education but demonstrates a history of exploring other training opportunities? For many reasons, some of them financial or logistical, pursuing a culinary degree isn't always an option for those who want to become a professional cook.
Look for other types of training programs, even the more informal ones like individual online courses. Successful completion of these courses shows an interested, career-oriented candidate who wants to sharpen their skills.
"Customized training is designed for retention, basically helping your employees to be engaged, to grow and to learn new skills while they're on the job. It keeps employees happy and engaged. And ultimately, that translates to the customer and to a better business when your end product is improved through educational access."
Frank Vollkommer, Certified Master Pastry Chef®, Culinary Olympics Gold Medalist & Escoffier Director Of Culinary Industry Development
Like those offered from Escoffier, custom training programs are often taught by successful industry professionals. For instance, Escoffier's skills-based training are taught by specialized Chef Instructors who have deep expertise in the subject area and, often, credentials to show for it. These training programs use mixed multimedia to deliver scaffolded knowledge to learners, building concept-upon-concept for proficiency.
Specialty training like this indicates to hiring managers that a candidate is teachable and hungry for industry knowledge.
Best Interviewing Practices for Finding the Right Fit
As a hiring manager or interviewer, you can set yourself and candidates up for a smooth process by applying some best interviewing practices — like the ones below.
Be Mindful of How Candidates Present Themselves
Does it matter how candidates show up to interviews? You bet it does. Don't ignore red flags like showing up late, being underdressed, or not presenting a resume. Candidates should have good eye contact, excellent hygiene, and be able to communicate clearly. Keep an ear out for the use of common culinary terms or general knowledge of the kitchen or restaurant environment.
"I would recommend hiring Escoffier graduates to other employers by virtue of the fact that I've had a great experience with so many of them. In one word, I would sum up my experience with Escoffier grads as 'fulfilling.'"
Jennifer Etzkin, Corner Restaurant, JW Marriott Austin Executive Chef
Ask the Right Questions and Conduct Skill Tests
You can learn a lot in a short period with targeted questions about a candidate's knowledge and experience working in a high-stress, fast-paced restaurant environment.
For example, if hiring a chef, you might ask how they'd set up their workstation. If they can demonstrate a knowledge of mise en place, that's a good indicator they know how to work their way around a kitchen. You can also ask hypotheticals, like how they would handle an unsatisfied or complaining customer.
Candidates with a culinary degree or diploma are likely going to ace these types of questions. And if they can describe a clear vision of what they want in their future, they're most likely a candidate worth considering.
Move Quickly to Hire Qualified Candidates
Don't jump the gun… or lose a great candidate through failure to follow up! Due to its high turnover rate, the restaurant industry can be notorious for needing immediate help and making quick hiring decisions. Within reason, try to give yourself as much time as possible to interview a variety of candidates at least once and bring them back for skills testing if needed. That said, don't hesitate for long when you come across a candidate you find especially promising.
List Detailed Online Job Opportunities to Filter Out the Best Candidates
Finally, keep in mind that accurately listing the opportunity is an essential step in finding the right candidates. Be as specific as possible in your job ad, and post it to the major job search sites. List the specifics of the job and your desired skills, but be aware that you don't niche down so much that candidates are discouraged from applying.
Taking time to outline the details of the role thoroughly will help eliminate a large portion of candidates who are looking for something temporary or low-effort.
How You Can Attract, Hire, and Retain Exceptional Talent
Don't let industry turnover define your restaurant's staffing success. Candidates with a combination of industry experience and a culinary education will usually bring the most value in the role you're hiring for.
The Escoffier Works corporate training program can help connect food industry employers with student externs and alumni ready to use their knowledge and skills. Escoffier degree and diploma students take courses that include subjects like world cuisines, foodservice math and accounting, cost control, and professionalism and service standards. Plus, successful completion of a hands-on industry externship is required to graduate, meaning that they'll already have a bit of hands-on experience under their belts.
Escoffier also offers customized training to help you retain and develop your current employees, as well as scholarships for qualified employees wanting to earn their diploma or degree. Get in touch with our team for more information on partnering with Escoffier and building your culinary talent pipeline.
Was this article helpful? Try these next:
1Source: https://www.bls.gov/news.release/pdf/jolts.pdf
2Source: https://pos.toasttab.com/blog/on-the-line/national-restaurant-association-show-live-coverage
3Source: https://fred.stlouisfed.org/series/JTS7200JOL
4Source: https://restaurant.org/research/restaurant-statistics/restaurant-industry-facts-at-a-glance
5Source: https://www.bls.gov/ooh/food-preparation-and-serving/food-and-beverage-serving-and-related-workers.htm
6Source: https://www.7shifts.com/blog/restaurant-scheduling-stats-of-2017/
7Source: https://d2w1ef2ao9g8r9.cloudfront.net/resource-downloads/2019-Restaurant-Success-Report.pdf