When a diner walks into your restaurant or looks your business up online, one of the first things they want to know about is the food. What kind of cuisine do you serve? How much does a meal cost? Do you have a fixed menu or a rotating selection of seasonal dishes?
A menu not only helps answer these questions but also gives diners a deeper understanding of what they can expect out of their dining experience. By spending the time to carefully create a restaurant menu, this seemingly simple piece of paper can effectively convey the restaurant's quality standards, dining experience, and ambiance.
First, Determine What You'll Be Serving
By the time you start creating a menu, you should have a good idea of the overall concept of your restaurant. Is it a Mediterranean fast-casual joint that specializes in serving lunch to hungry city workers? A plant-based restaurant that recreates classic comfort foods? An intimate fine-dining establishment with farm-to-table flair?
If you find yourself questioning what type of food you'll be serving, start by determining the cuisine, target customers, and price points. Once you've figured these out, you can begin determining the exact food you'll serve.
Before you work on the aesthetic aspects of your menu, you should determine all of the dishes you will serve. This can help you determine the size of the menu, as well as whether or not you will need separate menus for different meals or days of the week. You should also think about whether or not you'd like to create a separate delivery-friendly menu.
Categorize the Dishes
After you've written down all the dishes you'll be serving, figure out the most logical way to categorize them.
One option includes organizing dishes by category–such as soups, sandwiches, and salads. This choice is often appropriate for casual restaurants or those with a large menu.
Another option is to categorize the menu by courses–appetizer, salad, main entrée, and dessert. Typically, this works best for more upscale restaurants with smaller menus.
Use Symbols to Display Necessary Information
Rather than grouping dishes in categories like vegetarian, plant-based, or gluten-free, you can use specialized symbols to denote which dishes meet these dietary guidelines. This allows diners to easily see that a grilled chicken salad and mushroom risotto are gluten-free, for instance, or that a certain sandwich can be modified into a vegan option.
Determine How Much Information to Share
While most everyone knows what a cheese pizza is, there are hundreds of different ways to describe this well-known dish.
A "12-inch cheese pizza" may be worth $12, but a "personal pizza crafted from freshly-milled flour, fire-roasted tomato sauce, and imported Parmigiano-Reggiano" could fetch $18 or more. However, that longer description could also dissuade casual diners from entering your restaurant.
With this in mind, think back to your ideal customers when you are writing product descriptions. If you're hoping to draw in a crowd who cares about ingredient quality and creative flavor pairings, you may want to include multiple descriptors with each dish. However, if you are mainly serving hungry families who want a delicious and filling meal, you may want to focus on portion size and descriptive elements like juicy, gooey, fresh, or comforting.
Along with describing the dishes themselves, you'll also need to decide what other information you'd like to share. This may be as simple as including the restaurant's address and phone number, but it may also involve telling a story about how the restaurant came to be or sharing its mission and philosophy. Keep in mind that research suggests telling a story about a dish may make customers order it more, especially if the dish is unfamiliar to diners.
Consider How to Display Prices
Not only do the prices you set have an influence on customers, but so does the way you choose to display these prices.
Consider cents. Listing your burger for $13.95 instead of $14 subtly gives diners the impression that they're getting a deal, but it can also make some diners feel like your food is focused on price rather than quality.
There's also the method you use to display the price. Listing it in a large font at the end of a menu item puts the focus on the cost—which can be helpful if customers are looking for a good value. However, listing the prices in a small, faded font keeps the focus on the dish descriptions rather than their costs.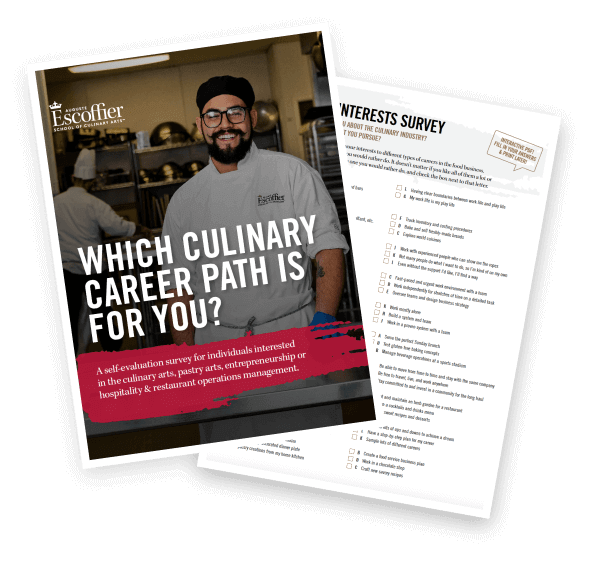 Take the Culinary Career Survey
We've compiled a checklist of all of the essential questions into one handy tool: career options, culinary interest surveys, educational opportunities, and more.
Create A Menu that Fits Your Theme
Once you've figured out the information that will be making its way onto your menu, it's time to design it. Just as indoor decor like furniture and art is an essential part of creating the overall feel of your restaurant, so are the design elements of your menu.
Select an Appropriate Font
There are thousands of fonts to choose from, but that doesn't mean you need to wade through them all. Just ensure that your font is readable and fits the tone of your space.
A clean, sans serif typeface tells your diner they're about to enjoy simple yet modern cuisine, while an elegant serif font may indicate an upscale dining experience.
It's common to use more than one font on a menu, but don't go overboard. A good rule of thumb is to restrict your fonts to three: this includes both style and size. Think of it like any seasonings you might use in a recipe—using too many can overpower and spoil a dish.
Choose a Color Scheme That Fits the Mood
After you've chosen your fonts, the next consideration is color. The same psychology that applies to the hues you select for your signage, walls, and staff uniforms also applies to the colors you choose for the menu. Therefore, if you've already chosen elements like paint color, you can use these as a guide for menu color.
If you are still figuring out your color scheme, consider how colors can symbolize and even impact emotions. This doesn't necessarily mean that using a purple hue will make people feel noble or glamorous, but it could offer an upscale feel to your establishment.
Determine Whether to Include Images
Next, you'll need to decide on whether or not you would like to include photos of different dishes on your menu.
Many restaurants choose not to include imagery for various reasons. Adding photos can increase the costs of producing the menus, especially if you are often changing your menu. Additionally, photos typically aren't necessary for well-known dishes like a hamburger or spaghetti and meatballs.
If you are offering more unique items, you may want to include at least a few photos of specific dishes. This can help diners get a feel for what they will be eating, especially if they're unfamiliar with the ingredients used in a dish.
Put It All Together
There are a couple of schools of thought when it comes to spacing visual elements in your menu. We'll share them both and let you decide what makes sense for your restaurant!
The "rule of primacy and recency" means that people remember–and prioritize–the first and the last items on any list. Savvy restaurateurs put two of their highest-margin menu items at the top of each menu section, and one high-margin item at the bottom. They also limit each section to no more than seven choices. Your diners want options, but too many will overwhelm them.
Branding experts also tell restaurateurs that menus have visual "sweet spots" which draw in the reader. That's the spot where chefs should place the most important, i.e. most profitable, menu items. Research indicated that diners beelined for the spot just inches from the top right of menus.
Yet a study conducted several years ago at San Francisco State University suggested a different reading pattern for menus. It turned out that their test subjects read a menu like a book: left to right, top to bottom. The sweet spot, it turns out, is where you choose to make it. Using elements like negative space or a pop of color gives readers a place to relax and draws their attention to the items you want them to order.
Whatever your approach, don't start with a blank canvas. Digital design platform Canva is a great tool to guide your menu design project, with free templates to give you a headstart.
Choose the Right Type of Paper
Menus can be printed on thin sheets of printer paper or on pieces of thick and textured paper. Additionally, these sheets can be left in their natural states, laminated, or slipped inside plastic sleeves. The choices you make regarding paper choice can determine whether you create an affordable or high-end feel.
Alternatively, you can skip the paper entirely, and only offer your menu online. Including a QR code at your tables can allow diners to easily navigate to the online menu. This may be a good option for restaurants with frequently-changing menus or a casual and young crowd, but not great for upscale establishments or those with lots of elderly diners.
Learn More About How to Market Your Restaurant
Creating a great menu is just one component of restaurant design and marketing. You'll also want to consider social media, positioning statements, and interior design.
Having prior knowledge of what it takes to run a successful restaurant can transform these tasks from daunting to exciting. One way to learn more about marketing, cost control, and menu design is by enrolling in a food entrepreneurship program at Escoffier.
To learn more about Escoffier's programs, contact us today.
Like this article? Here are some others you might enjoy:
This article was originally published on June 1, 2022, and has since been updated.