Restaurants and foodservice businesses take a large team to run successfully. From the host all the way to the owner, every member of the staff has to work together to provide good food and a great guest experience, without letting costs spiral out of control.
Unlike other industries where the barriers to entry could include specialized education or experience, many restaurant employees are in the workforce for the first time. In fact, nearly a third of Americans report that their first job was in a restaurant!
That's why experienced management is so important. Training and supervising a staff that ranges from teenagers to seasoned professionals takes superior communication skills and expert delegation.
A career in Hospitality and Restaurant Operations Management can be both exciting and challenging. Learn more about industry leadership and what it takes to be successful as a hospitality manager.
The Essential Culinary Career Survey
The Essential Culinary Career Survey
What's your ideal culinary career: Fine dining? Your own restaurant? Pastry? Get our self-evaluation survey to find out!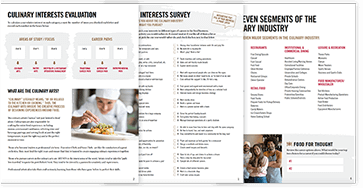 We've compiled a checklist of all of the essential questions into one handy guide: career options, culinary interest surveys, educational opportunities, and more.
YES, I want the survey!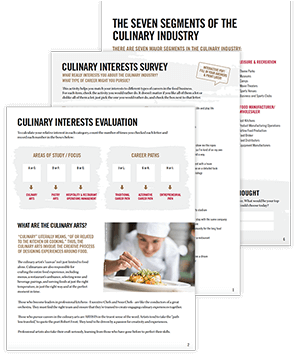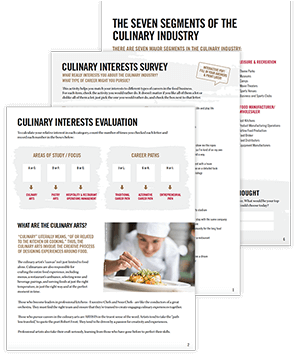 What is Hospitality and Restaurant Operations Management?
Hospitality and Restaurant Operations Management is a segment of the hospitality industry that focuses on operations in restaurants, hotels, resorts, catering companies, hospitals, hotels, and more.
It concerns the logistics of food and foodservice, like ordering and inventory, managing budgets, and planning and costing menus. It also includes Human Resources functions, like hiring, training, and managing both front of house and back of house staff. These managers have a customer-facing role as well, focusing on improving the guest experience by building loyalty and maintaining high service standards.

Operations Management is a varied and exciting field. Managers rarely do the same thing every day. Instead, their work will shift between tracking finances, leading employees, serving customers, and quality control. With an expert in the field on staff, a foodservice establishment can run more smoothly and improve profitability and longevity.
Why Study Hospitality Management?
Many restaurant and hotel managers have no formal training at all. In fact, 91% of restaurant managers' first job was entry-level, and they worked their way up over many years.
With dedicated managerial education, you may stand out among the other management hopefuls. And a degree may possibly reduce the time it takes for you to earn that first management position.
"The students are immersed in classes which can prepare them for their careers in the hospitality industry. The Hospitality & Restaurant Operations Management curriculum covers a wide array of subjects which can prepare the student for their first entry-level management position."
Chef Jason Goldman, Escoffier Lead Chef Instructor, Core/Hospitality & Restaurant Operations Management*
There are virtually zero positions in a restaurant or hospitality business where a hospitality degree could not add value. With specialized training, graduates may find they're able to make a more meaningful contribution to their work — without 20 years of industry experience.
"A strong educational background can help someone with limited experience become a valued contributor to their employer. They can utilize the skills taught at Escoffier to work their way into a management position."
Chef Maria Davenport, Escoffier Hospitality & Restaurant Operations Management Instructor*

Whether you are responsible for the front of house or back of house, this education can help a new manager to understand the synergy between both departments, and the challenges that come with each. This could help them become more empathetic and effective managers.
It also gives students a better understanding of restaurant finances, so they can help reduce costs and maximize profits. This knowledge can be very beneficial to a foodservice establishment — especially during difficult times like the COVID-19 pandemic. As the industry faces new challenges, employers may be looking for skills like financial literacy and greater efficiency than ever before.

Chefs can also benefit from this education. If you want to make yourself more valuable to your employer or gain competencies that can help you become a chef/owner, restaurant operations management can bridge the gap between your cooking skills and your business skills.
Food & Beverage Operations at Escoffier
Auguste Escoffier School of Culinary Art now offers an online Associate of Occupational Studies Degree in Hospitality and Restaurant Operations Management.
This flexible program can allow you to work full- or part-time while studying and working toward your degree. And the business-focused curriculum is designed to help graduates become more effective future managers.
Students will spend some of their coursework concentrating on communications, including professionalism, conflict resolution, debate techniques, and human resources. By researching and practicing communication skills, students can become better managers and leaders for their teams. Students will also explore cultural differences — especially important in a tourist-focused industry.
"Escoffier students are enrolled in classes led by instructors with vast amounts of experience in multiple areas of the hospitality industry. These instructors bring a wealth of knowledge to the classroom, and share their professional experiences with students in an effort to provide learning opportunities relevant to the course."
Chef Jason Goldman, Escoffier Lead Chef Instructor, Core/Hospitality & Restaurant Operations Management*
Some courses also focus on the finances. Topics like sales forecasts, food & labor costs, and purchasing help graduates to assess where the business is flourishing and where it needs to cut expenses. In the Catering & Events course, students will work on organization, planning, and project coordination. In Beverage Service Operations, they'll explore laws and regulations, budgeting, and inventory for the boozy side of the business.
And in the Building Your Own Business course, topics include credit management, business planning, and leadership. At the end of the course, students will create and present their own business plans for a foodservice operation.
"I've worked in Culinary Education for over ten years, and I can honestly say that Escoffier treats every student as if they were the only student. The Faculty and Staff are all committed to helping our students achieve their academic goals."
Chef Maria Davenport, Escoffier Hospitality & Restaurant Operations Management Instructor*
After they conclude their coursework, students will complete an industry externship in their local area. This provides an opportunity to gain real-world experience and increase their skills while developing industry contacts.
The Path to Leadership
Hospitality and restaurant management is an important role in the culinary industry, and education can help you be a more effective and successful administrator and leader.
If you dream of being the boss, a degree in Hospitality and Restaurant Operations Management may be a good place to start! Contact our admissions department to learn more about this exciting degree program from Escoffier.
Interested in learning more about hospitality management?
*Information may not reflect every student's experience. Results and outcomes may be based on several factors, such as geographical region or previous experience.
This article was originally published on November 26, 2020, and has since been updated.