With so many aspects of our daily lives taking place online, it's no surprise that online education has exploded recently. The eLearning market has grown 900%1 in the past 20 years, with many people opting to get their degrees wholly or partially online.
Culinary school is no exception. In fact, Auguste Escoffier School of Culinary Arts offers 100% online programs that include a required in-person industry externship. The online program lets students get a culinary education from their own homes, regardless of where in the world they live.
But what happens after students receive their degrees or diplomas? Are there job opportunities out there for online culinary school graduates?
As it turns out, the career path of an online graduate may look very similar to that of an on-campus student. Today, we're going to discuss the traits hiring chefs look for, what online culinary students have the opportunity to learn, and where they may find work after graduation.
What Do Hiring Chefs Look for in Culinary School Grads?
When beginning your career in the culinary or pastry arts, it's wise to start with the end in mind. What skills or traits will future hiring chefs be on the lookout for?
To start, most hiring chefs will expect graduates to have a solid foundation of knife skills and proper food handling. They may also require proficiency with cooking terminology, core cooking methods, and seasoning techniques. Baking basics may also be expected, like quick breads or biscuits.
Of course, these expectations will depend on the position and type of foodservice establishment. An entry-level job with a pastry chef may not demand as much knowledge of proteins, for example.
Chefs may also expect to see some practical business knowledge. Cost control, reading a profit & loss statement, managing inventory and expenses — these business skills can all be an asset to the hopeful hire, especially in the post-COVID-19 world.
Real-world experience is also a must. Hiring chefs want to know that you can handle the fast pace of a working kitchen.
That's why Escoffier's online programs include an industry externship at the completion of all program instruction. Our Career Services staff can help students to find these placements through portfolio building assistance, interview preparation, and industry referrals.
The final piece of the puzzle is something that graduates must bring with them from day one — energy and positivity. An upbeat, enthusiastic applicant makes a great first impression, and you only have one chance at it!
What Do Online Culinary School Students Study?
The curriculum of an online culinary school shares many features of on-campus culinary school.
Students in Escoffier's online Culinary Arts programs and Plant-Based Culinary Arts programs can have the opportunity to learn those vital knife skills and food handling guidelines. Food safety and sanitation, foodservice operations, menu design and management, and cost control are also in the curriculum.
Online Baking & Pastry Arts students also study food safety and sanitation. They'll take courses covering artisan baking and patisserie, baking math, food and beverage cost control, plus menu planning.
But how do they get hands-on practice in an online setting?
At Escoffier, online students start their lessons with assigned reading and demonstration videos. Next, they attend a live instruction session with their classmates, led by one of our Chef Instructors.
Then, it's time for practice. Students receive an assignment, which they document via photos and a written summary for the Chef Instructor to assess. Finally, students get video feedback from their instructors to improve their technique and results.
With this method, students are free to work at their own pace as long as they meet deadlines and class times. Many students actually work in the restaurant industry while attending culinary school. A student that works full time, for example, may find that their best cooking hours are later in the evening. With an online program, you're free to make culinary school fit your schedule.
"A major benefit of studying at Escoffier is the program flexibility. Working students find time to complete their coursework around their schedule. Escoffier has invested in technology to keep students in contact with their Instructors—help is just a text message or phone call away."
Maria Davenport, Escoffier Online Chef Instructor
Finally, students complete their programs with an industry externship near where they live. This hands-on experience can be in a restaurant, hotel, resort, bakery — anywhere you can put your new skills to work and discover how they apply to a real-world setting.
The combination of classroom structure, independent practice, and practical application leaves online students well-prepared for the rigors of a professional kitchen.
The Essential Culinary Career Survey
The Essential Culinary Career Survey
What's your ideal culinary career: Fine dining? Your own restaurant? Pastry? Get our self-evaluation survey to find out!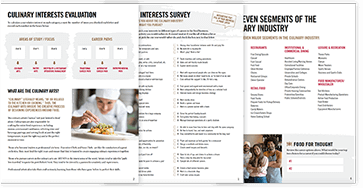 We've compiled a checklist of all of the essential questions into one handy guide: career options, culinary interest surveys, educational opportunities, and more.
YES, I want the survey!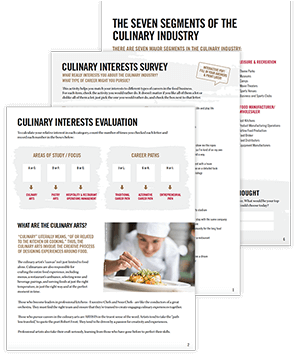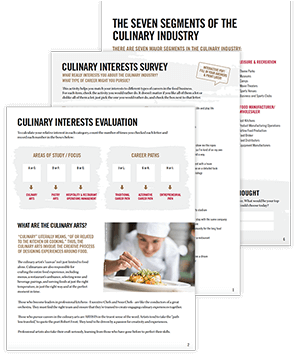 Where Do Online Culinary School Graduates Work?
Upon graduation, students will have been exposed to a solid foundation of culinary techniques and business skills. But they won't necessarily have that title of "chef" yet.
Instead, recent grads will most likely look for introductory kitchen positions, like prep cook or line cook. From here, they can begin to work their way through the kitchen hierarchy, honing their craft and taking on more responsibility with time.
Miles Mitchell, Escoffier's Chief Academic Officer, explains that online culinary school graduates are eligible for the same types of positions with the same employers as their on-campus counterparts. Students who currently work in the restaurant industry can also move up or change roles because of the program.
But where can those positions be found?
Restaurants
Unsurprisingly, the most common employers of online grads are restaurants. Both independent and chain restaurants have hired Escoffier online program graduates.
Catering Companies
Catering companies need hard-working professional cooks who can prep and execute a consistent menu for hundreds of people at a time. Instead of preparing one filet mignon, you may need to make 20!
And since caterers are often working special events like weddings, attractive plating is also a necessity.
Hotels, Resorts & Cruise Lines
Hotels, resorts, and cruise ships can have hundreds or even thousands of hungry guests to feed on any given day. That makes these hospitality companies major hirers of culinary school graduates.
Omni Hotels & Resorts Executive Chef Josh Hasho says "If somebody goes to culinary school, it shows extra commitment and follow through…it's a 'gold star' on their resume."
Escoffier graduates have worked with major hospitality providers like Disney, Marriott Bonvoy, Hyatt, and Celebrity Cruises.
Private Clubs
Private club members expect high-quality, consistent food. So hiring chefs often prefer to work with culinary school graduates who can be trusted to have solid technique.
For example, ClubCorp, the largest owner and operator of private golf and country clubs in the U.S., prefers culinary school graduates when they hire chefs.
Military
The military has over 2 million members, between active duty and reserves. Whether they're on base or stationed overseas, those members need to be fed.
While a culinary degree or diploma is not a prerequisite to becoming a military chef, that extra education may help professional cooks to earn more responsibilities and promotions. And with an online program, active duty military can attend school from wherever they are stationed.
"I chose to attend Escoffier at this stage in my career as a way to keep me relevant in the industry and up to date with certification. I go to any length to be the best in my career that I may be. As an active-duty soldier, online school is a great way to stay consistent with education."
Michael Allen, Chef and Chocolatier, Online Culinary Arts graduate
These are just a few of the places where online culinary school graduates may find jobs. There may be other opportunities outside of the kitchen. Recipe developers, food writers, food stylists, and more can all prove their expertise to potential employers with a formal culinary education.
Online culinary school lets students build the necessary skills from home, while opening doors industry wide. And with job placement assistance from Escoffier's Career Services staff, our graduates have someone in their corner as they navigate their options.
Interested in starting a culinary career? Learn more about Escoffier's Online Culinary & Pastry programs.
*This information may not reflect every student's experience, results and outcomes may be based on several factors such as geographical region or previous experience.
To learn more about culinary careers and online education, try these articles next:
This article was originally published on July 27, 2020, and has since been updated.
1 KPMG, "Position Paper, Corporate Digital Learning", September 2015