For aspiring chefs considering culinary school, studying online might not seem practical at first. After all, can you really develop the hands-on skills you might need professionally…in a digital classroom?
Absolutely!* Online culinary school consists of reading assignments, chef demonstrations, practice, and feedback, just like an on-campus education. But studying online can help give students greater flexibility, allowing them to complete their coursework from the convenience of their own homes. And a hands-on industry externship may bridge the gap between education and the in-person work environment.
As the first U.S.-accredited institution with 100% online degrees and diplomas that include hands-on industry externships,** Auguste Escoffier School of Culinary Arts Boulder is a pioneer in online culinary education. So we're sharing exactly what online culinary school is—how it works, who it works for, and what students can learn.
"I looked at many campuses and programs when I decided to pursue my education, and [Escoffier] was the only platform that worked with my desire, my need to stay in the kitchen. It's just like any brick-and-mortar campus. You will get out of it what you put into it. It has made me a better cook, a better baker, a better leader, a better businessman, and most importantly, a better teacher to my staff."*
Lance McWhorter, Online Culinary Arts Graduate; Military Veteran; Food Network Chopped Contestant; Executive Chef & Restaurant Owner
How Does Online Culinary School Work?
Each week in Escoffier's online programs follows a similar workflow. Lessons start with assigned reading and video content so students can start to learn new terminology and techniques. Students may also participate in discussion boards with their fellow students, where they can share ideas and ask each other questions.
Then, they can attend a live virtual session online with their classmates, led by a professional Chef Instructor. The instructor may provide further explanation of the reading material and/or demonstrate techniques to the students. Students can also watch hundreds of Escoffier's custom, step-by-step videos online for extra instruction.
Next, culinary students are given a weekly assignment to complete based on a provided production sheet. As the students work in their own kitchens, they can document their progress through photos and a written summary. They may also use the Escoffier flavor wheel to assess the taste of what they made.
To make sure they're properly equipped, online Culinary Arts and Baking & Pastry Arts students may receive a toolkit including a uniform, chef's knives, pastry bags, and more. Exact toolkit supplies vary based on the program.
After submitting their assignments, the Chef Instructor reviews each student's production sheet, summary, and photos. Then the Instructor can provide personalized attention for each student through video feedback with tips for improvement.
Finally, after completing all course requirements, Escoffier students must complete one or two externships as a requirement for graduation, depending on their programs. Securing an externship placement is the student's responsibility, but they may be able to get help with resume writing, interview prep, and introductions to reputable employers from Escoffier's Career Services.
This is the student's opportunity to put their professional cooking skills to good use in a busy kitchen environment and gain real-world experience for their resume. The externship is also a great way for students to network, get a feel for the kind of work they'd like to do, and possibly even find a job after graduation.
How Can Online Students Fund Their Education?
Escoffier's online students have access to the same type of funding as on-campus students.
They can apply for federal student loans and grants by filling out the Free Application for Federal Student Aid (FAFSA®).
They can pay for school through savings accounts and/or a 529 plan (a dedicated college investment plan).
They can apply for scholarships from industry groups, private businesses, and directly from Escoffier.
Active duty military, veterans, and their families may be able to pay for culinary school through programs like the Post-9/11 GI Bill®.
For more information about financial aid, check out this post full of answers to commonly asked questions about loans, scholarships, and more.
Who Does Online Culinary School Work For?
A culinary education can open the door to a variety of careers, but getting that education has to be viable. That's one of the major benefits of studying online—students can fit their classwork into their hectic schedules and complete their programs (except the externship) from their home kitchens.
Designed for flexibility, Escoffier's online coursework can be undertaken whenever the student has time, as long as they meet certain program deadlines. That means a student could work a day job, and "go to school" on evenings and weekends. Or they could work in a restaurant and complete their coursework after their shift ends late at night. Depending on the program and personal pace, students generally spend between 15 and 22 hours on their school-related activities per week.*
Online culinary school can be a smart choice for*:
Busy parents
Those seeking career advancement in the industry
Students who can't travel to an in-person campus
Escoffier's graduate Lisa Spychala, for example, completed her program while working at a restaurant and freelancing as a food stylist.* Graduate Cassie Wallace was also able to complete her Baking & Pastry Arts program while working full time. She found that the online format made school more accessible for her since she has an auditory processing disorder. Studying from home, it was much easier for her to hear and understand her Chef Instructors.*
"I'm really enjoying the [Escoffier] experience. They work with students that work full time; they're a family-oriented school. It's an all-around great online school and I'd recommend Escoffier to anyone. Of course, you have to put in the effort. I'm happy with my experience and excited for what's to come."*
Sam Lansdon, Online Culinary Arts Student
Online degrees and diplomas can also be a way for active-duty military, veterans and their families to get an education and further their careers. Staff Sergeant Michael Allen, a graduate of the online culinary arts program, completed his studies while keeping up with the rigorous demands of active service. And as a 2023-2024 Military Friendly® school, Escoffier is dedicated to providing the resources and support that military members need as they pursue their vocation either during their service or after they return to civilian life.
"As an active duty soldier, online school is a big way to stay consistent with education. There is a big need for culinary arts training in my career, but there is not a lot of time to accomplish this. It's doable, I'm doing it right now!"*
Michael Allen, Online Culinary Arts Graduate
The Essential Culinary Career Survey
The Essential Culinary Career Survey
What's your ideal culinary career: Fine dining? Your own restaurant? Pastry? Get our self-evaluation survey to find out!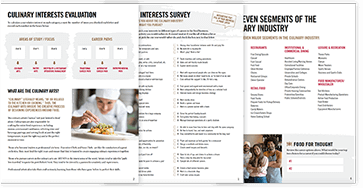 We've compiled a checklist of all of the essential questions into one handy guide: career options, culinary interest surveys, educational opportunities, and more.
YES, I want the survey!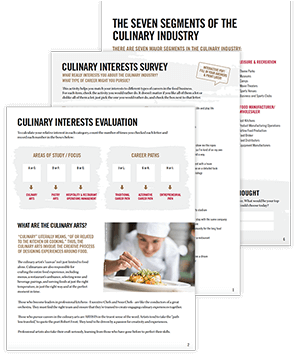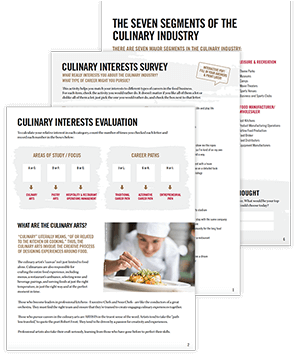 What Kind of Support Can Online Students Receive at Escoffier?
Escoffier's Chef Instructors and faculty are invested in student success. But what does that look like in practice?
Support from Dedicated Success Coaches
Escoffier's Success Coaches offer personalized support to students who need it. Exactly how that plays out can vary based on your unique circumstances. Perhaps a Chef Instructor notices that you've been late on a few assignments. They may flag a Success Coach, who will then reach out to check in and work toward a solution. They may also schedule follow up appointments, to see if that student is back on track.
Having a Success Coach in your corner can help you to meet the challenges standing between you and graduation day.
Mentorship from Chef Instructors and Tutors
Chef Instructors at Escoffier are more than just teachers. They can be valuable guides as well. With such a varied group of chefs, restauranteurs, cookbook authors, award-winners, bakers, pastry chefs, and more, they've explored the ins and outs of this diverse industry—and they're usually willing to share what they've learned.
Chef Instructors may even share their contact information with students. They can answer classwork questions, industry questions, or provide advice if a student is struggling. Escoffier graduate Chris Marhevka often reached out to Chef Instructors during his job at a Japanese restaurant.
"Things would come up that I just didn't have familiarity with," Chris recalls. "Chef instructors would be more than happy to talk to me about how to navigate those sorts of learning experiences."*
Resume and Job Search Help from Career Services & Escoffier Connect
School can be an important part of the path to reaching your culinary goals—but it's not the end of the path!
As already discussed, Escoffier's Career Services department may help students to write their resumes, prepare for interviews, and connect with employers. Students and graduates may also choose to access the Escoffier Career Marketplace. This platform can help cooks and chefs to find career-oriented employers who invest in professional development for their teams.
What Can Students Learn?
The cooking courses taught in Escoffier's online programs include classic French techniques—many invented by the famous French chef Auguste Escoffier himself—as well as more modern techniques that Escoffier couldn't have dreamed of.
Students may study kitchen basics like knife skills, food safety and sanitation, and mise en place—the preparation and organization practiced in most professional kitchens. They may also complete coursework in pâtisserie (pastries and bread) and world cuisines, as well as exploring the Farm to Table® philosophy.
Then there is the business side to culinary education. Chefs must understand purchasing and managing costs, effective communication, and restaurant operations. Without a strong business foundation, the best chef in the world can't manage an effective kitchen. At Escoffier, many of the online programs include courses that explore these important business concepts.
What Careers Could Students Pursue After Online Education?
Once a student has received their degree or diploma, what's next?
Online degrees and diplomas are functionally the same as on-campus degrees and diplomas. That means online graduates may be qualified for the same roles as their on-campus counterparts!
Many graduates go on to their first industry jobs, often as prep cooks or entry-level cooks. But some Escoffier graduates are not new to the industry. In fact, some grads have years or even decades of culinary experience. These graduates may find that their new culinary school education is the boost they needed to move their careers to the next level.
Escoffier graduates could go on to become*:
To find that first job after culinary school—or even a much more advanced job later in your career—turn to Escoffier's Career Marketplace. This resource aims to connect students, graduates, and culinarians from outside of Escoffier with some of the best employers in the industry. The marketplace spotlights career-oriented employers who want long-term employees…and may be willing to invest in their futures.
How Can Online Culinary School Help You Achieve Your Goals?
The bottom line is that online culinary school could be an excellent option, as thousands of Escoffier students might agree.1 No matter what your goal is in the world of food, an education could be the first step. Contact us to get answers to your questions and start planning the future you deserve!
Like this article? Here are a few more to help you learn how online culinary school works:
This article was originally published on June 3, 2020, and has since been updated.
*Information may not reflect every student's experience. Results and outcomes may be based on several factors, such as geographical region or previous experience.
**Our Boulder, CO campus is the only accredited institution in the United States to offer both fully online diploma and degree programs with culinary classes and hands-on industry externships. We are accredited by ACCET – A Partnership for Quality®. ACCET is listed by the U.S. Department of Education as a nationally recognized accrediting agency.
†Based on comparable student completion & placement data for online programs as currently reported in the consumer information section of our website, per our institutional accreditor.
1Boulder residential and distance-learning programs student population total – 9,606 students.
Austin campus residential student population total – 543 students.
As reported to the Integrated Postsecondary Education Data System (IPDES), for Fall 2021