One thing that often surprises Culinary Arts students is how quickly they can earn their degrees!
While many associate degree programs take two full years of study or longer, the programs at Auguste Escoffier School of Culinary Arts are tailored to help get students out into the workforce as quickly as possible—while providing them with the professional cooking skills they'll need to be successful.
There are two Culinary Arts degrees offered at Escoffier. At our Austin, Texas, campus, students can earn their Associate of Applied Science (AAS) Degree in Culinary Arts. And at our Boulder, Colorado, campus and through our online program, students can achieve an Associate of Occupational Studies (AOS) Degree in Culinary Arts.
The time required for each degree varies, so for simplicity, in this article we cover the time requirements to get an Associate Degree through Boulder's distance learning program online. If you have questions about our resident programs for our Austin or Boulder campuses, please contact our admissions office.
How Much Time Per Week Do Online Students Commit to School?
There are always variations in a student's educational time requirements, depending on how quickly they read or chop. So remember that these numbers are estimates!
Online students pursuing a degree usually devote an average of 25 hours or more per week to their coursework, plus grocery shopping and cleanup time. This includes assigned readings, watching demonstration videos, attending live instruction sessions with Chef Instructors (or watching replays if they are unable to attend live), and completing weekly assignments. A big benefit of the online program is that you can fit all of these activities into your busy schedule! (This time estimate can vary based on the program, credential, and individual's pace of study.)
"When I first started school, I was pulling 80-100 hour weeks as an executive chef in the Hill Country, and [Escoffier's online program] actually worked within my schedule."
Lance McWhorter, Chef/Owner of Culture ETX, Food Network "Chopped" Contestant, and Online Culinary Arts Graduate*
How Long Is an Online Culinary Arts Degree Program?
Because Escoffier is an accredited institution, we have to be very specific with how we describe the details of our programs. This transparency is to protect you, as a prospective student, so that you know exactly how our programs work and can make the best decision for your specific situation.
Since the online program is available through our Boulder location, here's how we specifically describe our Culinary Arts distance learning program in our Boulder Student Programs Catalog (page 21):
Associate of Occupational Studies Degree in Culinary Arts – Effective August 2021
90 Quarter Credits/1340 Clock Hours/60 Weeks
Students will receive an Associate of Occupational Studies degree in Culinary Arts when the following have been met:
Completion of the required 90 quarter credits with a minimum CGPA of 2.0
Completion of a minimum of 80% of the 1340 scheduled hours.
Completion of all required externship hours
1340 clock hours over a 60-week period is a little more than 22 hours per week. We like to tell students to schedule at least 25 hours for their coursework to be safe, but you may need more or less time to complete your studies, depending on your specific learning style.
The Essential Culinary Career Guide
The Essential Culinary Career Guide
What's your ideal culinary career: Fine dining? Your own restaurant? Pastry? Get our self-evaluation guide to find out!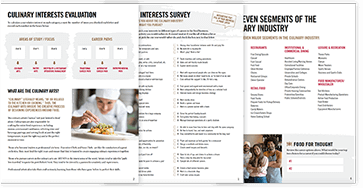 We've compiled a checklist of all of the essential questions into one handy guide: career options, culinary interest surveys, educational opportunities, and more.
YES, I want the guide!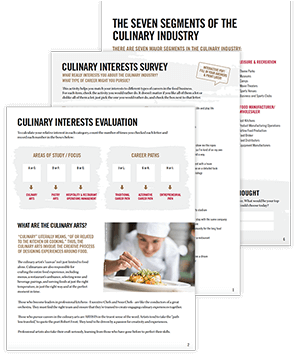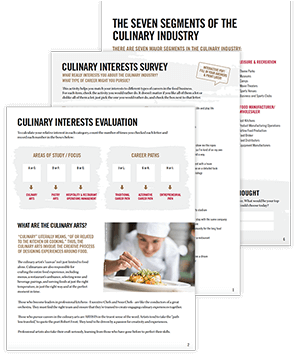 Students can expect to start with Culinary Foundations. This is where they work on the fundamentals of food safety and sanitation, principles of seasoning, and knife and cutting skills.
They also study Culinary Arts and Patisserie, where they build upon Culinary Foundations with breakfast cookery, cakes, breads, charcuterie, and garde-manger. Students explore worldwide culinary traditions in World or Regional Cuisines and examine management techniques and budgeting in Restaurant Operations.
One of the most popular courses is the six-week Farm to Table® Experience that brings residential students to a working farm or food maker. Students help the farmer or artisan and look at the relationship between food producers and chefs. Online students can choose to attend one of the non-credit Farm to Table® Weekends in person. Alternatively, they will discuss the same concepts in the online setting, and will study the impact of animal-based food sourcing on both the planet and economy.

All associate degrees require students to complete some general education coursework in addition to hands-on training and cooking classes. At Escoffier, these include courses in professional communications, world history, nutritional science, technical writing, and foodservice math. All of these general education courses are designed to teach the concepts from the culinary perspective.
Putting It Together — The Externship
After the practical and classroom coursework, students will move into the first of two six-week culinary externships. These externships are an opportunity for students to gain experience cooking professionally. Many Escoffier externships are paid, so students get the chance to make an income while they continue to learn!
Between hands-on coursework, general education classes, and two six-week externships, what is the total length of a culinary arts degree? Just 60 weeks…That's right, just 60 weeks to get an online associate degree at Escoffier.
"I went from washing dishes and cleaning a commercial kitchen to managing my own within a two-year span. Escoffier has given me the culinary and business tools, resources, knowledge and self-confidence I need in order to make my dream a reality!"
Mitchell Rodriguez, Sous Chef, Holiday Retirement & Online Culinary Arts Graduate*
Culinary Arts Diplomas Require Fewer Credit Hours
Not all students interested in culinary arts want a degree. And some would prefer to focus solely on food and foodservice, rather than study additional topics.
For these students, a culinary arts diploma may be a better choice.
The online diploma program also takes 60 weeks to complete, but it requires fewer quarter credits and clock hours. Students can typically earn this diploma by dedicating about 15 hours/week to their studies. (This time estimate can vary based on the program, credential, and individual's pace of study.) So it may be even easier for diploma students to fit their schooling into their lives and schedules.
Diploma in Culinary Arts and Operations – Effective August 2021
59 Quarter Credits/890 Clock Hours / Length of Program: 60 Weeks
The diploma includes courses like foodservice management, cost control, and menu design — in addition to the same technical cooking foundations of the other programs.
60 Weeks to a Culinary Degree Online
When people think of higher education, they often think of a several-year commitment. But in just 60 weeks, you can have an online associate degree or diploma in Culinary Arts from Escoffier.
Compare that to most associate degree programs that typically take two full years to complete. But it may sometimes take a bit longer if students work on their degree part-time…and also because required courses may not be available until future semesters.
Now, there's a faster path to an associate degree in the culinary arts. And a degree can set you apart in the food business. Graduates show a commitment to a future in the culinary industry, and can prove to potential employers that they know the basics.
A degree or diploma could kickstart your career, and may help you progress through the ranks of the kitchen more quickly. With flexible programs, studying the culinary arts online at Escoffier could quickly get you one step closer to your goals.
Learn more about a degree in Culinary Arts with our online resources, or contact us for more information.
*Information may not reflect every student's experience. Results and outcomes may be based on several factors, such as geographical region or previous experience.
Interested in reading more about culinary education? Try these articles next:
This article was originally published on January 22, 2021, and has been updated.