Attending culinary school is an exciting first step towards a career in food. But as you start to compare programs, you'll find that each school's curriculum is different.
Choosing the right program can set you up for success, but what does the "right program" look like?
Here are the components you should look for in a good culinary arts curriculum.
A Well-Rounded Curriculum
Some culinary arts programs are focused almost entirely on cooking, with the business side of the industry treated as an afterthought. Others are highly theoretical, and students don't get much practice or experience.
A quality curriculum provides a balance of foundational skills and practice, a study of world cuisines, and a practical business education. These components may all prove to be important throughout your career.
The various Culinary Arts programs at Auguste Escoffier School of Culinary Arts explore seasoning, cooking methods, and knife skills. Students step out of their comfort zones while they study different cuisines from around the world. And they dive into the business side of the industry, including professional communication, financial concepts, and restaurant operations, so they can understand how the whole food service operation works together.
They also learn from a variety of Chef Instructors who come from different backgrounds and have different skill sets. These chefs bring their wide range of industry experience to the classroom, which may help students to approach culinary challenges in new and creative ways.
Accessibility & Flexibility
It may not always be feasible for some students to travel to a new city for their studies.
Accessibility and flexibility are key factors in a student's likelihood to graduate. For some students, an online curriculum may fit better with their specific work or family obligations.
With Escoffier's online programs, a quality culinary education is now a flexible option available to thousands of students outside of major cities, who can't necessarily uproot their lives. Online culinary school is also less expensive than on-campus programs, and is available to people with full-time jobs, or those who are raising their families.
"I think Escoffier's online education makes a student very competitive. My culinary education so far has really helped develop my teaching skills, as well as my food styling. I would absolutely recommend Escoffier. It's affordable, it's flexible and it's comprehensive. The chef instructors are so wonderful, and they care very much about the success of every student."
Laura DeVries, Online Culinary Arts graduate
Focus on Sustainability
Consumers are increasingly concerned about practices like buying local. They want to know the story behind the food. Industry experts expect that sustainability will continue to be a driving factor for restaurants through the next decade, with a focus on waste reduction and sustainably sourced products.
A culinary arts curriculum should reflect this shift, focusing on a sustainable supply chain and working with seasonal ingredients. Escoffier's 6-week Farm To Table® Experience helps aspiring chefs to meet this need by highlighting the relationship between the chef and the farm or food supplier.
On-campus students get hands-on education with food producers like farmers or artisan makers of goods like wine, sausage, cheese, or beer. (Actual activities vary based on time of year, location, and availability of farmers and makers.)
"I chose to attend Escoffier primarily because of the farm-to-table program. I believe in the importance of sustainability and ethical sourcing and wanted to grow more familiar with the farm-to-table philosophy."Suzanne Armstrong, Boulder Culinary Arts Graduate
Online students explore the benefits of buying local, different production methods, and the importance of sustainability in their own kitchens. Escoffier also hosts weekend workshops for online students, led by Chef Instructors.
Real World Experience
While culinary school students establish a foundation of technical skills and food knowledge, it's important to bridge the gap between the learning environment and a working foodservice establishment.
Real world experience lets students get a look inside of a commercial kitchen — before their first day on the job.
Whether on campus or online, all Escoffier programs require students to complete at least one culinary externship. This gives them the opportunity to get additional hands-on practice, see how a professional kitchen operates, and "try on" a position.
Our Career Services department works with students to help them decide what type of externship they'd like to pursue, and connect them to potential externship opportunities.
Focus on the Numbers
Restaurant margins are thin, so chefs need to price their menus carefully, and manage labor and food costs. This will be increasingly important in the COVID-19 environment, with fewer people dining out.
Students in various programs at Escoffier study Foodservice Math & Accounting to gain a basic understanding of accounting principles and how they apply to the hospitality industry. They also explore yield cost analysis, portion sizing, and food costing, so they can manage the cost of each plate.
The Essential Culinary Career Guide
The Essential Culinary Career Guide
What's your ideal culinary career: Fine dining? Your own restaurant? Pastry? Get our self-evaluation guide to find out!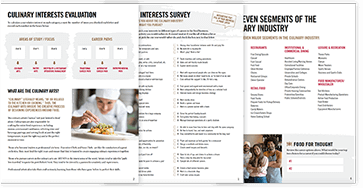 We've compiled a checklist of all of the essential questions into one handy guide: career options, culinary interest surveys, educational opportunities, and more.
YES, I want the guide!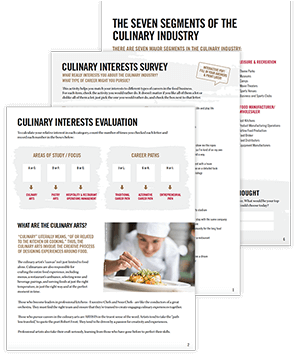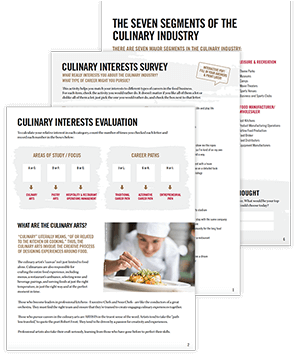 An Entrepreneurial Program
Many culinary school graduates dream of opening their own restaurant or catering business one day. A culinary arts curriculum that focuses on the business side of the kitchen can help students who wish to walk that path.
As new business models like food trucks and ghost kitchens continue to remove barriers to entry, the National Restaurant Association expects to see more food service entrepreneurs than ever in the coming years.
Escoffier's Culinary Arts curriculum includes business-focused courses that prepare students for industry challenges both in and out of the kitchen. Technical Writing for the Hospitality Industry course, for example, can help students write clearly for training documents or standard operating procedures.
Associate Degree students also take Culinary Entrepreneurship, covering topics like business planning, credit management, and business ethics. They will also write a business plan under the guidance of their experienced Chef Instructors.
"After visiting several schools, I was most impressed by the Auguste Escoffier School of Culinary Arts because of its small class sizes, intensive labs, business focus, and knowledgeable staff."
Monica Paredes, Austin Pastry Arts Graduate
From Curriculum to Career
When assessing a culinary school curriculum, it's important to know your end goal. That's how you can decide if a program includes the skills you'll need.
With programs in Culinary Arts, Baking & Pastry Arts, and Food & Beverage Operations, the programs at Escoffier are tailored to a wide range of culinary careers.
If you have any questions about the Escoffier curriculum, reach out to our admissions department for the answers!
Other Culinary Education Articles You Might Like: