The food truck market has more than doubled over the past decade, going from a $660.5 million industry in 2012 to a $1.5 billion one in 2022. This isn't a big surprise when you consider a food truck's typically lower costs of opening and smaller staffing requirements.
But despite the lower costs, a food truck is still a complex business. It comes with some of the same challenges of starting a restaurant—and some challenges unique to opening a business on wheels.
If you need advice on how to start a food truck, we're here to help. Here are the important steps you may need to take to make your new business a success.*
1. Failing to Plan Is Planning to Fail…So Start with a Business Plan
A food truck may be fun, but it's still a business. So before you dive in, you must have a clear business plan.
A business plan will act as a roadmap and help you explore the financial viability of your truck—before you invest your time and money in the venture.
The plan should start with a market analysis. What other food trucks are there in your area? What are their price points? Is there another truck that offers the same type of food that you plan to serve? And if so, is the market large enough to accommodate them both?
Other elements of the business plan might also include basic menu ideas, price points, and sales goals.
How Much Money Can Food Trucks Make?
To determine the viability of your idea, you have to estimate your possible revenue. Discover some industry averages and get ideas for forecasting your sales in our article How Much Money Can Food Trucks Make?
Another important part of the business plan is a marketing strategy, which we will discuss in more detail shortly. Social media, local press, influencer marketing, pop-up events, and traditional media can all be part of the marketing plan for your truck.
Learn the Business Plan Basics with an Education in Food Entrepreneurship
If all of this sounds overwhelming, don't worry.
At Auguste Escoffier School of Culinary Arts, students can pursue a degree or diploma in Food Entrepreneurship. These online programs are specially designed to help students demystify the business planning process, including concepts like vetting your idea, forecasting, basic accounting, cost control, and marketing.
After this program, students may begin their food businesses with more confidence and clarity around their own small business dreams.
"I had started the business before I started Escoffier, but I had been struggling to figure out how to do the numbers. My husband was helping me, but we just couldn't put together how to price out a menu. Culinary school at Escoffier really put it all together for me, whether it was the financial side of running a business, the prep, or knowing how to train a chef."**
Chef Freida Nicole, Escoffier Graduate; Owner of Freida's Sweets and Meats Food Truck; Food Network "Chopped Grill Masters" & TLC "BBQ Pitmasters" Contestant
2. Calculate Startup Costs
As part of the business planning process, you'll need to calculate your startup costs. While opening a food truck typically costs less than starting a restaurant, you'll still have to figure out financing—and verify that your truck will bring in enough income to service any debt.
Part of the startup cost variability depends on the truck itself. Are you planning to buy a brand new, fully customized food truck? If so, costs average between $100,000 and $175,000.*** Or do you hope to scoop up a used food truck to save money? In that case, you could spend an estimated $50,000 to $100,000. While this option can be more affordable, the older equipment may also need more maintenance than new equipment. Keep this in mind when considering your food truck launch.
Another cost to take into account is rent for the truck's location. Some food trucks take up residence in a "food truck park" or in a private parking lot, and others rotate between businesses such as breweries and office parks. No matter what arrangement you choose, investigate any associated costs. Some businesses require that you pay rent to the property owner, while others may require you to pay a percentage of your sales.
Along with the costs of operating the truck, consider other costs involved in running your business. For example, most cities prohibit food trucks from doing food prep in their trucks. So you may need to rent space in a commissary kitchen.
Additional expenses include electricity and gas, point of sale and credit card processing, insurance costs, and staffing. There can also be some branding costs, like logo design and signage.
If you need to get outside financing for your startup, don't forget to factor in those monthly loan payments (plus interest!) in your financial planning.
How Much Can a Food Truck Cost?
The costs of starting a food truck can vary widely based on buying new vs. used, buying vs. renting, the size of your truck, and the city where you live. Explore some of these costs in our article: How Much Can a Food Truck Cost?
3. Factor in Licensing and Legal
Just like brick-and-mortar restaurants, there are myriad state, county, and city permits and licenses that you may need to operate a food truck.
To start, you'll need to create a business entity and register it with your state. You may need some kind of seller's permit to track your sales tax obligations, and you may need a business license.
You'll also probably need some kind of food truck permit, which could require health department inspections and fire department sign-off. Food trucks must be equipped with certain sanitation hardware, like a three-compartment sink for washing dishes and a greywater collection unit. To prove that your truck meets these requirements, you may have to bring the truck to the city permitting office for an annual inspection. You may also need food handler certifications for the chef and cooks.
The rules governing food trucks (and the associated costs) vary by state, county, and city. So reach out to your local licensing board to get a comprehensive list of permitting requirements. Do your due diligence in advance to avoid costly fees and penalties!
What Licenses & Permits Are Needed to Start a Food Truck?
4. Start Planning the Menu
Due to their small footprint, space is at a premium in a food truck. This is why these businesses often have smaller menus than full-service restaurants. Food trucks may also specialize in a single food type, like donuts, grilled cheese sandwiches, crêpes, empanadas, and other tasty delicacies.
As you start to build out your truck, consider how many items you can create quickly and efficiently in the space. Fewer ingredients usually require less storage, so a streamlined menu may be beneficial. And remember, there's no walk-in refrigerator in your truck, so be sure to manage your inventory very carefully.
"The worst-case scenario is when you have a line wrapped around the building and you run out of food. We don't have a backup freezer or fridge. So when we sell out…we close. With that said, it is so rewarding to be mobile and reach an even wider range of customers. You can also have a lot of fun with your menu and be as unique as you want."**
Nahika Hillery, Escoffier Culinary Arts Graduate and Chef/Owner, Kréyol Korner by Chef Nahika
While you don't need your menu completely set before you buy your truck, you should have an idea of what you'd like to serve. Your menu will determine the equipment you need on your truck, and retrofitting your space to make room for a fryer or pizza oven could be costly. It's generally better to buy a truck with the right equipment upfront than try to squeeze new equipment into it later.
While menu planning may seem simple, you might quickly realize it can be quite complicated! That's why Escoffier's Food Entrepreneurship programs include coursework on menu planning and management, including price analysis and design.
5. Buy Your Food Truck
Once you have a thorough business plan and you know how much you can spend on your food truck, it's time to go shopping.
A new truck can be custom-designed and may have a great warranty, but it will likely come at a premium cost. A used truck, on the other hand, can be much more affordable. But there could be some existing wear and tear, so it may need more repairs over time.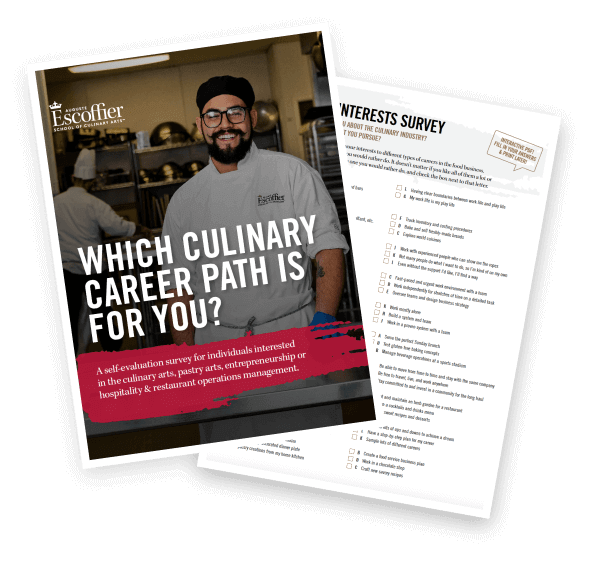 Take the Culinary Career Survey
We've compiled a checklist of all of the essential questions into one handy tool: career options, culinary interest surveys, educational opportunities, and more.
New or used, a food truck is a major investment, so take your time. If you're looking for a custom manufacturer, talk to other truck owners in the area for recommendations. And for a used truck, you can look at online sites like Roaming Hunger or Used Vending to find the perfect home for your food business. You may want to bring a food truck pro and a mechanic along with you to inspect the truck and point out potential problems.
You also have the option to rent a truck, instead of buying. This can save you tens of thousands of dollars in startup costs, but you won't own that truck at the end of your lease. And there's always the possibility that the owner won't want to renew when your term ends, which could leave you searching for a new truck on short notice.
6. Choose a Location (Or Locations) Where Your Customers Can Find You
You can't just park your food truck anywhere! Nearly all parking spaces require you to pay rent or get a permit. Plus, you have to decide if you plan to keep your truck mostly stationary, or if you want to move it around from place to place.
Regardless, check with your city regulatory agency before getting your heart set on a location. Some cities set location restrictions for food trucks. For example, you may have to park 500 feet from a restaurant entrance or 300 feet from a school.
Possible Locations For a Stationary Truck
Although food trucks are mobile, many have a "home base" where they spend most of their time. This location provides a consistent parking spot and makes it easier for your customer to find you.
Will you be in a food trailer park with a group of other trucks? If so, talk to the other operators to make sure that foot traffic is consistent.
Another great option is to partner with a local bar or brewery that doesn't have a kitchen. In this mutually beneficial relationship, the bar provides a parking space and ready source of customers…while you provide food to hungry patrons and prevent them from leaving the bar in search of snacks.
Possible Locations For a Truck That Moves Often
Food trucks are often welcome participants at weekend farmer's markets, festivals and special events, and at office parks or medical campuses. Sometimes, they can also park on the street temporarily (with permitting permission, of course!) or on college campuses.
Some trucks can also be booked for private events, providing catering at weddings and parties. Trucks that do private events can charge a rental fee on top of the food fee, which can be a nice bonus to the bottom line.
If you do move the truck often, post your location schedule on social media so people can find you! And remember that you'll still need a place to park the truck when not in use. Some commissary kitchens that work specifically with food trucks may include parking in the cost of the rent.
How to Choose the Best Location for Your Food Truck
7. Get a Marketing Strategy in Place
Your food truck may have the best food in the universe, but it won't do any good if no one knows you exist. Marketing is how you communicate who you are and what you're about to potential customers—and convince them to give you a try.
Your marketing strategy can get as complicated as you wish, but it can start out simple. Set up a website as your "home base" online. This is where social media profiles and review sites should link back to. Post your menu, hours, location, and some basic information about your business. Don't be afraid to show a little personality on your website!
Then there's social media. Instagram, Facebook, and Twitter are all popular social media sites for food businesses. You can share photos of your food, special events, new menu items, and your truck's location if you move around.
How to Market Your Food Truck
Get marketing tips and suggestions for your food truck, including naming your truck, creating a visual brand, and using social media to get the word out in this article: Food Truck Marketing: A How-To Guide
While Escoffier Boulder Culinary Arts graduate Chantal Lucas now owns the Colorado Springs restaurant Luchals, she started her business in a food truck. Even before the truck opened, she worked to engage the local community by hosting several tastings where the locals could taste her "soulful seafood" and vote on what they wanted to see on the menu.
So take a note from Chantal and get the local foodies excited! Invite influencers or food media to a private tasting and encourage them to post on their social media accounts. This can help spread the word and bring in customers in those crucial first days.
You may also want to get a listing on Roaming Hunger, an online hub for street food and food trucks.
8. Build a Well-Rounded Team
While you can operate a food truck business as a solo venture, many food trucks rely on a small team of individuals. After all, you may get sick, take a vacation, or just need some time off every now and then to prevent burning out.
However, before you start putting out "help wanted" ads and vetting candidates, think about where you need to fill in the gaps. If you have the business know-how but lack the necessary culinary skills, you may need to hire a chef who can properly design and execute a menu. If you're confident in your cooking skills (and want to spend the majority of your time in the kitchen), it may make more sense to hire someone with management skills like accounting know-how and the ability to provide excellent customer service.
Of course, with a degree in Food Entrepreneurship or Culinary Arts, food truck owners may feel better prepared to handle more of these tasks, and may be able to go without as much help.
9. Launch Your Food Truck
After you fine-tune your concept, come up with a menu, and prep the truck so it's a functional space, it's time to start serving people!
Before you can start taking orders, you'll need a POS system to process credit card payments and track inventory and sales. You'll also need internet access so the POS system can connect to payment servers.
The POS Systems for Food Trucks
The right POS system can help you manage sales and inventory, as well as provide valuable reports and sales insights. Find some of the best options with this article: The 5 Best Food Truck POS Systems
Give yourself a pat on the back—opening a food truck takes a lot of work! Just don't expect to rest for too long. After your truck is up and running, it's time to tackle finances, inventory, managing employees, and all the other tasks that come with being a culinary entrepreneur.
Get a Headstart on Becoming a Culinary Entrepreneur
While food trucks can be lucrative (and perhaps even lead to a fleet of your own trucks), careful planning and hard work are necessary to make them a success.
An education in Food Entrepreneurship can support aspiring food truck owners as they work toward their goals. In addition to what students can explore in their classes, they'll also complete one or two industry externships before graduating, giving them a chance to put their skills to use and explore career options. An externship could be just what you need to complete your education on how to start a food truck!
To learn more about pursuing an entrepreneurial education at Escoffier, check out our degree and diploma programs. Our admissions staff will be happy to answer any questions and help you start your application.
If you found this article helpful, here are three more that you may like:
This article was originally published on February 18, 2015, and has since been updated.
*Auguste Escoffier School of Culinary Arts does not provide legal advice. Always consult with an attorney before creating a new business entity!
**Information may not reflect every student's experience. Results and outcomes may be based on several factors, such as geographical region or previous experience.
***Figures included in this article are for informational purposes only and are estimates based on industry trends or a range of costs/expenses. Please research costs for your geographic location and individual situation.