So you want to become a professional chef. Your first impulse might be to flip open your laptop and create a long list of culinary school options. But how can you consolidate your choices into one powerful shortlist? The answer is simple—look for an accredited culinary school.
An accreditation can help ensure your school meets the highest level of educational standards and may give you an extra layer of credibility. If you want to start your culinary education on the right track, potentially qualify for financial aid, and avoid scams, let's explore all the reasons why you might want to attend an accredited culinary school.
Access to Financial Aid
One of the major perks of attending an accredited culinary school is access to financial aid. Yes, it's a common misconception that financial aid is available at all schools, but oftentimes, it's only accessible at accredited institutions.
Rest assured, students who attend Auguste Escoffier School of Culinary Arts may apply and qualify for financial aid or student loans since the school is accredited. Plus, the Escoffier Financial Aid Department can always assist you with your planning and help you weigh your aid options.
"The Financial Aid Department was great at communicating with me. Jordan and the team at Escoffier were always emailing me back and letting me know where I was and how things were going."*
Brent Unruh, Boulder Culinary Arts Graduate & Executive Chef, Target Hospitality
An Accredited Culinary School May Improve Job Prospects
According to the Accredited Council for Continuing Education & Training (ACCET), an accreditation represents "an organizational commitment to and a strategic plan for quality training." It also can help ensure a certain level of standards are met, which may result in accountability, credibility, techniques, technology, and training.
Auguste Escoffier School of Culinary Arts' Boulder, Colorado campus is nationally accredited through Accredited Council for Continuing Education & Training (ACCET), while the Austin, Texas campus is nationally accredited by the Council on Occupational Education (COE).**
Escoffier is a member of the following organizations:
International Association of Culinary Professionals: IACP is a national forum for new development and exchange of information, knowledge, and inspiration within the professional food and beverage community.
National Restaurant Association: The NRA is one of the most recognized foodservice trade associations in the world which supports almost 500,000 restaurant businesses and works to assist restaurant owners and operators achieve success.
State Food Safety: Chef Educators at Escoffier campuses are certified through State Food Safety–a technology-based food safety training program that provides value to restaurant and hospitality communities.
World Association of Chefs Society: Escoffier is a recipient of WACS Recognition of Quality Culinary Education Award. WACS is a global network of national chef associations that represents over 10 million professional chefs in 93 countries.
When you attend a school like Escoffier, prospective employers usually value this level of professionalism—it might just give them "peace of mind" knowing you take your education and your profession seriously.
"What I think makes Escoffier the best culinary school for us to recruit from is the fact that their graduates are predictable. I know they have been trained properly, and I know they have a real passion for providing quality food for our customers."*
Mary Ann Mathieu, Senior Recruiter, Sodexo
The Coursework Is High-Quality and Valuable
Many unaccredited programs might only touch on a few areas of culinary arts, but an accredited education is usually much more comprehensive and value-focused. For example, students who complete the Culinary Arts program available at Escoffier's ground campuses in Austin, TX, and Boulder, CO, can gain a fully-immersive education. The curriculum covers topics like fundamental cooking skills, key business and entrepreneurial concepts, a Farm To Table® Experience, and a culinary externship.
It's also important to note that Escoffier is the only U.S. accredited institution offering 100% online degrees with culinary classes and hands-on industry externships.** Escoffier's online culinary programs can offer students a structured model that covers a breadth of topics from cooking terminology, methods, and food safety to world cuisine, menu design, and cost control.
This type of expansive, accredited curriculum is designed to help prepare students for a wide range of dynamic culinary careers, such as working in a restaurant, starting a bakery, launching a home-based catering business, and more.
Study Alongside Top Chef Instructors
A huge perk when it comes to attending an accredited culinary school is studying alongside highly decorated Chef Instructors. At Escoffier, students engage with faculty who are cooking competition winners, James Beard Award nominees, and top-tier restaurant owners—all offering a one-of-a-kind experience. The instructors also strive to keep up-to-date with industry trends and techniques, so the curriculum remains progressive in nature.
"The quality of chef instructors is so good. It's very personal, they really join hands with you one-on-one, they talk to you, and they walk you through every step of the program. I could reach out to any Chef Instructor whenever I needed. It's never-ending, I keep learning each and every time I am in need of knowledge from Escoffier."*
Arnold Safari, Owner of Eat Zawadi Restaurant; Online Culinary Arts graduate
Access to Valuable Externships
An unaccredited culinary school might only be concerned about getting you "out the door" when it comes to graduation. It's questionable to know whether they're truly invested in your future. Accredited culinary schools usually want you to succeed since it's a direct reflection of their faculty and coursework.
At Escoffier, all students must complete one or two culinary externships. This is a short-term work opportunity that gives soon-to-be graduates real-world experience. This intensive experience tends to bridge the gap between education and your professional career. Many students may often embark upon their next job opportunity through the externship, avoiding the post-graduation unemployment phase entirely.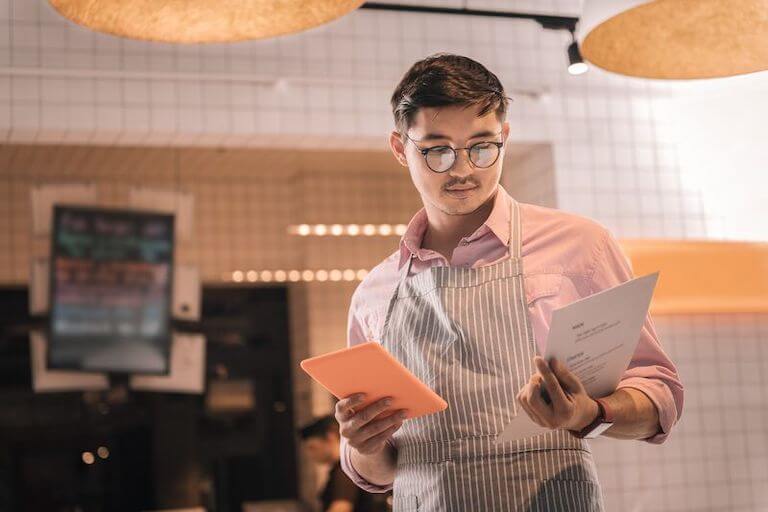 Support from Career Services
Along with access to externships geared to help you achieve your culinary career goals, an accredited institution may also offer career services to prepare you for your professional job.
Escoffier's Career Services team provides dedicated coaching, counseling, and resources for all Escoffier students and graduates. Plus, culinary job seekers can get access to EConnect by Auguste Escoffier Global Solutions—an expansive job marketplace designed to find employers who value education and career development. This comprehensive platform allows candidates to browse opportunities based on their personality, experience, and lifestyle needs.
Escoffier Career Service Offerings:
Resume writing and cover letter assistance
Interview tips and techniques
Job search guidance
Job postings from online opportunities to direct contacts
Career fairs for students and graduates
Recruitment from local and national restaurants
Attend an Accredited Culinary School Today
When it comes to attending culinary school, choosing an accredited program can be vital to make the most out of your valuable time and money.
To avoid the turmoil, it might be best to opt for an accredited culinary school, like Escoffier! Contact our admissions department to explore the online programs available.
Ready to dive into culinary school even more? Check these articles out!
*Information may not reflect every student's experience. Results and outcomes may be based on several factors, such as geographical region or previous experience.
**Our Boulder, CO campus is the only accredited institution in the United States to offer both fully online diploma and degree programs with culinary classes and hands-on industry externships. We are accredited by ACCET – A Partnership for Quality®. ACCET is listed by the U.S. Department of Education as a nationally recognized accrediting agency.