Which comes first: knowing how to cook, or going to culinary school?
You may think you have to know how to cook to succeed in school… but isn't that the point of going to school in the first place?
No need to worry about this chicken and the egg problem. Because you don't have to know how to cook before you go to culinary school. Culinary school students come from all experience levels—from total beginners to amateur home cooks to seasoned professionals.
Here's what you do need to bring with you to succeed in school, and what you can expect to discover while you're there.
What You DO Need to Be Successful in Culinary School
Here are a few qualities that could benefit you when entering your culinary school program.
A Passion for Food and Cooking
There are no particular kitchen skills you need to bring with you, but you do need to bring passion! The culinary industry is fueled by unmitigated enthusiasm for food and for feeding others. Your passion can help keep you motivated throughout school and your career. In fact, "Bring the Passion" is one of Escoffier's core values. We want to inspire every day with your drive, determination, and enthusiasm.
"Everybody [at Escoffier] comes from a different background, but everybody has one thing in common: they have a passion for cooking."*
Cesar Herrera, Escoffier Online Chef Instructor
Willingness to Learn
If you're willing to invest your time and money into a formal culinary education, then you can benefit from exploring the concepts you're learning with an open mind.
Don't make the mistake of deciding you already know the right way to do things. First of all, there's not always just one way to achieve a desired result. Second, being open to new methods is going to be key as you progress through your career. Each executive chef you work for may have their own preferred process, and it's up to you as the cook to execute their vision their way.
So keep an open mind, both in school and beyond!
Commitment to Your Education
Whether you attend on-campus or online, culinary school requires that you commit to your education. Students will be responsible for reading, watching education videos and attending live sessions, and completing cooking assignments to practice what they're learning.
Sometimes it may feel challenging to incorporate school into your everyday life, especially if you also work full time. So students must be committed, giving their best effort so they can truly get everything possible out of the experience.
A Great Attitude
Along with that commitment and willingness to learn should be a great attitude. Everyone in the classroom—whether in person or virtual—is there to learn. And no one wants to bring down the rest of the group.
Keep your attitude positive and you'll be more likely to make great friends and mentors as you progress through your program.
What Can You Learn in Culinary School?
If you've got your passion, willingness to learn, commitment to working hard, and a good attitude ready to go (along with a sharp set of chef's knives), here's what you can expect from your culinary school curriculum at Auguste Escoffier School of Culinary Arts.
Culinary Foundations
A culinary education begins with the basics, which means that even brand new cooks can be successful in culinary school.
Coursework may start with knife skills, safety and sanitation, mise en place and organization, various cooking methods, and seasoning techniques. Courses might also explore the basics of baking, garde-manger, and desserts.
Even experienced cooks may find useful tidbits to add to their foundational skillset, correcting bad habits or filling gaps in their knowledge. This is the information you'll draw from every day. It's like the alphabet to a writer or musical notes to a musician. They're the building blocks that support everything else!
"I think I will be more than prepared for success in the industry after I graduate. Even if I just go to a line cook position, I'll understand how a kitchen works. I'll understand how to do a plethora of techniques. I've learned more in the last 12 weeks than I think I've learned about cooking in my whole life."*
Kadie Sardo, Boulder Culinary Arts Student
World and Local Cuisines
At Escoffier, we draw our primary technique from the French culinary tradition. But that's certainly not the only food culture out there! Students can take a food tour around the world, exploring the history and key flavors of foods from Asia, Africa, Europe, and the Americas to broaden their culinary horizons.
You might also discover the local food in your own backyard through a look at sustainable food production and the relationship between chef and food producer/supplier in the Farm to Table® experience. On-campus students can spend one day per week visiting a local farm, ranch, winery, or other food producer to go behind the scenes and explore what it takes to create the ingredients that chefs use every day.
Business and Foodservice Management
The business side of culinary arts is nearly as important as the culinary side. A chef must create a profitable menu and a positive place to work if they're going to be successful.
To this end, students may explore the different types of foodservice operations, plus management skills like training and creating a safe work environment for future employees. They can dig into menu design and controlling costs through inventory management and careful purchasing. Plus, they can explore entrepreneurship skills like creating a business plan and business ethics.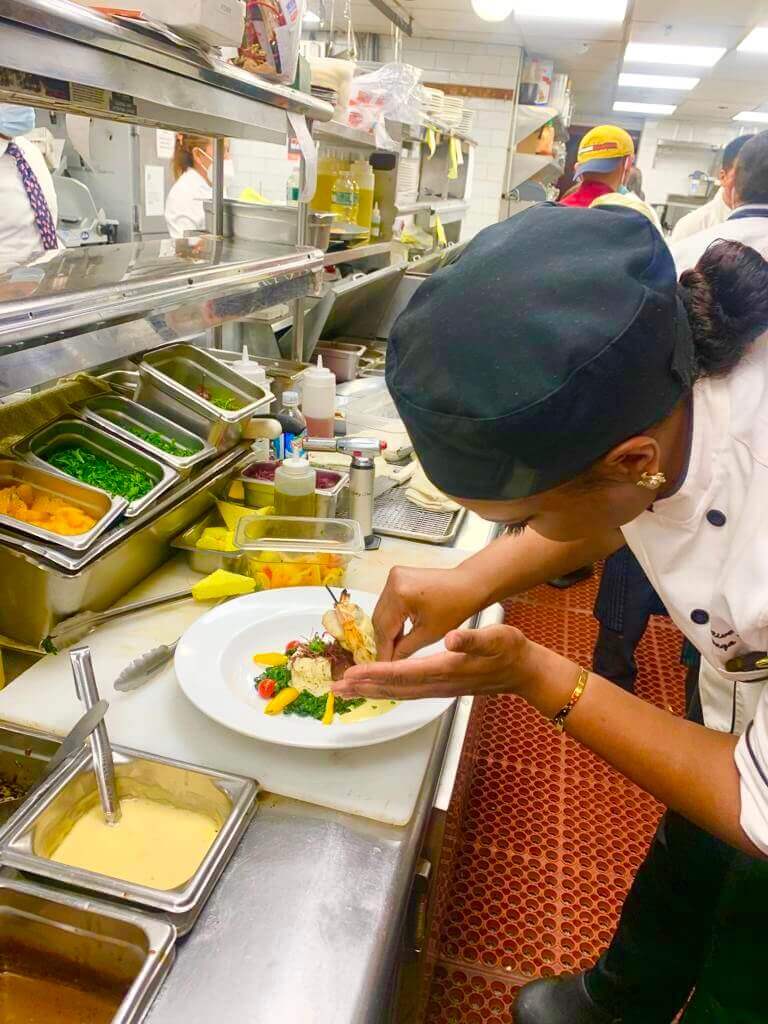 Join the Ranks of Culinary School Graduates!
The Escoffier curriculum is designed to build week after week, so cooks of all experience levels can follow along. The work isn't always easy, but thousands of students have been able to successfully complete their programs. And so can you.
More questions about what you might need to attend culinary school? Contact our Admissions Department to get the answers!
Learn more about culinary school