With citizens representing every culture on the globe, the culinary tradition of the United States is more like an evolution of hundreds of worldwide cuisines. As people from other countries emigrated to the United States—sometimes by choice, sometimes not—they brought with them their own unique, rich cultural heritage.
Faced with a different climate and unfamiliar ingredients, these traditional dishes evolved into something new. Now, the American cuisines of these seven regions each have a flavor all their own. Here are a few of the best dishes from each region, as chosen by professional chefs.
Best New England Dishes
New England states are in the northeastern part of the country. They include Maine, Rhode Island, Vermont, Connecticut, New Hampshire, and Massachusetts. Seafood is an important part of this local cuisine, because of its location on the Atlantic coast.
"American Regional Cuisine is the study of the settlement and expansion of the United States, which looks at the various regions of the country, where the settlers came from and their native cookery methods, and how they applied those methods to the indigenous ingredients they found in the New World. It's not just the study of food, but the study of people, culture, assimilation, and relationships. Some of that history is raw and painful, but in that truth lies the beauty of the foods we've come to know and love as Americans."
Chef Kathleen Vossenberg, M.Ed., CEC, CCE, CS,Escoffier Vice President of Academic Affairs
Clam Chowder
Add locally caught clams to potatoes and onions and you've got a soup that ranks among America's favorites: clam chowder.
There are actually three types of clam chowder: New England is a white clam chowder, which is made with a milk or cream base. Manhattan style is a red clam chowder, which is heavy on tomatoes. And Rhode Island chowder is clear, because it features neither dairy nor tomato.
Lobster Rolls
In keeping with the tradition of seafood-focused meals, another favorite among New Englanders is the lobster roll. This dish simply takes a grilled hot dog bun and replaces a pork sausage with lobster. The roll is often drizzled in butter or lemon juice, smothered in mayonnaise, or topped with salt, black pepper, and scallions.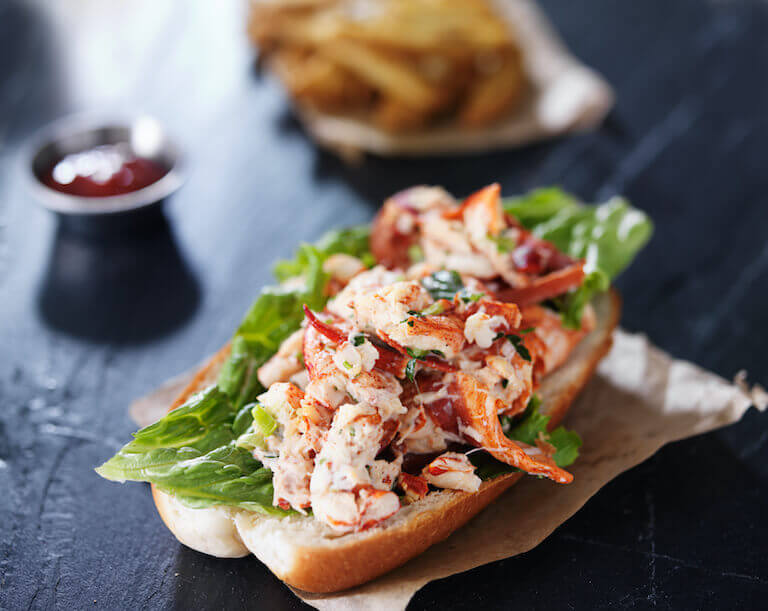 Best Mid-Atlantic Dishes
The Mid-Atlantic states are just southwest of New England: New York, Philadelphia, and New Jersey.
Buffalo Wings
Hailing from Buffalo, New York, this creative take on chicken is beloved among sports enthusiasts. Wings have taken off in such a wildly popular way that the once definitive buffalo hot sauce made with cayenne pepper has taken all manner of forms.
There are lemon garlic chicken wings, teriyaki chicken wings, honey sesame chicken wings, and more. Typically, buffalo wings are served with bleu cheese or ranch dressing, and carrots or celery for dipping – all of which cool off a fiery post-wing palette.
Crab Cakes
Crab cakes make excellent fare for events due to their savory taste and convenient snackability. To make crab cakes involves combining crab meat with mayonnaise or mustard, egg, and bread crumbs, then seasoned. They usually feature blue crab meat, which comes primarily from Chesapeake Bay crabs. (Want to try your hand at it? Check out this guide to whip up easy Maryland crab cakes.)
Best Southern Dishes
The South is a large area that stretches from Virginia all the way to Louisiana. It includes Virginia, West Virginia, Kentucky, Delaware, Maryland, North and South Carolina, Tennessee, Arkansas, Louisiana, Florida, Georgia, Alabama and Mississippi. Since this is such a large region, there are many different culinary styles represented.
Deep South and Lowcountry Cuisine
Southern food has a number of international influences and a lot of history. One of those major influences is African cuisine, brought by enslaved Africans and passed down to their descendants.
Pastry Chef Cheryl Herbert said, "One of my favorite indigenous cuisines from America is from the Lowcountry, associated with South Carolina and the Georgia Coast." This is Gullah Geechee, a cuisine style influenced by Western African dishes and made with southern Lowcountry ingredients.
Some of Chef Cheryl's favorite recipes include the Low Country Boil – otherwise known as "frogmore stew" – a seafood, potato, and sausage boil. She-crab soup is a bisque-like soup of blue crab, cream, sherry, and crab roe. Chicken Perlau (aka chicken bog) is a stew made of chicken, sausage and rice. And Gullah Geechee corn cakes are cornmeal cakes with corn, celery, and onion, all fried in oil.
"I love the combination of Southern and African influences that the low country offers as well as the abundance of seafood and rice that abound in the cuisine."
Cheryl Herbert, Online Pastry Instructor
Cajun & Creole Cuisine
French cuisine was a big influence in the cuisine of Louisiana, which led to modern day Cajun and Creole food. While Creoles descended from French and Spanish settlers in colonial Louisiana, Cajun cuisine comes from the French colonists who settled in Canada's Acadia region before making their way to Louisiana. These two cuisines are quite distinct, but both include plenty of spices, onions, and bell peppers.
Chef Albert Schmid says, "I am very fond of Cajun and Creole cuisines from Louisiana." Some of his favorites include beignets for breakfast—fried dough sprinkled with powdered sugar. Another favorite are Oysters Bienville, baked oysters in a shrimp sauce. For dessert, he loves bread pudding with whiskey sauce.
"My culinary awakening happened in South Louisiana before I entered elementary school so, for me, food and cuisine were synonymous with Cajun and Creole dishes."
Chef Albert Schmid, MA, Escoffier Chef Instructor
Floribbean
Combine the diverse culinary traditions of Carribean, Hispanic, and Asian cultures and you've got the cuisine known as Florribean. Dishes like swamp cabbage (otherwise known as hearts of palm salad), grits (a cornmeal porridge), or key lime pie (a citrusy pie made with condensed milk) are staples of Floribbean cuisine.
Best Midwest Dishes
Toasted Ravioli
The Midwest sits in the middle of the country, and it includes the states of Michigan, North and South Dakota, Iowa, Minnesota, Kansas, Nebraska, Ohio, Indiana, Illinois, Wisconsin and Missouri.
"My favorite American/Regional dish is Toasted Ravioli. It's a St. Louis Italian dish and hasn't made it to many places outside of the city. It's basically just breaded, deep fried ravioli."
Chef Jon Todd, Escoffier Chef Instructor
Buckeyes
Buckeyes, named after the state tree of Ohio, consist of a ball of peanut butter coated in chocolate. But though this confection may sound simple, don't be fooled. Getting buckeyes to come out with the right consistency and a perfect circle of peanut butter exposed at the top takes a lot of pastry finesse. Arguably the best thing about buckeyes? They can be frozen for months for later enjoyment!
Best Southwest Dishes
The Southwest is west of the southern region. It has a hot, dry climate and is in close proximity to Mexico, which has influenced a great deal of its cuisine. States include Texas, Arizona, New Mexico and Oklahoma.
Chili
Chili was born where cattle drives meet Mexico, which makes it the perfect food to meld these two cultures, and to represent the American Southwest – specifically Texas. The need to create a dish that was hearty, tasty, and used what was available is why chili was created. The low and slow cooking allows the meat to become nice and tender. The melange of aromatics and chilies give the dish a rich and complex flavor.
"As a hunter and a chef, chili allows me to utilize the wild game I harvest in an approachable manner for my family and friends, as it's a perfect vehicle for those tougher cuts. The list of garnishes can be a contentious topic. From a Texan's perspective, fine diced onion, jalapenos, cilantro, fritos, and cheese are all acceptable. And unless you've got 30 minutes to argue with me, don't ask about beans in chili."
Chef Luke Shaffer, Escoffier Chef Instructor
Fry Bread
A Native American culinary tradition, fry bread became common across Navajo Nation during the tribal displacements of the mid 1800s. The dish is made from a pillowy dough, served warm, and often topped with honey and powdered sugar.
Best Rocky Mountain Dishes
The Rocky Mountain region is in the western part of the country. It includes Montana, Idaho, Colorado, Utah, Wyoming and Nevada.
Bison Burgers
Classic Rocky Mountain fare includes gamey meats like elk, venison, or bison. Bison patties are a particularly popular take on the standard American burger. They're juicy, taste remarkably similar to beef, and are healthier – being significantly lower in fat in calories than ground beef.
Rocky Mountain Oysters
No, these aren't seafood after all. Considering that Rocky Mountain oysters, also known as prairie oysters, are served primarily in landlocked states, they do in fact come from land-dwelling creatures. Rocky Mountain oysters are made of bull or bison testicles, either deep fried or pan fried, and typically drizzled in lemon juice.
Best Pacific Coastal Dishes
The Pacific Coast stretches from southern California all the way north to Washington. It includes California, Oregon, and Washington. With its location on the Pacific Coast and its temperate climate, this region is famous for great seafood and fresh produce.
"Learning about American Regional Cuisine includes learning that cod fish were once used as currency in New England, that avocados used to be known as Alligator Pears in Florida, that Jambalaya is a dish with cooking techniques rooted in Spanish and French aristocracy along with ingredients of the enslaved Native American and Senegalese people in the Cajun-Creole region, that the Midwest is home to Bavarian brewers (and yes, Milwaukee's baseball team pays homage to them), and that a Hangtown Fry was once the most decadent meal you could get in California."
Chef Kathleen Vossenberg, M.Ed., CEC, CCE, CS,Escoffier Vice President of Academic Affairs
Fish Tacos
Just like on the nation's east coast, seafood has a prominent role in west coast dishes. The fish taco is said to have originated in Baja California, Mexico, before making its way up the coast, through California, and subsequently all across the country.
Fish tacos are usually served with a flaky white fish like grouper, flounder, cod, or mahi mahi. They can come fried, blackened, or grilled, and served with a variety of toppings.
Cedar Planked Salmon
What happens when you cook fish on top of a wood plank? The smokey flavor of the wood permeates the meat, infusing a delightfully smoky taste throughout it.
As far as fish go, salmon is particularly abundant in the Pacific Northwest, and the red cedars of Oregon and Washington tend to be the preferred wood to use for this dish. However, wood-smoking has become widespread across the world, with other types of meats and even vegetables being cooked on hickory, mesquite, oak, and other woods.
Exploring Culinary Traditions
The regions that make up the United States are only a small fraction of the world. With so many different types of cuisines, exploring culinary traditions around the globe could certainly take a lifetime!
Fortunately, you can get a small taste of many American cuisines, as well as other global culinary traditions, in culinary school. Courses like World Cuisines at Escoffier provide students with cultural histories, key ingredients, cooking styles, characteristics, and recipes of a variety of regional gastronomy.
And this is but one course in the Culinary Arts curriculum! There's so much to discover through a culinary degree or diploma program at Escoffier. Reach out to an Admissions Advisor to find out more about a comprehensive culinary education and how you can find your niche.
Want to read more about the world of food and drink?