A critical part of being a chef or a baker is remaining teachable. Whether you graduated from culinary school years ago or have just begun your culinary journey, one way to keep expanding your education as a chef or baker is by reading acclaimed culinary books from knowledgeable sources.
While you may not be able to work under all of the industry's most successful people, you can benefit from their decades of knowledge by reading their texts. Spending a few hours flipping through pages is an accessible way to absorb other professionals' advice, explore their stories, and learn from their mistakes!
We asked several Chef Instructors at Auguste Escoffier School of Culinary Arts for their top book recommendations. Here's our roundup of the most commonly recommended choices. After all, if you want to become a chef, well… reading chef books is a great place to start.
7 Books Chefs Should Read According to Escoffier Chefs
1. Best for Food Science: On Food and Cooking, by Harold McGee
For 35 years, this book has been beloved by home cooks and culinary professors alike. It's even included in culinary school curricula. The author, Harold McGee, is considered one of the most authoritative food chemists in modern history.
On Food and Cooking takes a deep dive into the science behind cooking—including the what's and the why's around foundational elements like temperatures and ingredients. That said, the book remains accessible for the layperson, so you don't need to have a degree in food science to understand the content.
Recommended by Escoffier Chef Instructors Jennifer Kempin, Eduardo Suarez, and Cheryl Herbert.
2. Best for Menu Planning: The Flavor Bible: The Essential Guide to Culinary Creativity, Based on the Wisdom of America's Most Imaginative Chefs, by Andrew Dornenburg & Karen Page
Anyone looking to experiment in the kitchen needs to have an understanding of how to combine and balance flavors. That's why Escoffier students explore the three elements of flavor—taste, aroma, and mouthfeel—by using the flavor wheel and practicing in the kitchen. No matter where you stand in your understanding of combining different ingredients, you can turn to The Flavor Bible as a definitive source for all things flavor.
These authors hold two spots on this list for their leading culinary texts. The Flavor Bible is just one of their many critically acclaimed books. It includes information on the best seasonings for different types of dishes and cuisines, as well as which flavor combinations work well together, and why. It also offers explanations of what certain ingredients taste like, which can be helpful if you're working with a new ingredient.
Recommended by Escoffier Chef Instructors, Jesper Jonsson, Brian Felicella, and Daniel Bearss.
3. Best for the Aspiring Baker: How Baking Works, by Paula Figoni
When it comes to the science of baking, having a helpful reference tool while working in the field can make all the difference. If you're looking to understand the differences between baking soda and baking powder as well as what gives caramel its golden color, consider reading Paula Figoni's How Baking Works.
This book can help you figure out what didn't work when your finished product misses the mark.
"Any professional pastry chef (or pastry student for that matter) can tell you that baking is not only an art, but a science… In my opinion, knowing why and how to make adjustments in the pastry world is what sets a chef apart from a home cook. Not only does having this knowledge allow you to troubleshoot when things don't go as planned, it also gives you the foundations to develop your own recipes."*
Escoffier Chef Instructor Cody Middleton
Recommended by Escoffier Chef Instructors Nicole Lourie, Joshua Turek, and Cody Middleton.
4. Best for an Honest Take: Kitchen Confidential: Adventures in the Culinary Underbelly, by Anthony Bourdain
Escoffier Pastry Chef Instructor Cheryl Herbert calls this book "an unromantic look at the industry." Indeed, late famed celebrity chef and culinary television host Anthony Bourdain has written a raw, unfiltered account of his experience in the restaurant industry.
Kitchen Confidential: Adventures in the Culinary Underbelly is an excellent read for aspiring chefs. It's one of Bourdain's most loved memoirs, and it's sure to provide a hilarious, jaw-dropping experience for its readers.
Recommended by Escoffier Chef Instructors Clifton Dickerson, Nicholas Howard, and Cheryl Herbert.
5. Best for the Creative Chef: Culinary Artistry, by Andrew Dornenburg & Karen Page
Remember how we promised multiple recommended books from expert culinarians Andrew Dornenburg and Karen Page? This list includes another masterpiece from these two authors: Culinary Artistry. This book is a staple for the shelf of anyone who considers themselves (or aspires to be) inventive in the realm of culinary arts.
Just ask Escoffier Chef Instructor Vickie Davenport."This book is great for helping chefs understand the theory of flavor and taste and how to combine ingredients in a way that is seasonally appropriate, as well as complimentary in flavor. Many famous chefs share their recipes as well as the process of how they developed the recipe—from ingredients to a recipe, and from a recipe to full menu item. I consider (Culinary Artistry) to be an invaluable investment in your professional development!"* says Davenport.
Recommended by Escoffier Chef Instructors Vickie Davenport, Kareen Linton, and Cheryl Herbert.
6. Best for the Dedicated Boulanger: Bread, by Jeffrey Hamelman
If you're chipping away at your bread recipe, making adjustments and additions to perfect it, you might consider grabbing a copy of Jeffrey Hamelman's Bread. And if you're running a commercial bakery or thinking about opening a bakery, you should run, not walk, to purchase your copy (if it's not already sitting on your bookshelf!)
The Julia Child Award-winning Bread covers the science, theory, and art of breadmaking. It provides formulas for over 100 different types of breads, detailing tastes and textures that work well. The most recent edition also includes gorgeous photographs for those who are visually inspired.
Recommended by Escoffier Chef Instructors Cheryl Herbert and Jackie Parchman.
7. Best for the Exam-Bound Student: The Soul of a Chef: The Journey Toward Perfection, by Michael Ruhlman
While not every culinarian will need or choose to obtain industry certifications, many will see the value in them and pursue these elite designations. One such certification is The American Culinary Federation (ACF) Certified Master Chef®, which is one of the most esteemed titles one can hold.
In The Soul of a Chef: The Journey Toward Perfection, Michael Ruhlman recounts his attempt to take the ACF Certified Master Chef® exam, detailing the years of industry experience, rigorous exams, and culinary academia. For those working toward any certification, this book may help breathe motivation into you and help keep you on track.
Recommended by Escoffier Chef Instructors Nicholas Howard and Christopher Moore.
The Essential Culinary Career Guide
The Essential Culinary Career Guide
What's your ideal culinary career: Fine dining? Your own restaurant? Pastry? Get our self-evaluation guide to find out!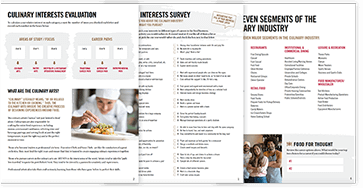 We've compiled a checklist of all of the essential questions into one handy guide: career options, culinary interest surveys, educational opportunities, and more.
YES, I want the guide!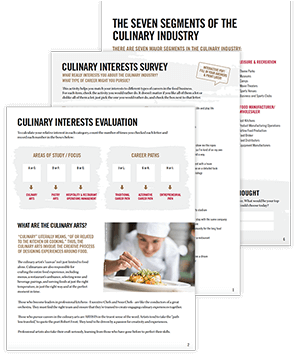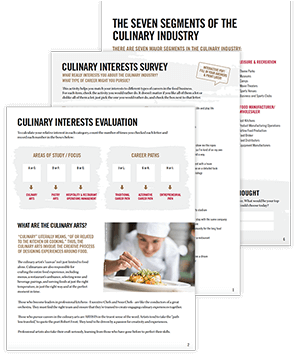 Explore Culinary Education Off the Pages
Reading up on culinary techniques, history, and current trends is an important part of your development as a chef, and a great start for anyone looking to learn more. However, books can only take you so far.
If you're interested in a more immersive, formal culinary education, check out Escoffier's degree and diploma programs in the culinary arts and pastry arts. These programs are taught by Chef Instructors such as those mentioned above and are available in-person and online.
For more on becoming a professional chef—including salaries, requirements and more—check out our complete step-by-step guide: How to Become a Chef: The Complete Guide.
Enjoyed this article? Try these next:
This article was originally published on August 30, 2016, and has since been updated.
*Information may not reflect every student's experience. Results and outcomes may be based on several factors, such as geographical region or previous experience.