Have you ever wondered how restaurants get Michelin Stars? Or how the Michelin Star rating system came to be?
Here at the Auguste Escoffier School of Culinary Arts, we thought you should know the whole story. After all, some of the cooks we're training may one day aspire to join the ranks of restaurants recommended in the iconic Michelin Guide.
The origins of the Michelin Guide trace back to the turn of the 20th century and were inspired by a surprising turn of events that have very little to do with cuisine.
The Unexpected Origins of the Michelin Guide
Interestingly, the invention of the Michelin Star rating coincides with the invention of the automobile. The first Michelin Guide was compiled in 1900 by Michelin Tire founders and French industrialist brothers Andre and Edouard Michelin. The aim of the guide was to create a demand for automobiles, and therefore, Michelin tires.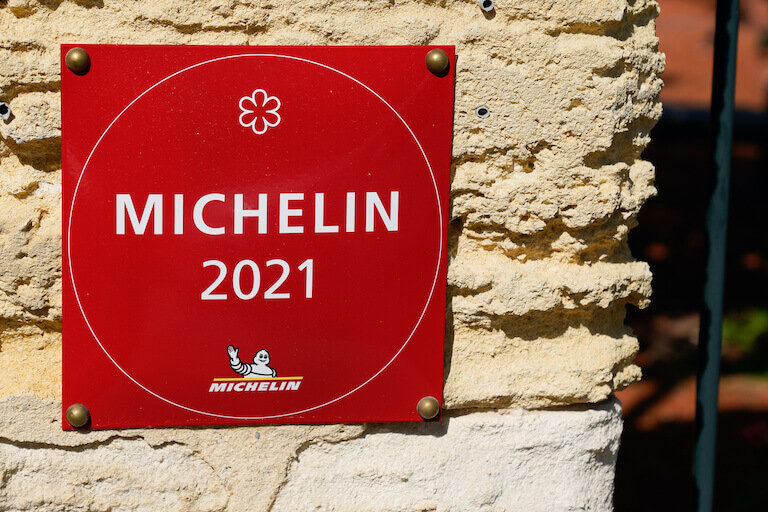 The first Michelin Guide printed 35,000 copies and included maps, along with instructions on how to repair and change tires. It also included a list of restaurants, hotels, mechanics, and gas stations along popular routes in France.
Since there were only a few hundred cars in all of France, the guide was given away for free in hopes of creating demand for cars. Within its first decade of existence, the Michelin Guide expanded rapidly and became available throughout Europe, as well as Northern Africa. Although the guides contained valuable information about restaurants, the ultimate end goal for the Michelin brothers was to generate sales and profit for their tire business.
The Evolution of the Michelin Star Rating System
The Guide Adapts with Two World Wars
The outbreak of World War I in 1914 temporarily halted production of the guide, but by 1920 it was back on track. At this point, the Michelin brothers decided to ramp up the quality of the guide, eliminate advertising, and start charging money for it.
The first Michelin Star ratings were given in 1926. The restaurants, all of which were in France, were awarded a single star if they were deemed a "fine dining establishment." In 1931, the rating system expanded to become the Michelin three-star rating that continues today.
Unlike most star rating systems, one star is not a bad thing. Any number of Michelin Stars granted to a restaurant signals a huge honor and a rare accomplishment.
Michelin Guide Star Rating Descriptions
One star: A very good restaurant in its category.
Two stars: Excellent cooking, worth a detour.
Three stars: Exceptional cuisine, worth a special journey.
The guide took a hiatus during World War II, and only resumed in late 1939 because it contained maps that were useful to the Allied Forces. However, the Michelin Star rating was reduced to a two-star system during this time because of food shortages. Understandably, quality suffered at restaurants throughout Europe, so the yardstick was adjusted accordingly.
In 1955, Michelin came up with a rating system that acknowledged restaurants serving high-quality fare at moderate prices, called the Bib Gourmand. This system highlights dining opportunities that are more reflective of economic standards. Since the ratings are customized by region and country based on the cost of living, the Bib Gourmand gives diners a chance to eat well without breaking the bank.
The Michelin Guide in the 21st Century
The Michelin Star rating didn't take hold in the United States until 2005, and it began by concentrating solely on fine dining in New York City. Today, the Michelin Guide reviews restaurants in select U.S. cities including Chicago, New York City, Los Angeles, Las Vegas, and San Francisco. If one of your goals as an aspiring chef is to work at a Michelin Star restaurant, you may want to focus on these cities after graduation.
The guide now covers 37 countries across Europe, Asia, North America, and South America.
Top Five Countries with the Most Michelin Star Restaurants (2022)
France: 758
Japan: 554
Italy: 432
Germany: 384
United States: 276
How Does a Restaurant Get a Michelin Star?
First, the Michelin Guide team will select a number of restaurants in specific locations to be inspected by an anonymous reviewer. After the inspector visits the selected restaurant, they write a comprehensive report about the total culinary experience, including the quality and presentation of the dishes, among other rating criteria outlined below. The group of Michelin inspectors will then meet to analyze the reports and discuss in-depth which restaurants are worthy of a Michelin Star (or two or three).
Chef Curtis Duffy, a friend of Auguste Escoffier School of Culinary Arts, partnered with Michael Muser to build restaurant Grace in Chicago, which was honored with three Michelin Stars four years in a row, from 2015 to 2018. In July 2020, Duffy opened a new restaurant called Ever which has earned two Michelin Stars.
"When I started at Avenues, they announced [the Michelin stars], and I was really excited about where I stood in the whole world of cuisine. I was just getting my voice in the world. The first year that it came out in Chicago, we were able to receive two Michelin stars. And that was an incredible feat. It just solidified that I was doing what I was supposed to be doing."*
Curtis Duffy, Executive Chef/Owner of Two-Michelin Star Restaurant Ever
Elements of the restaurant such as ambiance, decor, and quality of service are supposedly not considered in the report, but many think that the total experience may subconsciously woo the reviewers.
Michelin Inspector's 5 Restaurant Rating Criteria
Quality of products
Mastery of flavor and cooking techniques
The personality of the chef represented in the dining experience
Value for money
Consistency between inspectors' visits
How Important Are Michelin Stars?
No doubt, restaurants that receive a Michelin Star rating are filled with pride, gain prestige, and usually get an increase in exposure and business. However, because of the extremely high expectations in the rating system, there's been a growing trend to reject Michelin Star ratings around the world–some restaurateurs even demanding that their star rating be removed. They feel that the expectations of the star system are unreasonable and restrict a chef's creativity in the kitchen.
"We were talking about putting a piece of china down and making sure that it was perfectly an inch from the edge of the table, and just…going into extreme lengths. And I think that could break somebody. As long as we're doing things with passion and love, and everybody has the right goal, it's inevitable that you're going to continue down that path."*
Curtis Duffy, Executive Chef/Owner of Two-Michelin Star Restaurant Ever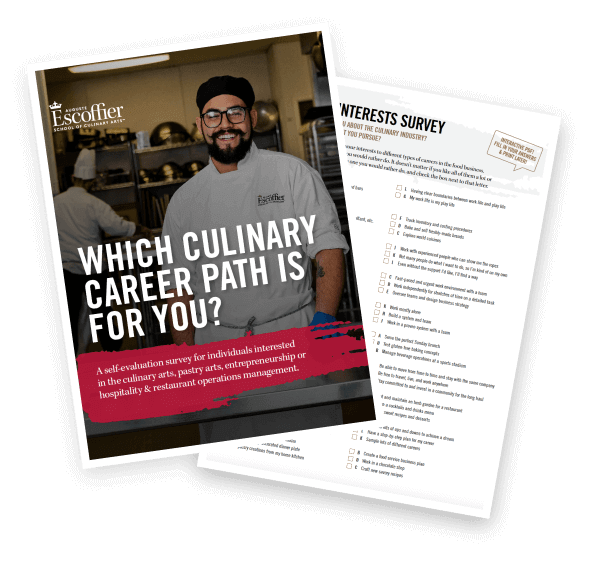 Take the Culinary Career Survey
We've compiled a checklist of all of the essential questions into one handy tool: career options, culinary interest surveys, educational opportunities, and more.
Still, in today's culinary industry there's a reverence for the iconic Michelin Star rating system. Some restaurateurs go so far as to say it's the only rating that matters because it's authentic since Michelin inspectors are among the few who remain completely anonymous when reviewing a restaurant.
Although some restaurants claim to have learned how to tell who an inspector is, in theory the casual diner will have the exact same experience as the inspector. And if a restaurant is attentive enough to figure out the signals a Michelin Star inspector gives away, then that's a restaurant that pays very close attention to its craft, and is probably worth a visit!
"When things are going either good or bad, they constantly remind us that any diner is a suspected Michelin inspector. Every plate that goes out of the kitchen is well-inspected."*
Parker Wilks-Bryant, Escoffier Culinary Arts Graduate and Employee at Michelin Guide restaurant Caruso's
Take the First Step to Excellence
Although chefs don't earn Michelin Stars, the head chef at a restaurant is often given credit for the restaurant's success. Therefore, many young chefs dream of one day leading a restaurant to Michelin Star status.
One way to begin this journey is by attending culinary school. Escoffier's culinary arts programs introduce students to a wide range of topics including food safety, world cuisines, flavor development, and entrepreneurship. But students don't just learn about these topics in the classroom—they practice them in the kitchen and eventually test them out during a culinary externship.
If you want to learn about what culinary school could look like for you, contact us today to explore your options.
Did you enjoy this article? Then you'll probably like these ones, too.
This article was originally published on February 10, 2016, and has since been updated.
*Information may not reflect every student's experience. Results and outcomes may be based on several factors, such as geographical region or previous experience.