So you're interested in learning about pastry and baking, but don't know where to begin? Whether you plan on opening your own bakery, or you just want to take your skills to the next level, pastry arts books can teach you a lot about the art and science behind your favorite baked goods.
But with literally thousands of books to choose from, it can be difficult to know where to look for the best resources.
We turned to the Pastry Chef Instructors at the Auguste Escoffier School of Culinary Arts for their top book recommendations in the pastry arts category.
Top 7 Pastry & Baking Books According to Pastry Chefs
1. Best for Bread Making: Bread, by Jeffrey Hammelman
Bread is notoriously difficult to master, even among avid bakers. Although bread usually only requires a handful of ingredients to make, the process is long and involves many steps. If you don't knead your dough long enough or you overproof your loaf, you can quickly end up with a lackluster loaf.
Luckily for us, world-renowned bread expert Jeffrey Hammelman outlined all his tips and tricks in a book aptly titled Bread. It's geared more toward large-scale bakeries with formulas that yield large quantities, but you can learn a lot about the science and ratios of bread baking regardless of whether you are a home chef or professional baker.
If you want to learn more about the intricacies of breadmaking, Bread, which has been referred to as the "bible of bread baking," comes highly recommended.
Recommended by Escoffier Chef Instructor Colette Christian, Certified Executive Pastry Chef® & Certified Master Baker.
2. Best for Chocolate and Candy Making: Chocolates & Confections, by Peter P. Greweling
This is the go-to book on chocolates, according to Escoffier Chef Instructors. While there's no shortage of chocolate books available, Chocolates & Confections tops the list. It's accessible no matter your prior knowledge, but it also includes a great deal of highly detailed technical information.
Chocolates & Confections takes you step-by-step through several complex techniques that may appear daunting, including tempering chocolate and candying fruit. It also clearly outlines common pitfalls in the candy-making process and explains how to avoid them before they happen.
And if that wasn't enough, this book also includes convenient guides to the highest quality chocolate and other confectionery ingredients. It's a must-read if you want to learn more about making your own chocolates or dream of becoming a chocolatier!
3. Best for the Food Scientist: How Baking Works: Exploring The Fundamentals of Baking Science, by Paula Figoni
This book is the ultimate resource when it comes to ingredient function. How Baking Works takes you through every chemical reaction involved in baking, including the Maillard reaction that turns cookies golden brown and the gluten development that creates chewy bread.
How Baking Works is perfect for the intellectually curious baker who not only wants recipes that work, but who also wants to understand why recipes do or do not work. If you've ever wondered why some recipes call for baking soda while others call for baking powder, this book is for you.
Recommended by Escoffier Chef Instructor Nicole Lourie.
4. Best for Creative Inspiration: The Flavor Bible: The Essential Guide to Culinary Creativity, Based on the Wisdom of America's Most Imaginative Chefs, by Andrew Dornenberg and Karen Page
The Flavor Bible was a groundbreaking book since its first publishing in 2008, and it continues to be the most relevant source on the topic of flavor. It's an elaborate discourse on complementing flavors, making it a go-to guide for dish designing and menu planning for both sweet and savory applications.
The Flavor Bible examines how to season food to bring out the maximum amount of flavor, explores the topics of creating flavor profiles, and explains what makes flavors work well together. Culinary students come from all different backgrounds, and this book can help close the gaps by introducing common flavor pairings.
Recommended by Escoffier Chef Instructor Megan Henke.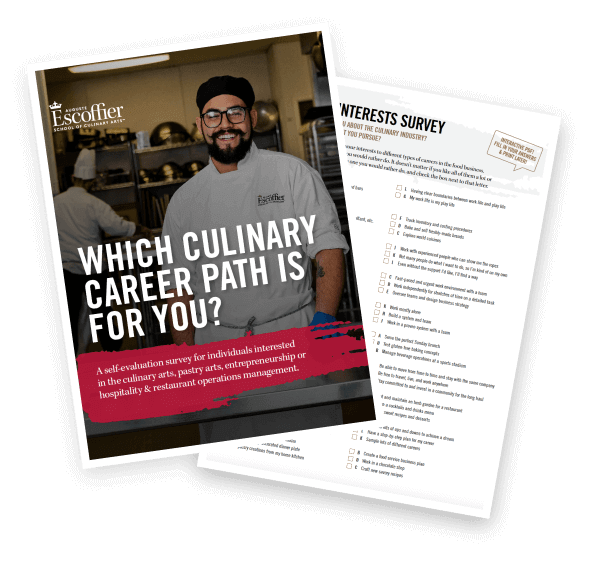 Take the Culinary Career Survey
We've compiled a checklist of all of the essential questions into one handy tool: career options, culinary interest surveys, educational opportunities, and more.
5. Best for Step-by-Step Photos: Patisserie: Mastering the Fundamentals of French Pastry, by Christophe Felder
In Patisserie, renowned pastry chef Christophe Felder takes standalone complex recipes that may seem inaccessible at first glance and then explains how to make them in a home kitchen. With this book, you can easily follow the step-by-step photographed instructions to learn how to make French desserts—crème patisserie, pâte à choux, and éclairs—that are sure to impress.
Along with the detailed instructions, the quality of the photography really makes this book stand out. The latest edition of Patisserie is filled with over 3,000 beautiful photographs depicting various step-by-step techniques.
6. Best All-Around: The King Arthur Baking Company's All-Purpose Baker's Companion
Although this book was written with the home baker in mind, The King Arthur Baking Company's All-Purpose Baker's Companion is a great all-subject recipe book chock full of great information and tips that will help aspiring bakers of all skill levels.
In this all-purpose baking book, challenging concepts are broken down into terms that are easy to understand. And according to Chef Instructor Colette Christian, all of the recipes in the book really work, which is a testament to the hardworking King Arthur team.
Recommended by Escoffier Chef Instructor Jennifer McClintick.
7. Best for the Advanced Baker: Advanced Bread and Pastry, by Michel Suas
Advanced Bread and Pastry is an amazing resource for a baker who wants to become confident in creating a wide range of pastries. What makes this book unique is that each chapter is taught by a master in that subject matter.
Advanced Bread and Pastry gives the reader a strong foundation by going through all the classic formulas and methods as well as what is happening during the application of specific techniques. The idea is that once you fully understand and master these techniques, you'll have a better idea of what types of changes will occur. Therefore, you can then get creative and deviate from the recipes, since you'll understand what will happen when you tweak certain ingredients.
Recommended by Escoffier Chef Instructor Colette Christian.
Books Pave the Way to Hands-On Learning
If you're looking to take your skills to the next level, these books are great resources to help you start your baking and pastry journey. However, whatever your baking skills, there's no real substitute for hands-on learning.
"The Pastry Arts program at the school gave me the foundation to build my career. The Chef Educators provide real life tips and formulas I could never get from books. My co-workers are surprised by how much help the school has given me throughout my career."*
Kim Boos, Escoffier Pastry Arts Graduate
If you're serious about taking the next step in your pastry career, contact us today to learn more about Escoffier's Baking & Pastry programs.
Interested in learning more about baking and pastry? Try reading these next:
*Information may not reflect every student's experience. Results and outcomes may be based on several factors, such as geographical region or previous experience.
This article was originally published on February 15, 2019, and has since been updated.