We live in a golden age of food programming…but it wasn't always this way! For many years, there were just a handful of food and cooking shows on TV. Great chefs like Julia Child, Martin Yan, and Jacques Pepin worked behind the camera setting the stage for the many food shows that have hit the airwaves over the past 30 years.
There's no shame in admitting it—lots of foodies and expert culinarians first fell in love with cooking by watching it on television! That said, the huge number of cooking shows available today can make it difficult to choose which ones to watch.
To help you decide, we asked some of the professional chefs at Auguste Escoffier School of Culinary Arts to share some of their favorite cooking shows. Read on, then fire up your streaming service to get inspired!
1. Chef's Table
Netflix knows what people like. So when they decided to make their first-ever documentary series, they chose to focus on food with the award-winning Chef's Table.
The show brings you behind-the-scenes into the lives and kitchens of world-renowned chefs to get their stories and see how they work. Each episode focuses on one particular chef, with famous American names like Grant Achatz (of Alinea) and Christina Tosi (of Milk Bar), plus other brilliant chefs from all over the world.
As Escoffier Pastry Arts Instructor Denise Spooner explains, Chef's Table is great because it "really hones in on one restaurant, baker, or chef each episode…[so we see] what is going on in various aspects of our industry and new exciting techniques that are happening."
The Essential Culinary Career Guide
The Essential Culinary Career Guide
What's your ideal culinary career: Fine dining? Your own restaurant? Pastry? Get our self-evaluation guide to find out!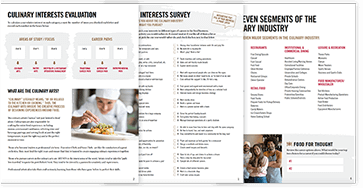 We've compiled a checklist of all of the essential questions into one handy guide: career options, culinary interest surveys, educational opportunities, and more.
YES, I want the guide!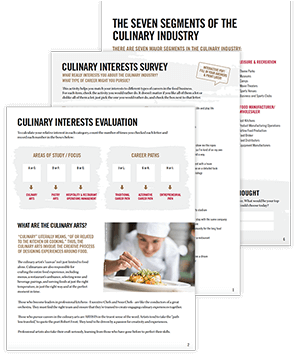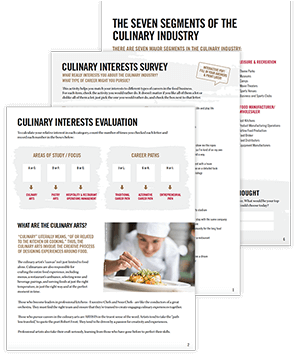 Chef Instructors Billie Sutton and Christopher Moore agree, including the show among their favorites as well. "Their passion and focus on the craft truly shines through," says Moore.
Side note: Chef's Table was created by David Gelb, who also directed the beautiful documentary film Jiro Dreams of Sushi. Watch it if you haven't yet!
"It's important to see and know amazing chefs around the world and keep learning from them."*
Denise Spooner, Escoffier Pastry Arts Instructor
2. Anthony Bourdain: Parts Unknown
Long before he was a household name, the late Anthony Bourdain was a New York City chef. He started to gain national notice through his writing, where he pulled back the curtain on the Wild West of the kitchen in books like Kitchen Confidential: Adventures in the Culinary Underbelly.
After achieving some success and notoriety as a writer, he turned to hosting travel and food shows. He had several successful programs under his belt, including No Reservations and The Layover, both of which aired on The Travel Channel. His last program, called Anthony Bourdain: Parts Unknown, was broadcast by CNN. The show follows Bourdain on his travels through places as diverse as Myanmar, Colombia, Libya, Congo, South Africa, Japan, and more.
Part of the show's appeal is that Bourdain generally eschews fine dining and upscale restaurants in favor of hitting the streets to see how the locals eat. Bourdain dines on kabobs at roadside food stands, grilled fish at small neighborhood joints, and dumplings in people's homes, which lets the viewer get an unfiltered look at both the culture and Bourdain's magnetic personality.
"Every episode was real, and like life, there were no retakes. Anthony Bourdain traveled the world, explored local cuisine, and opened my eyes and heart to world topics and other political views I never would have even thought about."*
Michelle Hall, Escoffier Baking and Pastry Arts Chef Instructor
3. Top Chef
As far as cooking competitions, Bravo's Top Chef takes the cake.
After 19 seasons, it's still one of the most popular cooking competitions on television. It has spawned eight spin-offs and propelled the careers of competitors like Kristen Kish and Sam Talbot.
Each season is filmed in a different city, usually in the U.S. The challenges and cuisines on the show are often influenced by the filming city—deep dish pizza in Chicago or a picnic for Capitol Hill interns in Washington, DC.
Episodes include two challenges: a Quickfire Challenge and an Elimination Challenge. The Quickfire is a fast-paced task that is usually completed in an hour or less. The Elimination Challenges are more involved and complex, often including several courses. This meal is tested by the judges and critiqued, with one (or more) chefs being crowned the challenge winner, and one (or more) being eliminated from the show. The last chef standing at the end of the season is the Top Chef.
Chef Denise Spooner likes it for the sense of community it creates among various chefs from around the country. Both the participants and the viewers get exposed to techniques and dishes they may not have encountered before, even after years in the industry.
"The chefs get to really learn about the current location of the season, the local foods, customs, restaurants, and history. We also get to follow along with their journey and growth as a chef throughout the season. The culinary industry is hard and seeing even professionals with years of experience make mistakes or struggle then overcome it and succeed makes it so much more relatable."*
Denise Spooner, Escoffier Pastry Arts Instructor
4. Ugly Delicious
James Beard Award-winning chef David Chang hosts this rollicking trip around the world to explore local cuisines — regardless of their presentation.
Ugly Delicious has a similar premise to Anthony Bourdain: Parts Unknown. But Chang himself is a very unique host, so the show has a feel all its own. Part of that is helped by the many comedic guest stars that travel and eat with Chang, people like Nick Kroll, Jimmy Kimmel, Kate McKinnon, and Ali Wong. These travel companions give Chang the ability to joke around as they sample foods around the world together.
"The viewer should pay particular attention to what is asked and said by the chefs in the shows. Their passion and focus on the craft truly shines through."*
Christopher Moore, Escoffier Chef Instructor
5. French Food at Home
What about a good old-fashioned cooking show in the tradition of Julia Child? This particular classic format includes just a chef, a home kitchen, and some delicious recipes.
Online Pastry Chef Instructor Steve Konopelski likes the early 2010s show French Food at Home, hosted by James Beard Award winner Laura Calder. Laura walks viewers through everyday French dishes like coq au vin, cassoulet, and tarte Tatin, with ease and enthusiasm. The recipes make French cuisine approachable, instead of intimidating, for the home chef.
The show won its James Beard Award for Best Cooking Show in a Fixed Location. It only ran for three seasons, but with Calder's unassuming style, cute kitchen, and French-music background, it's a soothing foil to today's fast-paced cooking competitions and travel shows.
By the way, you can check out Chef Steve's own cooking show, The Sweet Life of Steve, on his YouTube channel!
Bonus: Rat in the Kitchen
As a bonus, if you love a good whodunit, then Rat in the Kitchen is the show for you. Each week, professional chefs and talented home cooks go head-to-head in unique cooking challenges. Along with watching their flavor profiles and ingredient measurements, they also need to look out for a secret sabotaging competitor, aka the rat.
This person may add some extra salt to a chef's sauce when their back is turned, or they may crank up the oven temperature to attempt to burn their roasted veggies. When it comes time for the judges to make a determination, both poor cooking and the rat's sabotage could lead to harsh critiques… and a penalty in the form of less prize money.
While the plot of the show is enough of a reason to tune in, Escoffier alum Chef Tiffany Moore was also a contestant on season one, episode three!
Get Inspired by Cooking Shows
While these shows are entertaining, they can also be a great source of education and inspiration for cooks and chefs!
Even if you're not flying halfway across the globe to try a dish, you can still be introduced to new world cuisines by following the journeys of David Chang or Anthony Bourdain. Watch the Top Chef contestants race around to get a masterclass in efficiency and staying calm under pressure. Meet the experts on Chef's Table to absorb their lessons and be inspired. And cook along with Laura Calder to practice French techniques and reconnect with the joy of cooking French food.
And if these shows inspire you to pursue a career in the culinary arts, consider pursuing a culinary education at Escoffier.
For more articles about the wide world of food, try these articles next:
*Information may not reflect every student's experience. Results and outcomes may be based on several factors, such as geographical region or previous experience.
This article was originally published on August 9, 2021 and has been updated.