Anyone who's in the culinary industry—or aspires to be—is likely always searching for ways to perfect their skills. Culinarians by nature tend to be creative, observant, and experimental.
If you consider yourself a student of the craft—whether in a professional capacity or as a hobby—check out Auguste Escoffier School of Culinary Arts' top blog articles from 2022 and start the new year by exploring more about tools, techniques, and the industry at large.
Wish you had a practical guide for exactly how to make the move into becoming a professional chef? We've got you covered. This article features topics like what a chef does, segments of the culinary industry, average salary, education needed, and much more.
Dive into the Michelin star rating system's origins, criteria, and current global rankings in this piece. Discover why the Michelin star designation is so coveted and get insights from real chefs on their perspectives about the system.
If you dream of pursuing a career in the culinary arts, but are still on the fence about whether it's the path for you, this article dives into many pros and cons you might want to consider. For instance, culinary school is a time commitment and financial investment, but it might open the door to several life-long career opportunities.
The Essential Culinary Career Guide

The Essential Culinary Career Guide

What's your ideal culinary career: Fine dining? Your own restaurant? Pastry? Get our self-evaluation guide to find out!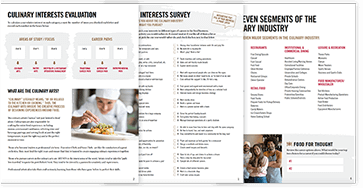 We've compiled a checklist of all of the essential questions into one handy guide: career options, culinary interest surveys, educational opportunities, and more.

YES, I want the guide!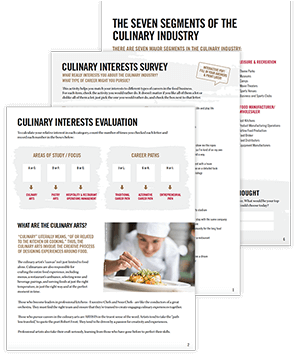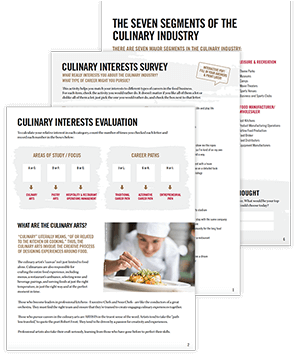 Clicking the "Get the Guide Now" button constitutes your express written consent to be contacted via phone, text, and/or emails by Auguste Escoffier School of Culinary Arts at the number(s)/email you provided, regarding furthering your education. You understand that these calls may be generated using an automated technology. You can unsubscribe at any time or request removal of street address, phone number, email address via Escoffier website.
Knowing your knives and the functionality of each one is a crucial element of success in the kitchen. Save yourself from injury, get prep jobs done quicker, and serve up beautifully chopped creations by educating yourself on the most common knives and their uses.
If you desire to become a professional baker and perhaps launch your own bakery, explore the essential skills you might want to refine—covered in Escoffier's baking & pastry programs. This includes creativity with flavor and texture, understanding mise en place, attention to detail, and more.
There's a reason the French lead the way in Michelin star restaurants. Take a trip through time to explore the evolution of French cuisine, its specialized techniques and signature elements, and why it's beloved by so many across the globe.
For many chefs, starting a home-based catering business might be a more affordable undertaking than a restaurant—after all, you don't necessarily need a brick-and-mortar storefront! Before you launch, get the inside scoop on how to set it up, which includes how to map out startup expenses, craft your menu, catering laws, and more!
Don't let expenses hinder you from starting a restaurant. In this article, explore the steps you might take to obtain funding and the various "out-of-the-box" restaurant types to consider. For instance, have you considered starting a food truck or ghost kitchen? These are just a few options to get you started!
What are the top brass reading to increase their knowledge of the industry? What do Escoffier's Chef Instructors recommend all passionate culinarians peruse? Here's a roundup of the top seven books for chefs.
If you want to start selling baked goods, but might not have all the resources, discover how to cut costs and start a bakery business from home. This article covers all the important factors to consider, including business licensing, how to plan a menu, food costs, pricing, and more.
Brush Up on Your Knowledge…and Then Some
Now that you've browsed Escoffier's top content from this year, you may find yourself hungry for more. If you're looking to take your skills to the next level, check out our diploma and degree programs—including culinary arts and plant-based culinary arts, pastry arts, hospitality and restaurant operations management, and food entrepreneurship.
Not sure you're ready for culinary school? Reach out to an admissions counselor to find out more about what it takes.
Want to read more on the culinary industry? Try these as well!
*This article was originally published on December 30, 2021, and has since been updated.