Cooks often learn very quickly that there is no standard path through the ranks of a kitchen. While one line cook may make lateral moves from restaurant to restaurant before advancing, another may climb quickly from line cook to lead to sous chef, all with the same employer.
If you're like many culinary students, you have your eyes on the ultimate prize: becoming an executive chef. The opportunity to express your creativity in the kitchen — and the higher income that may come with it — is an exciting goal.
An executive chef is ultimately a leadership role. They are responsible for overseeing a team of other chefs, building new menus, training kitchen staff, and managing the general operations of the kitchen.
While the path may seem winding, there are some common skills and experiences that many executive chefs share. You can set yourself up for success by honing these traits and keeping these accomplishments in mind as you progress in your culinary career.
Read on for more about the executive chef position. For a complete step-by-step guide to becoming a professional chef including requirements, salaries, career paths, and more, see: How to Become a Chef: The Complete Guide.
Love of Learning
Becoming an executive chef often starts with education. While not all executive chefs have gone to culinary school, they are united in their pursuit of cooking and food knowledge.
Whether one is just starting out or looking to build on their existing skill set, attending culinary school could help those hoping to rise in the ranks. While culinary school students don't graduate with the title of "chef," they have the opportunity to learn both practical kitchen fundamentals and business skills that may help them in their careers.
Auguste Escoffier School of Culinary Arts offers degree and diploma programs in Culinary Arts, Pastry Arts, Plant-Based Culinary Arts, Holistic Nutrition and Wellness, and Hospitality & Restaurant Operations Management. Some of our diploma programs include courses such as Foodservice Management, Purchasing & Cost Control, and Menu Design & Management, while associate degree programs offer additional courses that could be useful in running a professional kitchen.
Escoffier's associate degree curriculums, for example, include courses in:
Restaurant Operations
Business & Professional Communications
Foodservice Math & Accounting
As we'll discuss in further detail below, these "beyond the kitchen" skills may prove nearly as important to the future executive chef as their cooking chops.
Whether a culinarian gets their education in school or on the job, lifelong learning remains important throughout their careers. Chefs need to keep absorbing information about world cuisines, unusual techniques, and industry trends, both locally and nationally.
Plenty of Experience
While education can be essential to following a career path in professional cooking, there are no shortcuts. All new cooks, even those fortunate enough to find their first jobs at the finest restaurants, have to learn the ropes of a professional kitchen. Most executive chefs have worked their way through the ranks, which might take years.
This climb is about more than just proving you can do a job. A strong executive chef should be able to communicate well with the staff because they've been in their shoes in the past. The chef understands the time and effort required for even the most basic tasks, and knows why it matters that they are all done correctly. This experience can also help them better communicate with newer team members who are still learning and might be making mistakes.
"I think that every professional chef is a balance between lots of experience and lots of education."
Lance Mcwhorter, Food Network "Chopped" Contestant, Executive Chef & Owner Of Culture Etx, And Escoffier Online Culinary Arts Graduate*
The last stop on the road to becoming an executive chef is often the sous chef position. Up to this point, the cook may have been a shift lead or prep supervisor. But the sous chef will have to manage the kitchen and delegate responsibility on behalf of the executive chef. It's a completely new skillset for many chefs, and it usually needs to be mastered before the sous chef can hope to become an executive chef.
A Clear Vision
As cooks work their way through the kitchen ranks, they get accustomed to focusing on the here and now. They have to execute certain types of dishes for a certain number of tickets within a certain amount of time. The work is focused and immediate.
The executive chef, however, needs to pay attention to both the tiny details and the big picture. They are responsible for not only each individual plate that leaves the kitchen, but the kitchen's process of executing the overall restaurant concept.
This means that not every great idea can make it onto the menu. If the chef has an idea for a wonderful new dish, but it's twice as expensive as everything else on the menu, then it probably won't be a good fit.
An executive chef has to keep a bird's eye view on the restaurant concept — while also juggling the management and performance of the kitchen. That's a lot of balls in the air!
The Essential Culinary Career Survey

The Essential Culinary Career Survey

What's your ideal culinary career: Fine dining? Your own restaurant? Pastry? Get our self-evaluation survey to find out!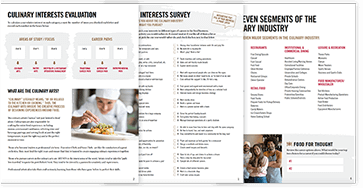 We've compiled a checklist of all of the essential questions into one handy guide: career options, culinary interest surveys, educational opportunities, and more.

YES, I want the survey!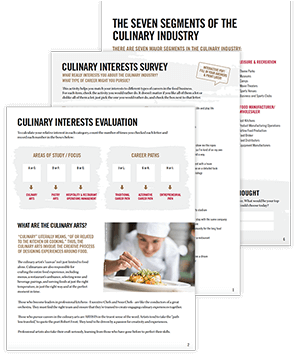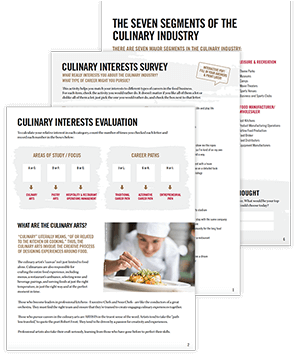 Management & Communication Skills
A successful executive chef must be almost as good with people as they are with food. In fact, some chefs may find they spend more time managing their staff than they do cooking!
Proper kitchen management involves setting up systems for safety and efficiency. This might include procedures for receiving and rotating products, clear prep sheets, inventory guidelines, and sanitation plans.
It's also up to chefs to hire, train, and nurture their staff. By providing encouragement and correction where appropriate, chefs can make team members feel valued in the workplace.
That's why top-notch communication and positive working relationships are so important for success. And the most important relationship of all may be with the sous chef. The sous is the executive chef's right hand. They may be responsible for making schedules, training staff, ordering inventory, and updating recipes.
A trustworthy sous chef will make the executive chef's life much easier! This means the head chef has to be able to delegate. It sounds easy, but letting go of responsibility is a management task that doesn't always come easily!
Business Knowledge
The restaurant business is just that — a business. And as the head of the kitchen, the executive chef has to keep up with the numbers.
This can include managing food costs and preventing waste. It may also include pricing out menu items in a way that earns a fair profit for the restaurant. Some of Escoffier's on-campus and online culinary programs include courses that explore culinary math and recipe costing as part of their curriculum.
An executive chef may also have to manage labor costs. As the most expensive labor pool in the restaurant, the kitchen must always walk a fine line between too much staff and not enough. At what point in a slow shift do you send someone home? What if there's a late rush, and now you're understaffed? It can be a difficult balance to get right.
"Not only are we artists as chefs, but we do need to be conscious of the business side of it. And that structure is so important. Don't be completely driven by money, but always have that common sense business logic in the back of your head. Because that's going to carry you."
Chef Ben Robinson Of Bravo Network Show "Below Deck"*
Chefs usually also need to have some technical skills. They may work with inventory spreadsheets and apps like OpenTable or Toast. Basic computer literacy is required for today's executive chefs in a way that wasn't necessary for previous generations.
Passion for Cooking
The path to becoming an executive chef can be a long one. That's why a passion for cooking is so important.
A dream of financial gain or "being the boss" won't necessarily sustain a young cook through the years ahead. But a genuine love for the craft? Getting up every morning excited for what they're going to cook that day? Passion and energy are what will keep the future chef focused on their goals.
Listen to Executive Chefs Share Their Stories
Escoffier's podcast, The Ultimate Dish, has featured many executive chef guests. If you want to hear more about their fascinating and diverse journeys, here are a few episodes to tune into:
Benefits of Being an Executive Chef
Now that we've talked about the responsibilities of the executive chef, what are the rewards?
To start, an executive chef gets to practice their creativity every day when they come to work. They are constantly inventing new recipes and perfecting old ones. Even going out to eat can be a research and development opportunity.
They also typically get the credit and recognition that comes with a successful menu. This may come in the form of the appreciation of the team or restaurant owner. And for a few, it can come with industry recognition like local or even national awards.
"I encourage students to explore those passions, read cookbooks like they are textbooks – read about the history of our industry. Explore all those different recipes you see on YouTube and on Instagram and wherever else you see food, experiment."
Camorrow Jones, Escoffier High School Chef Presenter*
Executive chefs often get to control their own schedules, as long as the restaurant's needs are met. This may give the chef the chance to give him or herself a regular "weekend" — although it could fall on a Monday and Tuesday.
There can also be monetary gain. The executive chef is almost always the highest paid position in a kitchen. And once you've mastered the management of a kitchen, you may feel ready to open your own restaurant as a chef/owner.
What Is Your Career Goal?
Not everyone's goal is to become an executive chef — and that's just fine! Every person in the brigade de cuisine is important, and some people may be happier as a sous chef or head pastry chef. So if you've got different aims in mind, that's fantastic.
Regardless of where you want to ultimately land in the kitchen, the road ahead can start with a quality education. Learn more about Escoffier's on-campus and online programs to see if your culinary journey should start here.
If you found this article interesting, here are a few more to check out:
This article was originally published on December 17, 2015 and has since been updated