So you've got your heart set on being an executive chef. But you know there will be several stops along the way to prepare you for the role of head chef in a foodservice establishment. One of those landmark roles in the brigade de cuisine is the sous chef.
Understanding what it takes to become a great sous chef can help you build a solid career in the culinary arts. If you hope to be an executive chef commanding a team in your own kitchen, this knowledge is crucial.
What Does "Sous Chef" Mean?
The word "sous" is French for "under" and "chef" originally translates as "chief" – so a sous chef is second-in-command to the executive chef or chef de cuisine. Large hotels, convention centers and high-volume restaurants will have many sous chefs working a line, whereas smaller restaurants would usually have one kitchen lead and one sous chef operating between that lead and the rest of the staff.
The brigade de cuisine is a hierarchical system that was originally invented by Georges Auguste Escoffier and it involves collaboration between many moving parts. The sous chef de cuisine is essentially the second most important job in the kitchen.
What Does a Sous Chef Do?
Sous chefs are called upon to support executive chefs and represent them in their absence. The sous chef often is the one responsible for training new staff members and managing the team. They must be able to think on their feet, make sound snap decisions, and come up with creative concepts for the restaurant.
Further, they must track and order inventory, oversee the successful completion of sanitation practices, and ensure that the kitchen staff have what they need in terms of tools and supplies to seamlessly deliver a finished product.
The Essential Culinary Career Guide
The Essential Culinary Career Guide
What's your ideal culinary career: Fine dining? Your own restaurant? Pastry? Get our self-evaluation guide to find out!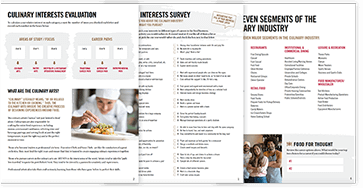 We've compiled a checklist of all of the essential questions into one handy guide: career options, culinary interest surveys, educational opportunities, and more.
YES, I want the guide!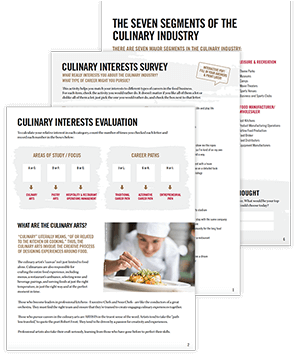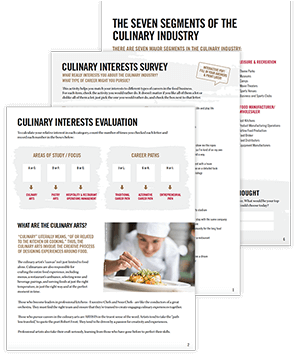 A good sous chef will straddle the line between a chef and a cook, according to author Michael Gibney, a celebrated chef who started at 16 in the kitchen and was a sous chef by the time he was 22. Gibney described it as one of the most intense jobs you would hold – because it's essentially two jobs.
What Makes a Good Sous Chef?
This role requires a range of skills as well as a specific mindset. Here's a rundown of the competencies you may need to develop.
Cooking Skills
It seems obvious, right? But an effective sous chef needs an exceptional level of cooking prowess. He or she must be prepared to jump into any part of the line, for any reason – when the line is missing a cook or to speed up the line when meal service peaks, for example.
A sous chef can have the skills to execute a wide range of dishes – from salads to complex entrees, using a variety of culinary techniques in rapid succession.
Organizational Skills
A good sous chef must be extremely organized, because their tasks may vary. They'll include things like assisting the executive chef with meal planning, keeping tabs on kitchen supplies and ingredients when it comes time to prepare the meals, making sure the kitchen is up to sanitation standards in time for daily service, and much more.
Logistics are part of the sous chef's job as well. Scheduling the other kitchen staff and making sure they arrive on time, as well as filling in personally if someone calls in sick or is late, all fall under the umbrella of the sous chef role.
"I've gained a better understanding of how to execute a variety of techniques as well as how to manage a kitchen. I went from washing dishes and cleaning a commercial kitchen to managing my own within a two-year span. Escoffier has given me the culinary and business tools, resources, knowledge and self-confidence I need in order to make my dream a reality!"
Mitchell Rodriguez, Sous Chef, Holiday Retirement, Escoffier Online Graduate*
The sous chef must be quick-thinking, adaptable and calm under pressure. They're often responsible for making changes on the fly when certain supplies – or staff – don't arrive in time for service. They are the link between the lead chef and the entire team. It's a vital role in any kitchen environment.
Leadership and Communication Skills
These skills go hand-in-hand. While the executive chef is technically in charge of the kitchen, it's the sous chef who performs much of the hands-on management. Ideally, a sous chef will be able to train and supervise the kitchen staff and then help them carry out the executive chef's intentions for cooking and plating the meal.
The sous chef must project confidence and an air of authority required to manage staff in an often busy, loud and stressful environment. Keeping the entire team working towards a common goal is a big undertaking. It requires clear communication and an ability to motivate and guide everyone, all while performing their own tasks as a cook on the line.
A successful sous chef can juggle all of these demands, even when the team is feeling overworked and stressed.
Reliability
This is the foundation of a successful working relationship between the executive chef and the sous chef. For any kitchen to succeed, the lead chef must trust that his or her "right hand" is competent, trustworthy and loyal. What makes a good sous chef is the ability to earn and maintain this trust, and there are many ways to do this when starting out in a new kitchen. Arriving early, staying late, completing tasks ahead of schedule… These actions will set a sous chef apart.
As a sous chef, you may be expected to work up to 12 hours a day, and the job may seem thankless. But for many, this level of dedication to the craft is worth it. There is the satisfaction that comes from earning the trust and support of your lead chef, the respect of your coworkers and being part of a successful restaurant. The sous chef can gain critical acclaim when the executive chef or the restaurant does, and they can also more easily advance to the head of the brigade should the executive chef decide to leave.
"I am proud of where I am today in my career. It's been a long road to get to a management position as a Sous Chef. Long hours, sweat shed, onion tears cried, and blood spilled (those pesky accidental cuts)! All in all I'm always still learning and it's the best part about the culinary industry."
Dannie White III, Sous Chef and Escoffier Online Graduate*
Embarking on the Journey to Sous Chef
With the level of responsibility and ongoing personal growth required from a sous chef, you can certainly benefit from ongoing passion for the work. Many sous chef positions may require some sort of formal culinary education.
Learning how to become a good sous chef takes dedication and perseverance, but is a very rewarding career if you have the personality and drive to pursue it. Plus, the sous chef is often next-in-line for the head role in the brigade de cuisine, and many sous chefs are promoted to executive chefs at some point.
Think you have what it takes to pursue a culinary career? Talk to us about Escoffier's academic, financing, and career plans.
Enjoyed this article? Here are three more to help you:
This article was originally published on December 3, 2015, and has since been updated.
*Information may not reflect every student's experience. Results and outcomes may be based on several factors, such as geographical region or previous experience.