In the culinary industry, where chefs don't necessarily need formal credentials to be successful, how can aspiring culinarians appraise their own skills? How do they know where they stack up in the industry? And how can potential employers make a similar assessment?
One of the solutions is chef certifications. While these certifications aren't required for a successful career, they can help you to measure your own progress and prove to others that you have reached a certain skill level.
Chef certifications are offered by many different institutions, and they are not all equally suited to each culinary specialty. So we're going to explore the types of certifications, and when you may be ready to pursue them.
Degrees and Diplomas from Accredited Culinary Programs
The first type of credential you should consider is a degree or diploma from a culinary school. A foundational education can help you to start your culinary career with critical skills and good habits. They can introduce you to like-minded students as well as experienced Chef Instructors who may be willing to serve as mentors.
Plus, both culinary degrees and diplomas may make it easier to get additional certifications in the future, as we'll see!
Culinary Bachelor's Degrees
A bachelor's degree is a four-year undergraduate degree. Bachelor's degree students often attend larger colleges or universities that offer many other fields of study.
While these programs and degrees can be valuable, they may also be expensive. And since they take four years, it may mean you have to wait longer before you get your first job (if you're not already working while in school.)
Bachelor's degrees may also require general education coursework that doesn't apply to your culinary studies. You can expect to have course requirements in writing or language, math, natural sciences, and social sciences. In fact, the entire first year of study may be dedicated to these general courses alone.
Culinary Associate Degrees
Associate degrees are commonly offered at culinary schools or community colleges. These programs often take up to two years, and they usually include a combination of hands-on practical training and general education courses.
Auguste Escoffier School of Culinary Arts offers associate degrees in culinary arts, pastry arts, plant-based culinary arts, hospitality & restaurant operations management, and holistic nutrition & wellness. Each of these programs is designed to be completed in just 60 to 84 weeks, so students can start on their career path as soon as possible. And unlike a community college or university, all general education requirements are satisfied with culinary-focused courses. This means things like writing, math, and science are taught through the lens of how they apply in the kitchen or another food service setting.
"My education with Escoffier has really given me a good foundation. It has filled a resume gap, it's filled a professional gap and a skills gap. It has helped me in all aspects of my culinary career."*
Lance McWhorter, Escoffier Culinary Arts Graduate, Executive Chef at Culture ETX
The Essential Culinary Career Guide
The Essential Culinary Career Guide
What's your ideal culinary career: Fine dining? Your own restaurant? Pastry? Get our self-evaluation guide to find out!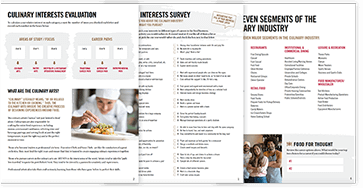 We've compiled a checklist of all of the essential questions into one handy guide: career options, culinary interest surveys, educational opportunities, and more.
YES, I want the guide!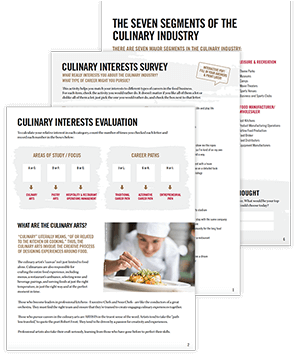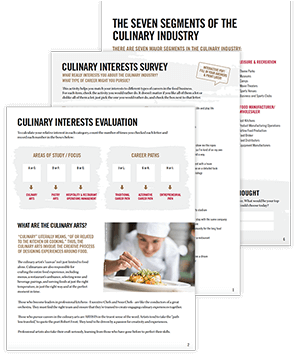 Culinary Diplomas
A diploma program can teach practical, foundational skills, without the additional general education requirements. These programs are usually the shortest and most affordable, so students can get out into the workforce more quickly.
Escoffier offers diploma programs in culinary arts, baking and pastry arts, plant-based culinary arts, and holistic nutrition & wellness.
Certifications from Professional Organizations
Outside of the school setting, professional chef organizations offer their own certifications. Credentials from well-respected industry groups can help prove to your peers that you have established high levels of competence and expertise in your field.
Disclaimer: Most of the organizations listed are third-party offerings and not offered by Auguste Escoffier School of Culinary Arts. Always check the provider's website for updated information.
American Culinary Federation
The American Culinary Federation (ACF) is the largest professional organization for chefs and cooks in the United States. It offers an extensive hierarchy of certification levels, depending on one's level of experience and expertise. ACF certifications are highly regarded and are considered by many to be a mark of culinary excellence.
Some ACF certifications don't require additional testing if the applicant has a degree or diploma from an ACF Educational Foundation-accredited program. So once you get that degree, it can be a short step to the next credential!
Each ACF certification has its own experience and/or education requirements such as a set number of continuing education course hours and written and/or practical exams. Check the ACF website for a full list of all requirements at each level.
Culinary Certifications from ACF
Cooks and chefs in the culinary arts have a long ladder of certifications that they can climb. The top rung is the Certified Master Chef®, an exclusive club with fewer than 100 members!
Certified Fundamentals Cook®
This certification is for high school graduates who have completed coursework in nutrition and food safety. To obtain this first certification, individuals must pass an exam.
Certified Culinarian®
This certification is for the entry-level culinarian. It can be earned with a combination of education and experience—such as a high school diploma and two years in the culinary industry—or with an associate degree in culinary arts.
Certified Sous Chef®
This is the first ACF supervisory certification. Applicants must have at least two years of supervisory experience and three to five years of culinary experience, depending on their education level.
Certified Chef de Cuisine®
This is a supervisor in charge of food production in a foodservice operation. You must have at least three years of experience supervising two or more employees, as well as continuing education hours, an associate degree, or the completion of an ACFEF Apprenticeship Program.
Certified Executive Chef®
This is the manager or owner in charge of culinary production at a restaurant, hotel, or other foodservice establishment. Applicants must have extensive education and experience, as well as five years as a chef de cuisine, executive sous chef, or similar supervisory role.
Certified Master Chef®
This is the highest certification granted by ACF in culinary arts. CMCs® are experts in cooking techniques and culinary knowledge. Only current Certified Executive Chefs® or Certified Culinary Educators® are eligible to apply. They must take advanced courses and get a letter of recommendation from a current CMC®. Finally, they must complete a grueling eight-day exam. Chefs prepare for years to take this test, and only 72 have successfully passed it!
Personal/Private Chef Certifications from ACF
For chefs who work with private clients, there are two certifications available from ACF.
Personal Certified Chef®
This level requires three years as an entry-level culinarian, plus at least one year as a personal chef. Applicants must also complete between 50 and 150 hours of continuing education, or get their associate degree.
Personal Certified Executive Chef®
This is the next level for personal chefs. It requires 150-250 hours of continuing education or an associate degree, plus at least three years as a full-time personal chef.
Pastry Certifications from ACF
Bakers and pastry chefs will work their way through the ranks much like the culinary arts chefs. The top credential in pastry is even more difficult to achieve than Certified Master Chef®!
Certified Fundamental Pastry Cook®
This certification is for high school graduates who complete an accredited pastry program at their high school. No pastry experience is required.
Certified Pastry Culinarian®
This can be earned by an entry-level pastry cook. Experience requirements vary based on level of education. Applicants with a baking associate degree don't have to complete additional coursework to be eligible.
Certified Working Pastry Chef®
This pastry chef supervises a pastry section or shift of at least two employees. They must also have four to five years of experience, along with some additional education.
Certified Executive Pastry Chef®
The CEPC® is the head of their department. They must have at least five years as an executive pastry chef or supervisory chef of baked goods or pastries, plus continuing education or an associate degree.
Certified Master Pastry Chef®
This chef has the highest degree of professional baking and pastry knowledge and skill. Applicants must be either a CEPC® or Certified Culinary Educator, and they need letters of recommendation from at least two current CMPCs or CMCs. The exam takes eight days and is notoriously difficult. There are currently only 11 CMPCs today, including Escoffier Director of Culinary Industry Development Frank Vollkommer.
"I practiced a lot before the exam. And I wrote a book for myself to follow along that had all of the recipes, the mise-en-place, and a timeline by the minute that I needed to follow in order to make it [through] each of the requirements. You want to use all of the time available to you and provide Master Chef-level delivery. It's not a competition, but your product should be at a level that's approaching competition."*
Frank Vollkommer, Escoffier Director of Culinary Industry Development and Certified Master Pastry Chef®
Educator Certifications from ACF
Certified Culinary Educator®
Each CCE® has taken their vast experience as a chef or hospitality manager and is now teaching the next generation of culinarians. Applicants must have either a bachelor's degree or an associate degree in culinary arts, 120 hours of education development, industry work experience, and successful completion of written and practical exams. A video demonstration submission is also required as part of the application process.
Retail Bakers of America
The Retail Bakers of America is a trade group for the retail baking industry. These experts often have different skill sets than the bakers and pastry chefs who work in restaurants, since they produce baked goods at scale.
Certified Journey Baker
"Journeyman" is a historic term for a trained, skilled employee. So a Certified Journey Baker is a trained baker who helps to prepare pies, cookies, cakes, breads, rolls, or other desserts or baked goods. Applicants must have at least a year of work experience or a combination of work and education. This certification doesn't have a practical test, but it does require passing a written exam.
Certified Journey Decorator
Similar to a Journey Baker, a Certified Journey Decorator helps with the decorative work in a bakery. They must have a year of experience, or a combination of experience and education in order to qualify. Applicants must pass a written test and provide a video submission.
Certified Baker
The Certified Baker has baking duties, as well as a commercial and supervisory role in the bakery. To be eligible, the applicant must have their ServSafe certification or equivalent food safety certification and at least four years of full-time retail baking experience. There is a written exam and a one-day practical test.
Certified Decorator
A Certified Decorator finishes the "look" of the baked goods and pastries for a commercial bakery. They must have a sanitation certification, plus four years of full-time experience. The applicant must also complete a written and practical test.
Certified Master Baker
This is the top level in the RBA. They not only are experts at their craft, but they supervise and manage the rest of the bakery team. To apply, you must be a current Certified Baker or have over ten years of full-time retail bakery experience. There are several continuing education requirements as well. Finally, the applicant must take a written test and a two-day practical exam.
Escoffier Chef Instructor Colette Christian remembers her Certified Master Baker exam: "That's 16 hours of baking with the judge literally standing right over you," she said. "It's not like you present them four danishes. You present 32 Danish pastries, and they weigh every single one of them. And you can't be off. Everything has to be perfect." And she was! Chef Colette is a Certified Master Baker, as well as a Certified Executive Chef® and a Certified Executive Pastry Chef®.
Certifications for Specialists and World Travelers
These are just some of the widely known organizations that offer certifications to chefs. You can find others, like the World Association of Chefs' Societies, which is a network of over 100 chefs associations. Our namesake, Auguste Escoffier, was the first Honorary President of this international group. They offer globally recognized chef certifications, which may be helpful for chefs who resettle frequently.
If you're seeking excellence as a personal chef, you can get certified both by the ACF and by the United States Personal Chef Association. The Certified Personal Chef® certification from USPCA requires at least two full years of experience as a personal chef. Applicants must prove that they are responsible for menu planning, marketing, finances, and operations of a private business. A private chef is usually more than just a cook—they're a small business owner, as well!
Specialty groups like the National Association for Catering & Events or Educational Institute of American Hotel & Lodging Associations offer various certifications within their niches. There are also safety and sanitation certifications like ServSafe's Food Handler or Food Manager certifications, which are required by some states and food establishments.
Benefits of Chef Certifications
If chef certifications aren't mandatory, why bother getting them? Plenty of reasons!
Set Yourself Apart
Certifications and credentials highlight your skill level, but they can also prove that you're a motivated culinarian. People who take the time to get certified may prove that they take their personal growth seriously. They're not satisfied to be a cook or chef—they want to be an exceptional cook or chef.
"Off the start I got a raise. It (culinary degree) also showed higher ups that I had determination, commitment, and knowledge."*
Christine Miller, Escoffier Culinary Arts Graduate
Stay Current
Many certifications require that you keep up with continuing education in order to maintain your status. This may encourage you to stay up to date on changes in the industry as well as show others that you're keeping up with modern trends.
Work Towards a Goal
Working towards certification can keep you motivated and engaged in your work. By continuing to strive for loftier titles, you can keep excitement and enthusiasm burning throughout your career.
"I pursued certifications because I always wanted to be taken seriously and to have a credible voice. I didn't want to be deniable."*
Colette Christian, Pastry Arts Chef Instructor, Certified Executive Chef®, Certified Executive Pastry Chef®, Certified Master Baker
An Education Can Be a Stepping Stone to the Highest Chef Certifications
Whatever certification you hope to earn, a culinary education can help you get there. Many of the ACF certifications will accept an associate degree in lieu of some of the continuing education hours. So by getting your degree, you're not only exploring new culinary techniques and skills, but you may also be getting closer to your certification goal!
Not only can culinary school expose you to new concepts and opportunities, but it can also introduce you to talented individuals. Many of Escoffier's Chef Instructors hold titles like Certified Culinarian®, Certified Chef de Cuisine®, Certified Executive Chef®, Certified Pastry Culinarian®, Certified Working Pastry Chef®, and Certified Executive Pastry Chef®, just to name a few.
Contact us to learn more about which culinary program could be right for you.
To learn more about how education can help you achieve your goals, explore these articles:
This article was originally published on August 25, 2022, and has since been updated.
*Information may not reflect every student's experience. Results and outcomes may be based on several factors, such as geographical region or previous experience.