If you're looking for highly specialized, skills-focused training in the culinary arts, an associate degree may be the solution. A hands-on program at a dedicated culinary school can prepare students for an entry-level position in a culinary establishment in just 60 weeks!
Auguste Escoffier School of Culinary Arts offers two associate degree programs. The Associate of Occupational Studies Degree in Culinary Arts is available at our Boulder, Colorado location, on-campus and online. And the Associate of Applied Science Degree in Culinary Arts is available at our Austin, Texas campus.
Both programs build a foundation of culinary skills and business-focused knowledge that graduates can bring with them into their culinary careers, whether that's cooking in a restaurant, starting your own restaurant or food truck, becoming a food stylist, developing recipes, or one of many other paths.

If you're interested in getting your degree in the Culinary Arts, here's why Escoffier should be at the top of your list of schools.
Balanced Curriculum
The heart of a culinary arts education is in the kitchen. Knife skills, sanitation, the basics of baking and patisserie, seasoning, world cuisines — all of these topics are explored through the curriculum in our associate degree programs.
But there's more to the culinary industry than cooking! That's why classes at Escoffier also have a business focus. Students can study financial planning, professional communication, and restaurant operations as well.
In Culinary Entrepreneurship, students study practical topics like government regulation and legal issues. The final project for the course is to create a business plan for a fictional culinary operation. Students will create their own business blueprint, addressing funding, a marketing plan, and sales projections for their theoretical businesses.

At Escoffier, each course prepares you for a career in Culinary Arts. Even our general education courses include a focus on culinary education.
For example, students complete their writing requirement with Technical Writing for the Hospitality Industry, which explores writing for supervisors or customers within a food-focused workplace. And for a science course, students take the Science of Nutrition, which explores the way our bodies absorb nutrients.
One of the most popular courses in the curriculum is the Farm to Table® Experience. Students study the relationship between food producers and the kitchen. On-campus students spend one day per week on a working farm or with a food producer to learn about their process from beginning to end. They'll bring what they learn back to the kitchen, and plan an event for friends and family to enjoy. Online students study the same concepts and have the opportunity to attend weekend workshops for hands-on experience.
Culinary Externship
All programs at Escoffier, whether they're on campus or online, require that students complete at least one culinary externship.
This gives students a chance to continue learning and practicing in a professional setting. It also lets them experience two different culinary establishments, like a restaurant, hotel, catering business, cruise ship, resort, or banquet hall. This can help students to narrow down what they'd like to pursue for their future career goals.
"In January of 2016, I decided I wanted to become a chef on a Disney cruise line. I decided to attend school at Auguste Escoffier School of Culinary Arts and, little did I know, this school would set me up to work with Disney. Escoffier has set me up to reach for my dreams and, thanks to Career Services, I have accepted an externship with The Disney Culinary Program. It has definitely been a true blessing."
Jane Dodson, Escoffier Culinary Arts Graduate
Escoffier externships have the potential to be paid positions, so students can also earn some income while completing this requirement. And externships have led to full-time employment offers in the past for some of our students.
Dedicated Chef Instructors
Escoffier's Chef Instructors are professional chefs with years of industry experience. They include James Beard nominees, American Culinary Federation Certified Executive Chefs, and winners of cooking competitions across the country.
But they also have to be outstanding teachers. That's why prospective Chef Instructors go through a rigorous hiring and training process.

First there's a preliminary interview, followed by a panel interview. We're looking for engagement and creativity, as well as skills and experience. Then, they must prove that they can demonstrate techniques while also explaining and leading a class discussion. Plus, they must provide feedback for an anonymous student assignment.
This extensive process helps Escoffier to hire not just chefs with impressive resumes, but chefs with a passion for teaching. They often make themselves available to answer questions and provide advice, even outside of the classroom. Escoffier's Chef Instructors are dedicated to their student's success!
"I think Escoffier's online education makes a student very competitive…I would absolutely recommend Escoffier. It's affordable, it's flexible, and it's comprehensive. The Chef Instructors are so wonderful, and they care very much about the success of every student."
Laura DeVries, Online Culinary Arts Graduate
Affordable Tuition & Financing Options
Some culinary school programs can cost $50,000 or even $100,000 by the time you receive your degree. This price tag can scare prospective students away from an education in culinary arts.
At Escoffier, we've designed our programs with affordability in mind. Associate degrees at Escoffier range from $27,025 to $30,910 for online and on-campus programs as of December 2020. And since Escoffier is a nationally accredited culinary school, some students are eligible for federal financial aid.
We always suggest that students start with scholarships, since these don't have to be repaid. There are many groups that offer financial awards for culinary students, so make sure to apply!
Then, fill out the Free Application for Federal Student Aid (FAFSA) to see what federal loan or grant money you may be eligible for, like direct subsidized or unsubsidized loans.
Along with scholarships and Federal Loans, there are other options for funding your education, such as the Parent Plus Loan for Dependent Students and School Payment plans at no interest.
We understand that each student's needs are different and that not everyone is eligible for the same funding. Our Financial Aid office is trained to help students through the process and ensure all available funding options are covered with the student.
The Essential Culinary Career Guide
The Essential Culinary Career Guide
What's your ideal culinary career: Fine dining? Your own restaurant? Pastry? Get our self-evaluation guide to find out!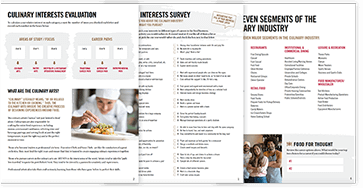 We've compiled a checklist of all of the essential questions into one handy guide: career options, culinary interest surveys, educational opportunities, and more.
YES, I want the guide!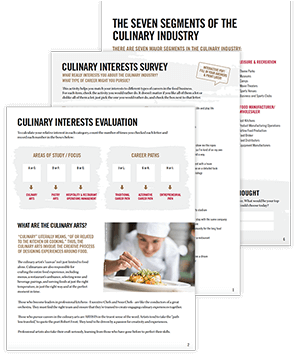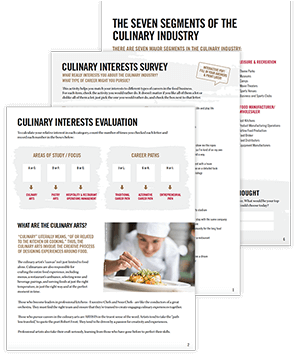 Unparalleled Student Support
Escoffier students are never just a number on a page. They're individuals with unique needs and challenges. Our staff wants everyone who enrolls to earn his or her degree. So we've put programs in place to help.
We assign each Escoffier student an advocate to help them overcome any challenges they may face during their programs. For online students, this will be a Success Coach. For on-campus students, it will be an admissions representative. These advocates reach out to students who need a little extra support, whether they're having trouble in the classroom or at home.
"Since the beginning of the admissions process I felt like everyone at the Auguste Escoffier School of Culinary Arts was personally interested in my success."
Suzanne Clancy, Culinary Arts Graduate & Kitchen Manager, Hillstone Restaurant
Graduates also get job placement assistance, which can include resume writing help, interview prep, and access to job boards where they may be able to find employment opportunities. We're invested in your success, even after you complete your education.
#1 Culinary School in the World
An associate degree in culinary arts is a stepping stone to an exciting career in the industry. With a high-quality curriculum, excellent Chef Instructors, outstanding student support, and an affordable price tag, Escoffier is the right place to get started.
And we're not the only ones who think so! Escoffier was ranked the #1 culinary school in the world by Chef's Pencil.
To apply for admissions to an associate degree program in culinary arts at Escoffier, contact us today.
Interested in learning more about degrees and diplomas at Escoffier? Try these articles:
This article was originally published on September 11, 2017, and has since been updated.