There are so many career paths you can follow after graduating from culinary school. The obvious ones include working in a restaurant, for a catering company, in a hotel…but there others that are a little "off the beaten path."
It's a competitive industry, but becoming a food stylist is a great choice if you have the right personality: you have an entrepreneurial spirit, love working with people, and have an eye for design. You can combine these wonderful traits and work as a food stylist.
Here are some things you need to know if you're going to walk this unique career path.
You'll Have to Hone Your Cooking Skills
Not every food stylist is a trained chef, but the successful ones have a solid grounding in the culinary arts. Training at a culinary school is the best place to start, but the hands-on experience will help, too. We also recommend that you spend time in a commercial kitchen working alongside a professional chef…at a restaurant, with a catering company, or a bakery.
You have to know your subject matter: good food. And you have to know how to make it look so good other people want to eat it. Working in a busy restaurant with other professionals will give you an understanding of what appeals to different consumers. You'll learn tips and tricks for food preparation and presentation…as well as food trends.
Networking with other culinarians helps, no matter what you want to do with your career in the food and hospitality industry.
You'll Have to Hone Your People Skills
It's important to be a good communicator – no matter what job you choose after getting your degree or diploma from a culinary school. As a food stylist, though, you'll be working with a wide variety of professionals. You'll be side-by-side with other chefs, magazine or book editors, graphic designers, photographers, movie producers, art directors, brand managers…
Be prepared to work with a range of personalities. You have a specific skill set and personality…and so do your colleagues. Knowing how to accommodate diverse personalities and add value to a project will take you a long way as a food stylist.
Be Prepared to Work with Odd Ingredients
That's right. Food stylists work with some odd ingredients that aren't necessarily edible or palatable. Getting multiple shots of that breakfast granola with fresh blueberries in a bowl of milk – over a span of several hours – may involve substituting the milk with white glue. Otherwise, the granola will turn to mush.
Here are some other weird and creative ways for getting a good food shot that don't always include food…or palatable food:
Whipped egg whites can be used to create foam on a perfect artisan latté.
Toothpicks keep layers of a cake, sandwich or dinner entreé in place.
Adding a false steam effect to make food appear hot.
Undercooked meat keeps its visual appeal much longer than a properly cooked steak.
Mashed potatoes make a great, affordable filler when staging wraps, calzones or burritos.
Plastic ice cubes keep their shape long after the real thing has melted.
Inserting a false bottom to a bowl of soup to raise the visibility of certain ingredients.
However, there are strict laws that protect consumers from false advertising. In the example of the bowl of soup, a food stylist can't add anything to the original product that may be considered deceptive such as additional food that isn't originally included.
The line is drawn when it comes to decorative items unrelated to the original product. For example, an ice cream company's ad needs to show the real ice cream product. The whipped cream topping can be mixed with another substance like shaving cream, however, since it is simply decorative.
Your culinary training is important, but your creativity and ingenuity will also come into play as a food stylist when you must simultaneously navigate advertising laws and design a great product.
Be Prepared to Get Detail-Oriented
This is a profession where attention to detail is paramount. As food stylist and Escoffier Online Culinary Arts graduate Laura DeVries explains, you may have to "sort through 15 packages of strawberries to get two perfect ones" or "stand in a grocery store reviewing every single red bell pepper to choose the best one."
Additionally, timing is extremely important in food photography, and stylists should be aware of how certain dishes may react under hot lights and other environmental factors. Often, foods can become inedible and unsafe while sitting out, and stylists may be relied upon to maintain proper standards of sanitation.
The Essential Culinary Career Guide
The Essential Culinary Career Guide
What's your ideal culinary career: Fine dining? Your own restaurant? Pastry? Get our self-evaluation guide to find out!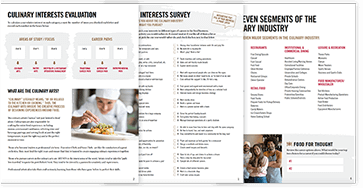 We've compiled a checklist of all of the essential questions into one handy guide: career options, culinary interest surveys, educational opportunities, and more.
YES, I want the guide!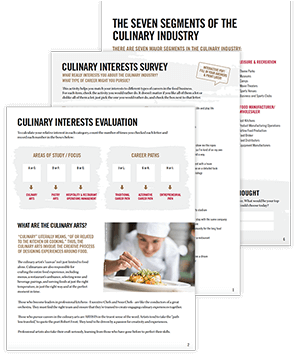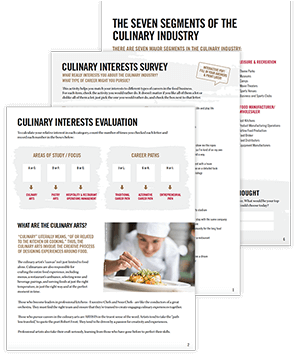 For instance, knowing how quickly lettuce might wilt and being ready with a replacement is vital for an organized and efficient shoot. Since stylists have to carry every tool they may need at all times, preparation is an important asset.
While food styling is a job that demands patience, it also allows for those who demonstrate professionalism and credibility to stand out.
Be Prepared to Keep Learning
You're going to learn while working alongside peers, and that's invaluable. Continuing your education – online courses or workshops, for example – will keep you current.
A great organization to consider joining may be the International Association of Culinary Professionals (IACP). This is a community where the food writers, stylists, cookbook writers, food photographers and others in the culinary field get together to empower, educate, and learn from each other.
"Getting a degree or certification can be a great foundation and make you stronger as a food stylist. Having a culinary degree is one of those qualifications a lot of food stylists don't have."
Escoffier Chef Instructor Billie Sutton*
Whether you're a freelancer or working with a publishing company or movie studio, you should take time to invest in your education so you continue to build your knowledge base. There will always be new tricks and techniques your peers have discovered, and you'll learn them – along with the tried-and-true methods – if you keep seeking out the knowledge.
Escoffier student Laura DeVries describes how the online program helped further her career in culinary education and food styling.
If you're interested in becoming a food stylist, start on that career path with training at a culinary school. You can learn more about our programs here. We're happy to answer questions about financing, too, including some scholarships and grants you can access.
Did you find this article helpful? You might enjoy these, too.
This article was originally published July 28, 2016, and has since been updated.