If you said you wanted to be an influencer 15 years ago, you'd get some very confused looks. But today, becoming a food influencer isn't only possible, it's also a potentially lucrative endeavor.
The chance to create exciting content for viewers or readers, build relationships with brands you love, and control your own daily activities is appealing to many. However, making your meals look perfect isn't as easy as the top influencers make it look!
For one thing, to be influential in a topic of interest, you have to establish some form of authority and credibility. We'll talk about how you can do that in a moment, but for now, if you have dreams of living the life of a food influencer, here are the steps you should take to get started.
"
"When I first started posting on Instagram, this was a creative outlet because I was a stressed lawyer. I don't think the word 'influencer' existed then. When I heard it for the first time, I was like, 'What is that?' Someone was like, 'You're an influencer.' I'm like, 'What does that mean?' This was definitely not something I envisioned. I think that's okay."*
Select Your Style and Build Your Brand
There are several unique types of creators under the umbrella of "food influencer."
Some influencers develop their own recipes and share corresponding instructions and photos online. Others promote local restaurants and take mouthwatering pictures of chef-prepared dishes. And some combine food with travel, jet-setting across the world to find the best food in every country.
Many also choose to focus on specific niches like vegan restaurants, local coffee shops, or quick, weeknight recipes. Selecting a narrow niche can help you connect more intimately with your target audience. If you share gluten-free recipes, for example, you can become a go-to influencer for people with gluten intolerances. If you're all about the latest superfood fads, you could carve your niche in that area as people engage with your content.
As you figure out what interests you and what might become your niche, you should always be thinking about branding. The more you know about how you want to present yourself to the world — a color palette, a logo, etc. — the more readily an audience will recognize your work and remember you. When Dan Pelosi, food influencer and founder of GrossyPelosi, talks about his brand, you can hear how clearly he understands it:
"I think all of it is driven by my aesthetic. It's colorful. It's bright. It's exciting. It's very imperfect. I think that is what creates my brand. It's playful. I think about not just what the food will look like, but what I'm going to serve it in. What the linens, what the knife, what the fork, what the whole experience is going to be."
Choose Your Medium
Once you've decided what type of content you'll create, you need to decide how to share it. There are a variety of platforms out there that you can use to build your audience.
A written blog on your own website will let you go in-depth with descriptions, explanations, and storytelling, since there's no word limit. Plus, you can customize the look of the site with your own designs.
On YouTube, you can make detailed "how-to" videos to demonstrate cooking techniques, or you can take your followers with you as you eat your way across your city.
A food podcast is a great way to interview cooks and chefs, dive into food science, share food pairing tips, and more. Plus, your listeners can follow along as they complete prep work in their kitchens or commute to work.
On social media sites like Instagram, Facebook, and Twitter, you can post photos and videos of your recipes or meals you eat. Instagram is popular with food influencers and restaurants alike, due to its highly visual nature. If you hope to do collaborations with restaurants, consider using Instagram!
Instagram is where food blogger Nishi Vora started posting photos before her brand, Rainbow Plant Life, took off. "I started posting photos of food I was cooking on Instagram back in 2016 when Instagram was a very different platform," observed Nisha. "It started to take off. People were inspired by what I was making or interested in what I was doing. I started to grow to the point where I thought, 'Maybe I can channel this budding Instagram account into a job of some sort.'"
TikTok is another very popular social media platform, exclusively for short-form videos. Limited to under a minute, these videos are ultra-digestible. Particularly loved among the age 16-24 crowd, this may be a good platform for younger users trying to reach their own demographic.
Keep in mind you're not limited to one platform. In fact, a multi-platform approach is often better for reaching a larger audience. You may decide to start a cooking blog and use Facebook to build a following and promote your blog.
If you have a YouTube channel, you could cross post your videos to IGTV on Instagram. Or pull short snippets from the longer video to repurpose on Instagram or Facebook. And you can turn the transcript from your video or podcast into a blog post.
But don't think you have to start everything at once! It's okay to start with one primary platform where you'll host most of your content, and add other marketing channels as you progress.
Start Creating Content
As an influencer, your "value" to brands or possible collaborators is in your followers. And to grow your audience, you need to create quality content. And the first step in that process — actually creating that content — can be a tough one.
If you write your own recipes, start documenting your process and taking pictures along the way. Make sure you write easy-to-follow instructions so your readers can recreate your dishes at home. (When you first start, ask a friend to try the recipe before you post to make sure you didn't miss any steps.)
"
"Escoffier really helped with understanding all the steps that go into a final product. And as a photographer, my job is capturing that final product, but it's not complete till you do all those other steps that go beforehand. The food doesn't magically appear."*
If you're sharing your own food adventures in restaurants, practice capturing the perfect photos when your food arrives. While it may sound a little silly, you'll need to let your phone or camera eat first! Or, as Dan Pelosi puts it, "I think it's really just about allowing yourself to take up space. I would force my friends not to eat their food for two minutes so I could snap a picture. I was doing that for eight years. Now, I'm like, 'Guess whose career is to do that?'"
If you're new to food photography, one tip is to take your photos in natural light. A recent-generation smartphone will be enough to get started, but as you grow you may want to upgrade to a digital camera.
If all this sounds overwhelming, take a deep breath and turn to your love of food for inspiration. While it may seem like your content won't attract any followers, remember that even the top food influencers started with zero followers. In fact, TV star Ree Drummond (aka The Pioneer Woman) started out as a blogger with zero readers.
No matter the platform, consistency is a major part of building an audience. Generally, you should share longer-form content like blog posts and videos at least weekly and share social media content (posts, stories, or videos) daily. Keep track of new ideas as they arise, and build a backlog of completed content so that if you need to take a few days off here and there, you'll still have media to post.
As you grow your skills, the quality of your content will improve. This should always be your main focus as an influencer. Great content is the foundation of any influencer's success.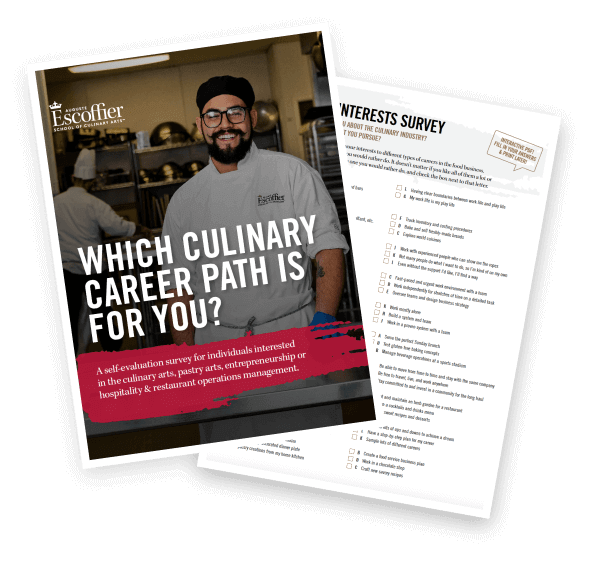 Take the Culinary Career Survey
We've compiled a checklist of all of the essential questions into one handy tool: career options, culinary interest surveys, educational opportunities, and more.
Interact With the Industry
Part of building your audience will include getting your name out there in your niche food community. This could include networking with other influencers, restaurants, food publications, food photographers, and more.
While it may be a little intimidating, start commenting on videos, blogs, and posts of other influencers to create connections and build name recognition. You can also invite them to collaborate on a YouTube video, podcast, or post. These influencer collaborations won't be monetized, but they can help you both to increase your exposure and gain followers.
When it comes time for guest posting and commenting, aim to be where the other industry folks are. A local food publication's social media feed, for example, will attract many others in your niche. By making yourself a known-name in this space, you may be able to gain more followers.
Connecting with others is one of the harder parts of being an influencer. If you're not naturally outgoing, it can be scary to drop a message to a stranger asking them to connect. But it's a vital part of growing your reach.
Monetize Your Platform
Time to make some money!
Once you have a robust group of followers, you can start monetizing. Your platform and niche will be major factors in how many followers you need before you can start earning. On Instagram, for example, micro-influencers of just over 1,000 followers can begin to work with brands. But on YouTube, it takes a much larger volume of viewers to make any significant money.
Ultimately, this is a business you're running, and understanding all that that entails before you take the plunge into monetization can help you navigate the tough parts of management. A degree of diploma in Food Entrepreneurship from Escoffier is just the kind of foundation that can help.
"
"I would have loved to have taken a class. That would have helped me become a better businessperson. I'm glad that those exist. I'm glad that [Escoffier has] those trainings and those skill sets that you're teaching students, because running a business is hard."*
The most common ways of earning from your platform are influencer marketing campaigns and affiliate links.
Influencer marketing is when a brand—like a local restaurant—teams up with a local influencer to promote the restaurant on the influencer's social media. Sometimes, these can be paid sponsorships. Other times, the "payment" is in free food or services. Weigh your opportunities thoughtfully based on what kind of doors they might open up… and be mindful about which "freebie" offers you choose to accept, as producing high-quality content takes a significant amount of time and you'll want to be compensated accordingly.
To start influencer marketing, you can reach out to brands you like to see if they're open to a collaboration. It may take a bit of negotiation to come to an agreement that you and the brand are happy with. For example, you may agree to do one Instagram post and three Stories promoting a restaurant in exchange for a free meal and a small fee. In general, influencers with larger audiences can command higher prices for these campaigns.
Another option is to become an affiliate. This is a way to make some passive income, but it does take work upfront to set up the affiliate agreement.
Affiliates will promote a product or service and include a unique link that the readers can click on to purchase the item. For every purchase made through the affiliate link, the influencer will get a small commission.
YouTube is a bit different. Unlike the other platforms where any monetization is strictly between the influencer and the brand, YouTube actually pays video creators directly based on views. This revenue comes from advertisers, who pay YouTube for their ads to be shown before and during videos.
YouTube creators also have the option to supplement this income with affiliate links and sponsorships on their videos.
The truth is that no two food influencers follow the same path. While many start out with images and video, some, like celebrity influencer Gaby Dalkin, started with the written word, food blogging at a time when phones had the most rudimentary of cameras. And it took time — and a lot of trial and error — to generate a profit.
"When I started, "What's Gaby Cooking?" back in 2009, 2010, it wasn't even remotely profitable for four or five years," explained Gaby. "It was learn-as-you-go. I started putting advertisements on my site. I started doing small brand deals for a couple hundred bucks here and there. As my audience grew and I got better at advocating for myself, I just started adding. Instead of a $200 blog post, now it's $400."
Full-Time or Part-Time?
Most influencers will earn very little at first. But as they build their audiences and make more connections in the food community, they'll find more opportunities to earn from collaborations and sponsorships.
That said, many food influencers start out part-time and use the extra money as a way to supplement their current income. Over time, some are able to grow their audience and reputation to the point where they can replace the income from their day job.
"
"I private cheffed the entire time until I decided, 'What's Gaby Cooking?' is making a decent amount of money. I've got money saved up. I can afford to make this jump and see if it works. If not, cool, I'll go back to finding another job…I'm a big believer in pivoting."
Still, not all influencers get into the field to make money. Some just share for fun. If you're a cook or chef, a foray into the influencer world could be a fun creative outlet!
Build Your Credibility with a Culinary Degree or Diploma
Being an influencer means you're in charge of your own career—who you work with, what your rates are, and what you choose to promote. That kind of freedom is exciting, but it also means you shoulder all the responsibility.
The more you know about food, — and business — the more easily you'll be able to speak with authority about recipes and dishes and turn your passion into a thriving brand. A degree or diploma from culinary school can be a great way to learn more about food and cooking, and support your food influencer dreams! And Escoffier's Food Entrepreneurship programs can help equip you to navigate this world more adeptly.
IF YOU'D LIKE TO LEARN MORE ABOUT SOME EXCITING CAREERS IN FOOD, TRY THESE ARTICLES NEXT! 
*Information may not reflect every student's experience. Results and outcomes may be based on several factors, such as geographical region or previous experience.
This article was originally published on February 1, 2021 and has since been updated.