Did you know that the easiest and least expensive way to promote your restaurant is on social media?
That's right! The platforms you use to stay in touch with your friends and family can serve as a great place to promote your restaurant to new customers. Through hashtags, tagged locations, and engaging content creation, you can increase your revenue and grow awareness of your restaurant.
In 2020, 67% of restaurants used social media as a form of promotion. Social media is a wonderful place to announce restaurant promotions, show off your dishes, and express the atmosphere of your restaurant.
We've gathered some of the best examples of how restaurants promote on social media to give you ideas to use for your own restaurant, bakery, or food truck.
Benefits of Using Social Media
Why should you start using social media to promote your restaurant?
The answer is simple, social media will increase your restaurant's exposure to new customers.
When current customers come to your restaurant and post about their experience on their social media, they can tag your profile and check-in to your restaurant. These posts are free promotion for you to a new audience.
The use of social media also gives you the opportunity to create a personality for your restaurant and brand. This will set you apart from every other restaurant in town and make you more personable.
More people are learning about new restaurants through social media. Empathica research shows that 72% of people use Facebook before making a decision about a restaurant. Through social media, they can read reviews, see photos of your restaurant and dishes, and help make their decision to eat there.
Connect with Customers
Social media gives restaurants a great opportunity to connect with customers. Through comments and reviews, restaurants can interact and respond to their patrons. This makes the customer feel special and valued by the restaurant, therefore increasing their chances of returning.
Voodoo Doughnuts regularly interacts with its customers on Instagram. With over 181,000 followers, they make a point to respond to comments and start a conversation with their followers.
As you can see in this example, Voodoo Doughnuts picked one of the many comments on a post and responded to it. They showed their fun personality and made sure that the follower knew it wasn't a canned response. Someone actually responded and even kept the conversation going.
Using Social Media During COVID-19
Many restaurants are relying on their social media platforms during the COVID-19 pandemic to communicate with customers. With so many regulations and restrictions coming and going, restaurants can update patrons about new hours, adapted menus, and takeout specials.
Rather than customers driving to your restaurant only to find out it's closed or isn't serving their favorite dish, and turning away with a bad taste in their mouth, they can learn this information through social media and save them a trip.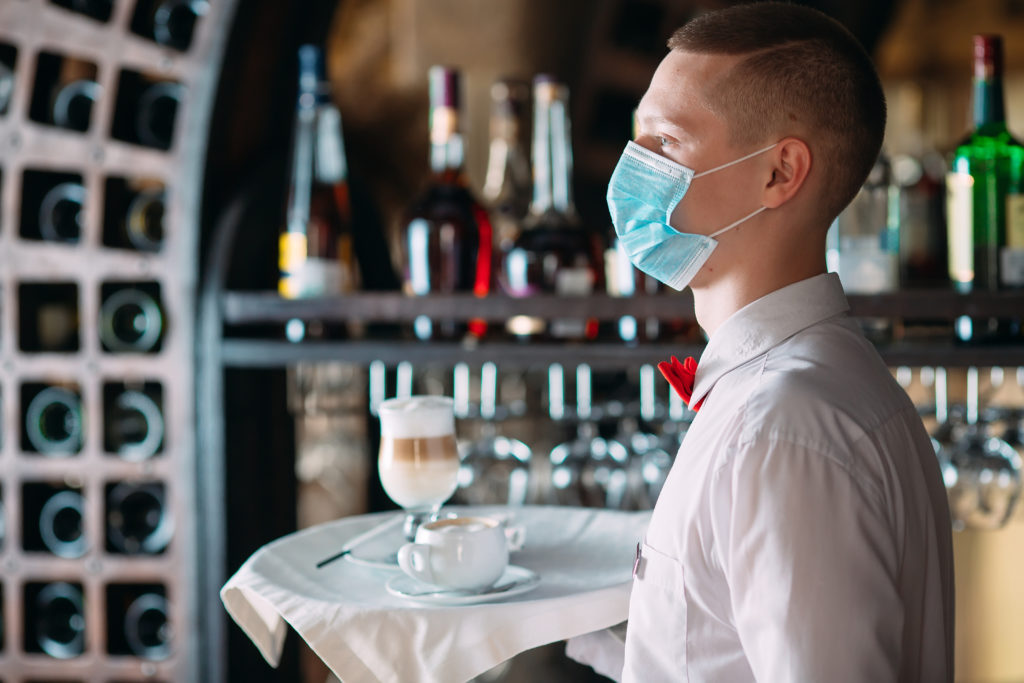 Choosing the Right Platforms
There are multiple platforms available to promote your restaurant on social media. The hardest part is determining which platform is right for you. Each platform offers a unique benefit and way to use it successfully.
It's important to focus on promoting your restaurant on one or two platforms instead of all of them. Managing a restaurant is a lot of work, you may not have time to promote it on every platform. Focusing on just one or two allows you to create the best content and effectively brand yourself.
Always remember to fully complete your profiles with all updated information including hours, links to your website, and more.
Now, how do you choose the right social media platform to focus on?
Instagram
Instagram is a photo-based social media platform that has 1 billion monthly users. This platform is perfect for restaurants who want to show off their dishes and have a knack for taking a good photo.
Through posts and stories, restaurants can share immediate updates such as tonight's specials or limited-time promotions.
The Continental Mid-Town in Philadelphia uses their Instagram profile to show off a delicious waffle with whipped cream and fresh berries as part of their brunch menu. In the caption, they also announce that they are extending their brunch hours on the weekends.
The key to promoting your restaurant on Instagram is to have a pleasing aesthetic in your photos. This requires some content planning, photo editing, and design skills.
Facebook
Facebook is one of the oldest social media sites around and is still very relevant today. When promoting your restaurant on Facebook, it's important to know the difference between a profile and a business page.
A profile is for personal use. It's what you share your vacation photos on and chat with family and friends. A business page offers a space for you to put all of your restaurant's information and analytics as to who is visiting your page.
A Facebook business page is great for sharing photos, memes, videos, articles about your restaurant or related to it, and creating events your restaurant is hosting. Your page doesn't necessarily have to be aesthetically pleasing like Instagram, so it's easier to plan and create content for it.
Twitter
Twitter is more limited in its ability to promote your restaurant on social media, but when it's done right you can gain a ton of exposure. Used for short text under 240 characters, photos, and videos less than two minutes long, Twitter is for quick communication.
This platform does, however, offer a great space to connect with your customers. You can easily communicate and reply to your customers on Twitter to keep them engaged.
McCormick & Schmick's steakhouse restaurant uses Twitter perfectly to promote their restaurant. They have built a personality on Twitter using short messages and including emojis in their tweets. In this tweet, we see them showing off their delicious steak.
Yelp
While Yelp isn't considered a social media platform, it's essential for every restaurant to have a complete profile on the website. Yelp is one of the most popular places people visit when searching for restaurants in their area. It's a place to get information, read reviews, and see restaurant photos from both the owner and customers.
As a restaurant owner, you'll want to pay attention to the reviews of your restaurant on Yelp, so you can consider feedback and improve your restaurant and services.
Create Engaging Content
Once you have decided which social media platforms are the best to promote your restaurant, it's time to create engaging content.
What is engaging content?
It is content that drives your followers to engage with it, such as liking it, sharing it, and commenting on it. The more engagement your content receives, the more exposure your restaurant receives.
Creating this type of content requires some creativity and planning. So, we've taken some excellent examples from restaurants, bakeries, and food trucks.
Share Staff Photos
The Good Batch, a bakery in Brooklyn shares a photo of their staff in the kitchen to show appreciation. Showing off their team makes them more personable to the customer. This particular photo also proves that the bakery is compliant with COVID regulations.
Behind the Scenes

Kreyòl Korner Caribbean Cuisine shares a photo from behind the scenes in the kitchen making traditional fried patties. Not only do followers get a sneak peek of the delicious snack in the making, but the post also informs them of when the dish will be available to order.
Foodie Photos
Show off photos of dishes on your menu. With excellent plating and presentation, it will surely entice your followers to come in and order a meal. It's also a great way to promote new dishes and even your most popular ones.
News and Promotions

The Blackbelly Co. shares a graphic on Instagram to share a promotion to celebrate their sixth birthday. They use the caption to show appreciation for their staff and encourage their followers to come in and enjoy a free cocktail.
Take Advantage of Trends

Voodoo Doughnut hopped on the Among Us train and created a doughnut with the characters from the mobile app game. While they use the trending topic to gain exposure, they also use the caption to promote their customized doughnut service.
Create Memes

Sweetgreen takes a popular meme and makes it their own in this Instagram post. This particular post promotes a chicken and brussel sprout salad on the menu. Memes are always trending and present a great opportunity to promote your restaurant on social media.
Create an Editorial Calendar for Your Content
The most efficient way to create engaging content for your restaurant's social media is to plan an editorial calendar. This will keep you on track with your content and help you plan for promotions, holidays, and more.
An editorial calendar also allows you to consider the time you publish a post. The timing of your posts can help you increase the number of customers that come to your restaurant.

Good Karma Cafe in New Jersey posts a photo of a slice of one of their pies in the afternoon with the caption, "Your after work treat!" When a follower sees this on their timeline just as the workday is ending, they are likely to consider stopping by the cafe to grab a snack on their way home.
Host Social Media Contests
Boost your restaurant's social media engagement and followers by hosting contests. Giving away something for free will turn your followers into customers.

Piada Italian Streetfood celebrates their ten year anniversary by giving away ten years of free food to one person. This post works well because it requires people to follow their profile and tag a friend in the comments, which will boost exposure and engagement.
Some ideas of social media contests you can run include a free happy hour, free cocktail with dinner, Valentine's Day dinner for two, or free dessert for a lifetime.
Encourage User-Generated Content
If there is one thing people love to post on social media, it's the food they are eating. When a customer posts about your restaurant and the food you serve, that is free promotion, especially when they tag your profile or use your hashtag.

One customer was so excited about her ice cream sandwich from The Good Batch that she just had to share it on social media. So, she used the restaurant's hashtag #thegoodbatch and tagged the location in her post.
To encourage your customers to post about your restaurant, bakery, or food truck, offer a promotion or discount. For example, if a customer posts a photo on Instagram and tags your business, they can receive 10% off their meal. This increases your exposure and helps you gain followers.
Take your social media game up a notch and repost your patrons content. This makes your customers feel special because they have added value to your social media, therefore increasing the chances of them coming to your restaurant again.

Zahav used this customer's post on their Instagram feed to promote their cookbook. You can see they tagged the profile that originally posted the photo to give them credit.
Creativity is Endless
Social media is forever changing, but you've just learned the basics to help you promote your restaurant on these platforms. It's important to be as creative as possible when generating content and marketing your business. Don't be afraid to test the waters and really get to know what type of content your audience enjoys.
Managing a restaurant requires a lot of different skills, especially outside of the kitchen. From marketing to accounting to hiring, the Auguste Escoffier School of Culinary Arts online Food and Beverage Operations degree covers these topics. With comprehensive courses taught by professional and experienced Chef Instructors, you could gain the knowledge you need to successfully manage a restaurant.
Escoffier offers fast and affordable 100% online programs with industry externships for anyone who wants to make a career change or begin their culinary journey.
Request more information about Escoffier's programs, financing options, and career assistance today.
If you liked this article, read these food entrepreneurship articles next: