If you're looking for a way to become a food entrepreneur—without the major cost associated with starting a restaurant or food truck, becoming a personal chef just might be for you.
Personal chefs spend their days cooking for their clients, stretching their creative culinary muscles while making a good living. It requires time management, organization, and a little courage to put yourself out there. But in return, you get to be your own boss and set your own hours.
Read on for a few tips on becoming a personal chef, or request a personal chef career plan to explore the ins and outs of this flexible and creative career choice.
This article discusses how to become a personal chef. For a complete step-by-step guide to becoming a professional chef including requirements, salaries, career paths, and more, see:
How to Become a Chef: The Complete Guide
.
The Difference Between a Personal Chef and a Private Chef

Before we explain how to become a personal chef, let's clear up a common source of confusion—the difference between a personal chef and a private chef.
A personal chef prepares meals for a number of clients throughout the week. These are often pre-made meals that the client can then heat-and-eat. A private chef works for a single client or family and attends to all their culinary needs. They may travel with the client and some even live in the client's house.
Both professions are a great way to make a living in the culinary arts, but a personal chef has more control over their schedule and menus.
So, here is how to become a personal chef:
1. Research the Local Market
To best serve your community, you need to know who will need (and want) your services. Take time to figure out who will be looking for a personal chef in your market. Working moms? Bachelors? Busy families? Young professionals?
Market research will guide your business model—and help you cater to the clients you want to serve. It's wise to figure out the need in your market, but it's also a great idea to pick a niche and customize your service to attract a certain kind of clientele. Some personal chefs cater to specific groups. Escoffier graduate Shane Witters Hicks, for example, specializes in plant-based cuisine in his personal chef business.
2. Brand Yourself – Then Share Your Brand
Make it easy for your clients to find you and learn what services you offer when they do. Much of your new business is going to come from online searches–Google, Yelp, Facebook–so be sure your brand is clear and accessible.
You'll need a high-quality website and solid marketing strategy so that you're connecting with the people in your target market. Share your new business on social media and ask your friends and family to spread the word. You can also reach out to fellow students and mentors from culinary school or former colleagues to ask if they have any referrals for you.
As you start to build a client base, you can share pictures of your food and testimonials from happy clients to prove the quality of your services. You could also provide an incentive to current clients to help build your business. (Like for every successful referral, maybe the client can receive 10% off the next month's services.)
3. Build Your Customer Service Skills
Personal chefs are both professional cooks and service providers. While some will be happy for you to come up with their meals, others may have specific requests, favorite dishes, or dietary requirements. As the chef, it's not your job to argue or try to change their minds. It's your job to deliver what they expect of you.
Be sure to lay out your services very clearly—it will help you avoid confusion or disappointment down the road. And be prepared to take feedback with grace. They are the customer, and while they may not always be right, the chef should always be polite.
4. Don't Forget the Business End
As a personal chef, you're running your own small business. This means you'll be responsible for all of its financial, legal, and operational aspects. At Auguste Escoffier School of Culinary Arts, culinary arts students can receive some instruction in entrepreneurship and business management that can be invaluable to the personal chef.
You'll also need to research your state and local requirements for setting up your own small business.
Take time to research:
Operating permits
Licenses
Certifications
State and local taxes
Liability insurance
A business lawyer and tax accountant will be able to give you good advice as you get started.
The other important business detail as a personal chef will be setting your pricing. There are plenty of good software options to help you with costing. They'll take into account the price of your ingredients and the number of patrons you serve.
Be sure to build equipment into your budget. You'll have to buy and maintain pots, pans, knives, to-go containers, and more to keep your business afloat.
"Anybody can say they are a chef. As far as the management portion, that is where Escoffier is really helping me actually run a restaurant, run a café, or run a business. And that's what I want."
Tiffany Moore, Escoffier Culinary Arts Graduate*
5. Join a Professional Organization
In the United States, there are two primary professional organizations for personal chefs—the United States Personal Chef Association and the American Personal & Private Chef Association. Both groups offer networking opportunities, "find a chef" directories to help potential clients find chefs, and special rates for liability insurance, among other benefits.
These groups can be fantastic resources while you start your new business, and they help add legitimacy to your company.
The Essential Culinary Career Guide
The Essential Culinary Career Guide
What's your ideal culinary career: Fine dining? Your own restaurant? Pastry? Get our self-evaluation guide to find out!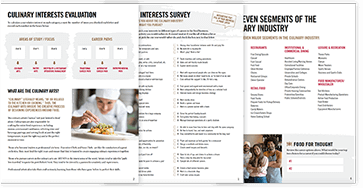 We've compiled a checklist of all of the essential questions into one handy guide: career options, culinary interest surveys, educational opportunities, and more.
YES, I want the guide!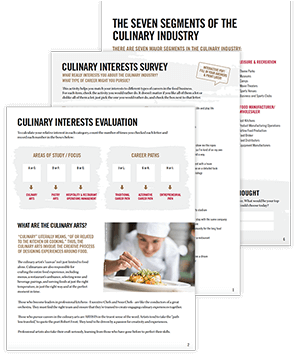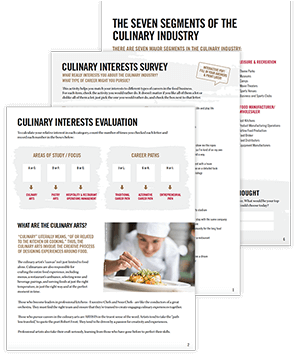 Be Your Own Boss With Low Startup Risk
Working as a personal chef is challenging, but extremely rewarding. And unlike starting a restaurant or food truck, you can hang out your shingle without spending thousands of dollars to get off the ground.
If you like the idea of working for yourself, cooking professionally, and want the opportunity to stretch your culinary muscles as an entrepreneur, contact Escoffier to start building the skills you'll need to run a business as a personal chef.
With the proper culinary training and some legwork, you can pursue a career that suits your lifestyle and interests.
*Information may not reflect every student's experience. Results and outcomes may be based on several factors, such as geographical region or previous experience.
Read more about food entrepreneurship with these articles:
This article was originally published on March 17, 2016, and has since been updated.