Our culinary students have a wide range of career options to choose from after graduating from one of our programs. A solid grounding in the culinary arts opens up doors to have a restaurant or food truck for the entrepreneurs at heart, and lots of stable, well-paying jobs in hospitality and food services across the country.
If you have itchy feet and owning a roving food truck just won't satisfy them, you may want to consider becoming a traveling chef. You have the opportunity to travel around the country or around the world while using the skills you've learned in school.
Working as a traveling chef – and there are loads of ways to do this – is a great way to fund your adventures, meet new people and cook in some unique locations.
But there are some things you need to know if you're going to follow this path.
What's Your Timeline?
If you're just looking for a temporary escape and want to see someplace new, a seasonal resort is a good choice. Whether you follow the sun or the snow from the continent, resorts are constantly looking for qualified cooks to serve their guests during high season.
You can follow the snow and job opportunities at American or Canadian ski resorts November through March, then hop on a plane and catch ski season at an Australian resort if that appeals to you. Or, you can chase the sunshine from California to New Zealand if warm weather appeals to you.
Summer camps are another great source of temporary employment – a smart way to start your career – and most of them run during the summer season, leaving you free to go back to school in the fall or seek other opportunities.
Who's Your Preferred Client?
Think about the kind of client you want to serve. Resorts cater to tourists, and within the various styles of resorts, there are subsets of clients in different age brackets, from singles to couples to families to seniors. Summer camps cater to youth and have a very different set of parameters – especially where budgets are concerned.
What inspires you when you walk into the kitchen? Honor that inspiration when choosing your destination.
Where's Your Comfort Zone?
Cooking on a cruise ship is a great way to see different destinations, but are you more comfortable on an Alaskan cruise, or something in the Mediterranean or inland on a river on the African continent? Do you prefer a massive floating hotel, or would you enjoy working on a smaller vessel? There are many opportunities to see different parts of the world while traveling the waterways.
Do You Have a Toolkit Packed?
No matter where you choose to go, for how long, on land or sea, as a traveling chef you're going to want to pack the right equipment.
Chef Cameron Stauch has seen the world as a traveling chef. He's curated a list of kitchen tools that no one should be without. It includes:
A small paring knife and medium-sized chef's knife. These two knives can handle virtually every cutting job you'll encounter if you're working in a kitchen that isn't fully equipped.
Lightweight measuring spoons and cups. Keep in mind you may find yourself using recipes that use metric measurement, so have a conversion table or app handy, or a set that has both imperial and metric on the surface.
A travel spice kit is an asset if you're wanting to prepare some of your favorite dishes. Stauch suggests using a pill container to transport spices and avoid spillage.
A firm cutting board. The ones available to you might be the pliable type – fine for a casual kitchen but not ideal for your purposes.
That "go-to" tool you've discovered that you, personally, can't do without.
The Essential Culinary Career Guide
The Essential Culinary Career Guide
What's your ideal culinary career: Fine dining? Your own restaurant? Pastry? Get our self-evaluation guide to find out!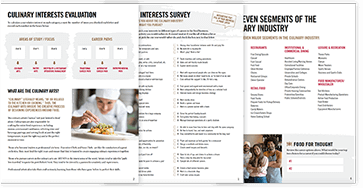 We've compiled a checklist of all of the essential questions into one handy guide: career options, culinary interest surveys, educational opportunities, and more.
YES, I want the guide!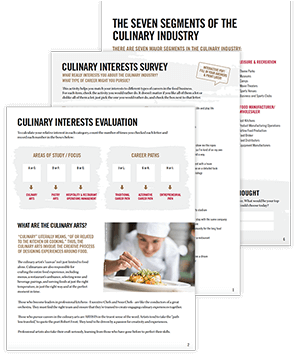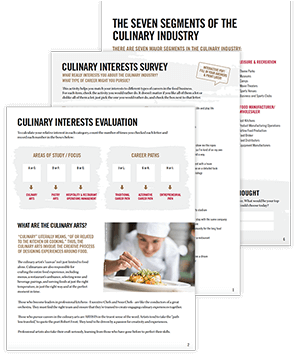 Do You Have a Valid Passport?
The U.S. State Department keeps an up-to-date website that will guide you through securing or renewing your passport. You'll also want to read their guide to international travel very carefully, as rules change, and you'd be surprised by some of the rules in foreign countries. You'll want to be sure you're aware of local customs laws – even some of your kitchen tools and spices might not be permitted in certain countries.
Do your research before you pack your bag to avoid complications at your destination.
Are You Ready to Embrace the Local Cuisine…and Customs?
Part of the benefit of working as a traveling chef is the exposure to new ingredients, flavors, and the customs that come along with them. Be sure to keep an open mind when cooking in a foreign country. You will have an opportunity to share your knowledge of cuisine from your home, but also learn from your new surroundings.
It can be daunting going to a new country, but the experience can enrich you, both personally and professionally.
You can get your start on learning a trade that can take you around the world, just contact us and we can help you get going on your culinary journey.
Did you enjoy this article? Then you'll probably like these ones, too.
This article was originally published on August 12, 2016, and has since been updated.