Some successful chefs are high school graduates with no formal training. Some have bachelor's degrees in non-culinary fields. Others have culinary school degrees, and some even have master's degrees.
You could look at that fact and assume your level of education is irrelevant to becoming a chef.
But you would be mistaken. While successful chefs may not all have achieved their education the same way, they do have an education. They may get it in a four-year school or on the job. Many get it in culinary school. For a complete step-by-step plan to becoming a professional chef, see: How to Become a Chef: The Complete Guide.
Let's discuss the level of education a chef needs to be successful, and how they may be able to fast-track their learning.
What Does a Chef Do?
An executive chef is a high-level restaurant manager. Subordinate only to the owner, the executive chef is responsible for everything that goes on in the kitchen.
This means they do a lot more than cooking.
The chef designs the menu and creates the recipes. They supervise hiring, training, and firing staff, and ensure that their culinary standards are met daily. They have to manage food and labor costs to ensure that the restaurant is profitable. They oversee inventory, scheduling, and may even have to make public appearances to promote the restaurant.
While some of these tasks may be delegated to the sous chef, the buck stops with the executive chef.
The chef also creates the culture and sets the tone for the kitchen. A great executive chef will support their team, make sure they're well-trained, and help them to work through setbacks with a positive attitude.
To do all of this, a chef needs to have a comprehensive knowledge of more than just how to cook.
What Does a Chef Need to Know?
So how does a chef do all of this? What do they need to know in order to succeed?
Menu Planning and Recipe Development
The chef must be skilled in flavor profiles, food pairings, and food science, so they can create delicious recipes.
Not only does the chef have to invent these dishes, but they have to clearly document them. The rest of the kitchen can then recreate them over and over again, the same way each time. This means the chef needs both culinary skills and recipe writing skills.
Communication and Leadership
Chefs are managers, and they have to effectively communicate with their staff. This skillset has received more attention in recent years, as the entire industry makes strides to becoming a warmer, more welcoming work environment.
This not only makes employees happier and more fulfilled, but it helps the restaurant by reducing expensive turnover.
The Essential Culinary Career Guide

The Essential Culinary Career Guide

What's your ideal culinary career: Fine dining? Your own restaurant? Pastry? Get our self-evaluation guide to find out!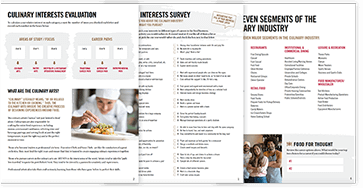 We've compiled a checklist of all of the essential questions into one handy guide: career options, culinary interest surveys, educational opportunities, and more.

YES, I want the guide!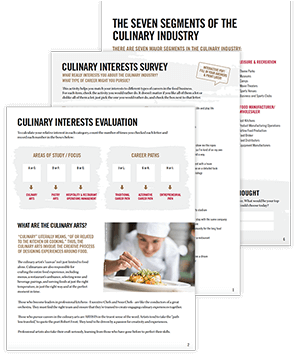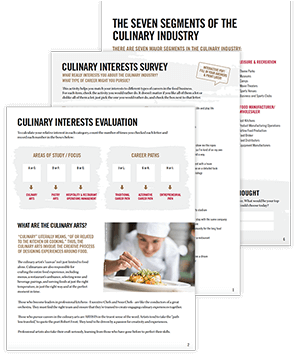 Clicking the "Get the Guide Now" button constitutes your express written consent to be contacted via phone, text, and/or emails by Auguste Escoffier School of Culinary Arts at the number(s)/email you provided, regarding furthering your education. You understand that these calls may be generated using an automated technology. You can unsubscribe at any time or request removal of street address, phone number, email address via Escoffier website.
Cost Control and Basic Foodservice Accounting
Chefs are not accountants, but carefully managing labor and food costs is necessary to ensure restaurant profitability. Profit margins are often tight in restaurants, and something as simple as serving five ounces of steak instead of four can throw those margins off.
The same applies to labor. The executive chef and team must carefully watch labor costs to prevent expensive overtime and avoid overstaffing on slow shifts.
Extensive Knowledge of Ingredients and Seasonality
To support both cost control and recipe development, chefs have to know a great deal about seasonality. In today's connected world, we can get many types of produce year-round. But out-of-season ingredients may come at a higher cost when they're imported from far away, rather than in-season produce from the farm down the road. And they may not taste as good.
Chefs must know when they can serve a seasonal dish from both a cost and quality standpoint.
They should also be familiar with ingredients from other culinary cultures. By adding unexpected flavors to their dishes, chefs keep their recipes exciting and creative.
There are two ways to earn all of this knowledge—in a culinary program or on the job. Let's take a look at both.
"History, terminology, calculating COGS, profit margins, profit/loss, product waste—there's so much more to learn than just cooking."
Lance McWhorter, Escoffier Online Graduate; Executive Chef/Owner, Culture ETX; Food Network's "Chopped" Contestant
Getting Your Chef Education in Culinary School
Each one of these skills (and more) is explored in culinary school. While students don't graduate as chefs, they do complete their programs miles ahead of a culinarian who has spent the same amount of time working in a restaurant kitchen.
Culinary Arts programs at Auguste Escoffier School of Culinary Arts range from 30 to 84 weeks long. These programs are intensive but carefully planned, so by the end students have done the groundwork and prepared themselves for an entry-level kitchen position.
In the Restaurant Operations course, students will discover menu planning, while Technical Writing for the Hospitality Industry can help with their written communication. Business and Professional Communications can help future chefs to communicate more effectively with their employees and vendors, and become better leaders.
Culinary Foundations includes coursework in cost control, and Foodservice Math and Accounting can help them make sense of the numbers and reports. Seasonality and sustainability are discussed during the Farm to Table® Experience, which explores where our food comes from and the people who grow it.
At the end of all this, students will complete one or two industry externships (depending on the program), where they will get hands-on experience and see how what they learned applies to a working kitchen environment.
Getting Your Chef Education On the Job
What if you prefer to get your education "on the job" instead of in culinary school?
This is a path some cooks choose to take, with varying levels of success. The restaurant environment is fast-paced and (rightfully) more interested in providing a good experience to the guests than in educating the staff. Here's why learning "on the job" can slow down your progress:
Discover Fewer Techniques
In a restaurant, you'll only learn the techniques you need to execute that restaurant's menu. You may have to spend years at a variety of restaurants to learn the same number of skills you could learn in a much shorter time in a culinary arts program.
"I learned so many different styles of cooking [at Escoffier] and experienced new personalities that I have never seen in the kitchen before."
Damian Palacios, Escoffier Online Culinary Arts Graduate
Access to Fewer Mentors
In school, you'll learn from a number of Chef Instructors who can help answer questions and provide advice. Most Escoffier Chef Instructors have spent time as Executive Chefs or Pastry Chefs, so they have plenty of industry experience to share. On the job, there is only one executive chef to provide that level of mentorship, and they may not have the time to do so.
Not All Restaurants Maintain the Same Standards
While many restaurants do focus on high levels of sanitation, food quality, and good kitchen habits, not all are as diligent. If you find yourself in a lax kitchen, you may not even realize you're picking up bad habits until you move on to your next position.
Regardless of how you start, you will continue to learn as you work your way through the kitchen ranks. That doesn't stop when you graduate. But you may be able to reach that goal of chef more quickly if you have a culinary arts education.
So How Much Education Do Chefs Need?
Enough to create inventive new dishes; document them; manage the kitchen's staff, inventory, costs, and labor; provide training; maintain high sanitation and quality standards; and be a mentor while they're at it.
While a formal chef's education in culinary school is not a requirement to become a chef, the knowledge is. Inexperienced cooks who find themselves donning the chef's hat can quickly get overwhelmed, and the whole restaurant can suffer.
Better to start with a high-quality culinary school education, and then work on honing your skills and building your knowledge over several years in professional kitchens. This combination of formal education and practical experience is what makes a great chef.
Ready to begin? Contact us today for more information about online and on-campus culinary degrees and diplomas.
Learn more about the benefits of a chef's education with these resources: