A serious dedication to the culinary or pastry arts means a commitment to selecting and artfully using an array of professional chef tools.
Like the musician who never stops learning more about her instrument, or the artist who never ceases experimenting with his paint brush, a true culinary artist never stops finding new ways of getting more and more value out of a basic set of tools.
In this article, we'll take a look at the toolkits Escoffier online culinary students and online baking & pastry students can receive, and explore the ways students can begin understanding how to use their tools in the kitchen.
The Escoffier Toolkit for Online Culinary Students
Upon enrolling in one of Escoffier's online culinary programs, students receive a standard toolkit containing utensils and tools specific to their program, as well as a chef's uniform. This kit includes items students may need to get started with a professional culinary education from home.
Official Escoffier Uniform
Depending on their programs, Escoffier students may receive an official uniform boasting the Escoffier logo. Students are expected to wear this uniform while attending classes as a standard of professionalism.
The uniform set includes a chef's coat, apron, and a skull cap. It's an honor to don the pristine uniform, and continue the legacy of the chef's attire.
Utensils for Culinary Arts Students
Students enrolled in an online culinary arts diploma or degree program will receive the following utensils and tools in their kit.
10" German steel sharpener
12" hi-temp spoon
14" polyurethane pastry bag
3.5" paring knife
6" boning knife
8" chef's knife
Chlorine test strips
Cutlery tube set
Digital probe thermometer
Double zip case
Escali pico scale
Mercer ruler
Plastic bowl scraper
Y peeler
Utensils for Pastry Arts Students
Students enrolled in the pastry arts online program require a different set of utensils than those in culinary arts programs. The pastry toolkit includes the following unique pieces.
#907 flower nail tip
1" pastry brush
10 plain decorating tips
10 star decorating tips
10" piano wire whip
12" wavy edge slicer
14" polyurethane pastry bag
3.5" paring knife
4.25" offset spatula
8" chef's knife
8" offset spatula
Bench scraper
Chlorine test strips
Digital probe thermometer
Double zip case
Escali pico scale
Fine zester
Large scraper (heat resistant)
Pastry tube set
Plastic bowl scraper
These tools and utensils allow students to create stunning and decadent pastries following their Chef Instructors' direction and assignments.
Putting Tools to Use in the Curriculum
So how do students begin to understand how to use their professional chef tools? They practice—a lot! Completing course assignments in their home kitchens and preparing meals for themselves or their families provides students with plenty of opportunities to get a feel for their tools. And by following advice from their Chef Instructors, students can continually improve how effectively they use their tools.
The Essential Culinary Career Survey

The Essential Culinary Career Survey

What's your ideal culinary career: Fine dining? Your own restaurant? Pastry? Get our self-evaluation survey to find out!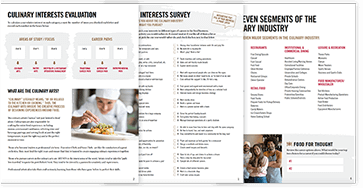 We've compiled a checklist of all of the essential questions into one handy guide: career options, culinary interest surveys, educational opportunities, and more.

YES, I want the survey!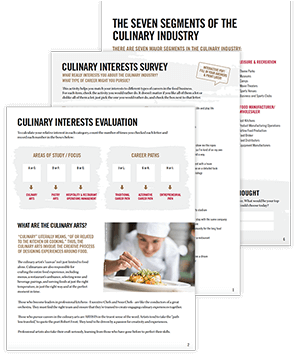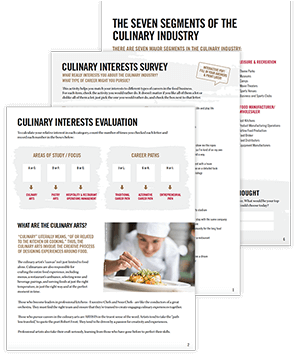 The Tools of the Trade
"The tools of your trade or the tools of the trade are the skills, instruments, and other equipment that you need in order to do your job properly." – Collins Dictionary
For example, in the Culinary Foundations course, students can have the opportunity to practice using the tools that are essential to basic cooking techniques. They may work to understand equipment operation, the use and effect of heat, and seasoning principles. This course also includes fundamental knife skills, cutting techniques, and the concept of mise en place.
As students progress through the curriculum, tools are deployed in more advanced ways to create a variety of dishes.To help you visualize how this progression will look, note these examples.
Culinary Foundations can provide students with an intro to some of their tools and the opportunity to practice precise chiffonade with a chef's knife or quickly moving ingredients with a bench scraper.
The Culinary Arts and Patisserie course might include preparation of hot and cold hors d'oeuvres and breakfast items, so students can develop muscle memory when whipping eggs with a whisk and fine-tune their knife skills
Exploring other cultures and their dishes is the major premise of the World Cuisines course, and it may provide students with the chance to explore how to select the proper tool when handling new ingredients.
Pastry arts students follow a different curriculum designed to give them plenty of practice with tools specific to their craft. For example, students can have an opportunity to gain an understanding of the proper tools to use for creating tempered chocolate truffles and garnishes in the Confiserie course, or demonstrating an understanding of laminated doughs and puff pastry in the courses focused on artisan baking.
Escoffier's Online Platform: The Perfect Way to Start Using Professional Chef Tools Properly
Since professional chef tools are the fundamental tools of the trade, quality instruction and mentorship can make it easier to learn how to use them properly. Escoffier's online learning platform and mobile app can give online students a way to submit assignments, track their progress, and interact with their Chef Instructors and classmates.
By documenting their journey with photos and a written narrative, students and Chef Instructors may be able to collaborate on what went well and where students can improve…including the proper use of tools and methods.
Explore Culinary Tools At Escoffier
No matter how much or little experience you have in the kitchen, understanding the proper use of professional chef tools may be fundamental to a successful career in the food business. If you're curious or have questions, request more information to find out if Escoffier's online culinary or pastry arts program is right for you.
"Online is a lot more hands on than people think. My chefs are always right there to help me with any questions I have. And when they grade assignments, they see every step and can help determine what you did right, what you did wrong, and what you need more practice on. You literally have a team of people there for you to help you every step of the way."*
Brianna Burroughs, Escoffier Online Culinary Arts Student
If you enjoyed this article, read these next:
This article was originally published on April 27, 2021, and has since been updated.
*Information may not reflect every student's experience. Results and outcomes may be based on several factors, such as geographical region or previous experience.