Are you the type to spend your weekend in the kitchen creating confections and dreaming of the next delicious pastry you want to perfect? Many people want to pursue an education in baking and pastry in order to turn their hobby into a career… but they don't know how they'll be able to fit it into their busy schedule.
Work and family obligations certainly require time, but it is absolutely possible to get a pastry education from your own home kitchen, on your own time, with an online pastry school.
So how exactly does this model work?
Auguste Escoffier School of Culinary Arts in Boulder, CO is nationally accredited by the Accrediting Council for Continuing Education and Training (ACCET). Escoffier was first U.S. accredited institution offering 100% online degrees and diplomas with culinary classes and hands-on industry externships.** As pioneers in the online pastry school field, we want to share how this program works for students all over the world and from all walks of life.
Why Attend Online Pastry School?
Traditional pastry school often requires that students take a leave of absence from their jobs in order to attend. And if there is no pastry school in your town, you need to move to a larger city in order to get your education.
The online model takes these issues out of the equation! Highly flexible online learning lets students study and practice in their own time, whether that's first thing in the morning, mid-afternoon, or at night when the family is asleep.
And anyone with a computer, an internet connection, and access to a kitchen can get their education — without leaving home.
"The knowledge from Escoffier has given me the skills and confidence not only in my baking, but to take my baking and creations to the next level."*
Trista Besecker, Escoffier Online Pastry Arts Graduate
How Does Online Pastry School Work?
Each week starts with assigned reading and chef demonstrations on that week's topic. Then, students visit the class discussion boards. This is where online pastry students get to ask and answer questions, as well as getting to know their classmates!
Students also attend live video sessions with their Chef Instructors and fellow students. Through this medium, the instructor may demonstrate techniques, provide more information, and answer questions. This is another opportunity to interact with both instructor and peers.
Escoffier's online Chef Instructors are industry professionals with extensive accomplishments and accolades. And if you have a scheduling conflict during the live session, not to worry. All sessions are recorded, and you can revisit it when you have time.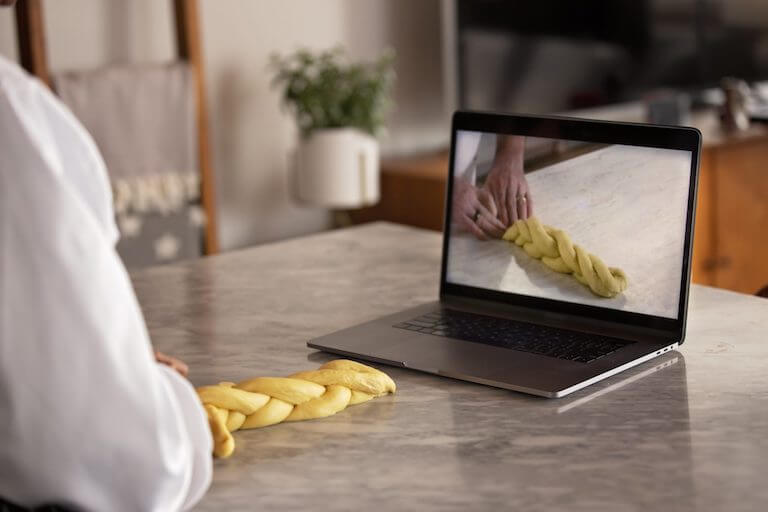 Next, it's time to complete the weekly assignment. Students typically have a production sheet to follow, and document their work with photos along the way. Once they finish their baking assignment, students complete a written summary. They include tasting notes in their flavor journal, where they can record texture, aroma, taste, and mouthfeel – elements of the flavor wheel tool.
After submitting everything, the Chef Instructor reviews the photos and written summary, and records personalized video feedback for each student with what went well and tips for how to improve.
Each week, students can expect to spend approximately 15-22 hours per week on school-related activities depending on program, credential, and personal pace, which makes it possible to fit their education into pockets of time between work and family obligations.
Each Student Completes a Hands-On Industry Externship
The final block of the Escoffier education sends you to work! Before graduating, online pastry students complete a baking or pastry externship. The externship can allow students to get resume-building experience and put their baking skills to use. They get to see what life is like for the baker or pastry chef, and continue to learn from industry pros.
Students find their own externships, but they can get help! Escoffier students have access to Career Services, which can provide portfolio and resume writing assistance. Career Services may also be able to provide introductions to some companies.
Pastry students should consider their externship carefully — for some students, it's been known to lead to a job offer!
What Might You Learn in the Online Baking & Pastry Programs?
Escoffier offers two online baking & pastry programs. Students who want to get through their programs quickly may find that the Diploma in Professional Pastry Arts is the best fit. This 60-week program includes a comprehensive curriculum with both baking and business instruction. This mix is designed to give students a great baking foundation and prepare them for the business side of the bakery.
Courses include the Fundamentals of Baking & Pastry, Cake Design & Decorating, Building Your Own Business, and many more.
Students who wish to dive a little deeper can complete their Associate of Occupational Studies Degree in Baking and Pastry. This 60-week program adds on to the diploma program with more clock hours and additional coursework in the Science of Nutrition, Foodservice Math & Accounting, and World History & Culture from the Culinary Perspective, among others.
"For me, having access to the school online means it is now possible to receive the culinary education I have desired, while still being able to grow my business and take care of my busy family, without even having to leave our valley."*
Kristen Douglas Owner & Catering Chef, The Main Event; Escoffier Online Culinary Arts Graduate
Online Students Receive Ongoing Support From Coaches
Online pastry students are never just a face in the digital crowd at Escoffier. Sometimes, students need a little support. That's why every enrollee is assigned a Success Coach to help them with obstacles that could prevent them from completing their program.
If a student is struggling, their Success Coach can step in to help them troubleshoot the problem. Whether it's difficulty in finding ingredients, family illness, or trouble adjusting to school after a long time away from academia, your Success Coach is there to help!
"I struggled with school in the past for years, but with the help of Career Services and my Success Coaches, I graduated on time. I put a goal in place of getting 95% or higher in each of my baking courses, and I did exactly that."*
Kellie Trimble, Escoffier Online Pastry Arts Graduate
Escoffier graduates can also access Career Services for job search assistance, including resume writing help, interview prep, and industry referrals where appropriate.
Plus, graduates are invited to join the Escoffier Alumni Association. This online networking center can let you connect with fellow grads, view job boards, join special interest groups, and more.
Online Pastry School Can Offer You a World of Opportunity
Online pastry school explores the fundamentals of breads, cakes, confiserie, and more, plus the entrepreneurial foundations necessary to understand the business side of the industry.
As long as deadlines are met, it lets you practice at your own pace, in your own kitchen… no need to quit your job or uproot your life. Online pastry school aims to level the playing field, making an education accessible to anyone who wants one.
So, while the traditional method of in-person pastry classes still works, if you're looking for a convenient way to juggle your busy life while exploring a new career, online pastry school is the perfect way to go!
Sound like a sweet deal? Contact our admissions department to get more information and start your education in the Baking & Pastry Arts.
Other pastry arts and online education articles that you might like:
This article was originally published on November 16, 2020, and has since been updated.
*Information may not reflect every student's experience. Results and outcomes may be based on several factors, such as geographical region or previous experience.
**Our Boulder, CO campus is the only accredited institution in the United States to offer both fully online diploma and degree programs with culinary classes and hands-on industry externships. We are accredited by ACCET – A Partnership for Quality®?. ACCET is listed by the U.S. Department of Education as a nationally recognized accrediting agency.