Unless you've already worked in a pastry shop, your main look into the lives of pastry chefs may have come from pop culture. And while that Hallmark movie about the small town pastry chef may be as comforting as a warm, flaky croissant, it probably misses the mark when it comes to what it's like to be a pastry chef in real life.
Here's a look at the truth about this sweet career.
Hint: There's a lot more cleaning than you see in the movies!
The Working Life of Three Types of Pastry Chefs
To explain what it's like to be a pastry chef, first we must clarify what type of pastry chef we're talking about!
The Bakery or Pastry Shop Chef
In a bakery or pastry shop, the pastry chef's work is a balance of volume and accuracy. They could be responsible for baking dozens of croissants, petit fours, Danish, macarons, and other tasty treats. And each one has to be juuuuust right, down to the size, shape, bake, and decoration.
The pastry chef may have to arrive long before the first customer arrives to make sure the pastry case is well-stocked when the doors are open. That could require a wake-up time of 3:00 or 4:00 a.m.! But fortunately, their days may also end in the early afternoon.
Many pastry chefs and bakers actually love those early hours before the world is awake. There are no customers, no new orders coming in, and nothing to distract them from their work.
"So much can be done in the quiet hours between five and nine in the morning. Every early bird knows this. Every baker knows this as well. That's when I think the bulk of the work is done."*
Chef Colette Christian, Escoffier Online Pastry Chef Instructor and Master Baker
The Specialty Pastry Chef
A specialty pastry chef often focuses on one or a few specific types of desserts or pastries. They may work in a shop that only makes cannoli and other Italian desserts, for example. Or they could make mini tarts, profiteroles, and other patisserie. They may also make pastries that fit into certain diets, like gluten-free or vegan pastries.
If a shop makes desserts rather than breakfast items, the pastry chef may work a more "normal" schedule, since they won't expect an early morning crowd. The pastry chef's day could begin at 8:00 a.m. or so, in preparation for a midday open.
But just like any other pastry chef, this job is highly focused on accuracy. French pastries, for example, are known for their elegance and uniformity. Each petit four should look identical to the next!
The Restaurant Pastry Chef
Unlike a pastry chef in a bakery or pastry shop, a restaurant pastry chef could be in charge of the restaurant's entire dessert program. This could include making some items in advance like chilled desserts, fruit sauces, pies and cakes, and chocolates. And it could also include working through dinner service, alongside the rest of the kitchen crew.
Some restaurants have a larger pastry team, so the pastry chef could be supervising a small team of pastry cooks who execute the menu. But in smaller restaurants, pastry could be a department of just one or two, with the pastry chef responsible for both prep and service. That can be a long day, but it may also allow for a lot of creativity, especially if the pastry chef gets to create daily or seasonal specials!
Beyond the Pastries: Sanitation, Hygiene, & Organization
In any culinary job, you could spend almost as much time cleaning and organizing as you do cooking!
While pastry chefs aren't usually working with raw meat or seafood, that doesn't mean they don't have to be diligent about sanitation and hygiene. Working with raw eggs, uncooked flour, and dairy can lead to cross-contamination if a pastry chef isn't careful. Poor sanitation can cause people to get sick from salmonella, e.coli, and other foodborne illnesses, or cause allergic reactions. So pastry chefs are cleaning and washing their hands all day long!
Organization is another factor. Pastry chefs are planners, and their workspace shows it. Everything they need is organized in front of them, probably in the exact order it has to be added to the recipe. Nothing is left to chance.
A pastry school education recognizes the importance of sanitation and organization. Before students dig into the complexities of cakes or the fun of French pastry, they may explore cleaning methods, ingredient storage, and the importance of mise en place.
Pastry Chefs Are Scientist-Artists
Everyone working in a kitchen—whether it's in a restaurant, a cruise ship or a catering company—has to understand the basics of how ingredients interact. But working as a pastry chef requires an even greater degree of accuracy and attention to detail.
If you're sautéing chicken breasts, an extra sprinkle of salt and a little more heat under the pan won't necessarily spoil the dish. The same can't be said for baking. The combination of ingredients and conditions that make bread rise—yeast, sugar, water, temperature—are very precise. It's essential that pastry chefs understand the chemical interactions involved at each stage when they're making bread and pastries.
Every good chef understands the science behind the art, but a pastry chef has to obey the science first and the art second. Overmixing can't be undone, and you can't remove excess baking soda from a dough!
If you're thinking back to your high school days and wondering if you can muster up the skills you tried to master in chemistry class, don't worry. A good pastry school could give you a solid grounding in all the concepts you need to become a successful pastry chef.
The Essential Culinary Career Survey
The Essential Culinary Career Survey
What's your ideal culinary career: Fine dining? Your own restaurant? Pastry? Get our self-evaluation survey to find out!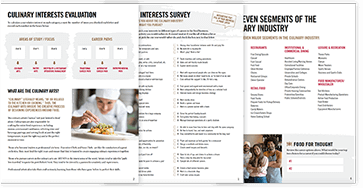 We've compiled a checklist of all of the essential questions into one handy guide: career options, culinary interest surveys, educational opportunities, and more.
YES, I want the survey!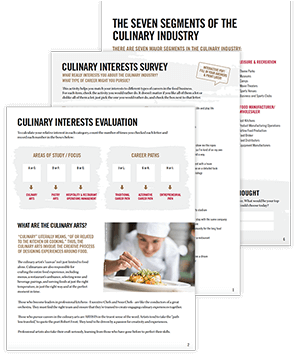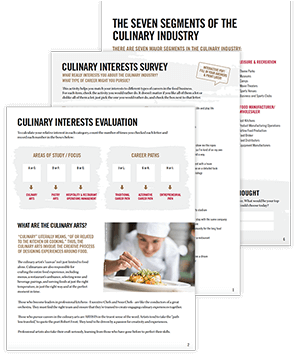 The Repetition of Pastry Can Be a Meditative Pursuit
If there's one word that sums up the most important aspect of the pastry chef's life, it could be "repetition."
Like any chef creating new recipes or perfecting old ones, you'll have to practice, practice, practice. This is how you'll refine your craft. Repetition is where expertise comes from.
Great pastry chefs take joy in the zen-like execution of a recipe they know like the back of their hands. While the science of pastry is complex, the steps can also be very simple. These ingredients, blended in just this way, baked at this temperature, and completed like so.
When you're building dozens of mille-feuille, squeezing hundreds of dots of vanilla pastry cream to build the layers, there's nothing but you, the piping bag, and the cream. Let your mind wander, and you'll end up with uneven piping and messy pastries. Quelle horreur!
In a formal pastry arts program, students may begin this practice in an educational setting, rather than in the workplace. Pastry school is the place to make mistakes! You can't make anything as a professional before you've first made it as a beginner.
Don't Skip the Science!
Baking is a wonderful blend of science and art. People who pursue a career as a pastry chef often have a mind for detail and a heart for creativity. They understand that the foundation of certain recipes—like making consistently good macarons—is based in chemistry.
To skip the science side of the pastry chef's duties is like skipping the engine when building a car. It may look nice from the outside, but it will all fall apart when you look under the hood.
Escoffier's baking & pastry arts programs can guide students through both the science of pastry and the artistry, giving them the foundations they'll need to begin their careers in food. As Escoffier Chef Instructor Emily Maddy says, "From the beginning to the end, you're learning one technique that rolls into another technique so you have great base knowledge."*
Ready to get started? Contact our Admissions Department to get more program details and find out how pastry school could start you down the path to your goals.
Did you enjoy this article? Then you'll probably also like these:
This article was originally published on January 22, 2016, and has since been updated.
*Information may not reflect every student's experience. Results and outcomes may be based on several factors, such as geographical region or previous experience.