Embarking on a new career comes with many unknowns.
What are the working conditions like?
How much education do you need to succeed?
And of course, how much money can you expect to make?
If you don't want to start your career in the pastry industry with an… underbaked… idea of your earning potential, this is where you'll find the truth about salaries for bakers, pastry chefs, cake decorators, and more.
Average Salaries in the Baking & Pastry Arts
Pastry Chef Salary
A pastry chef is responsible for the sweets and/or baked goods in a restaurant, hotel, catering company, or other foodservice establishment. They might also design the dessert menu or oversee a small team of pastry cooks.
According to HR-reported aggregate market data, via Salary.com, the average pastry chef salary in the U.S. is $56,602, with the majority of pastry chefs earning between $49,017 and $80,644.1
The role of executive pastry chef comes with greater responsibility. An executive pastry chef may manage several pastry chef teams, instead of just one. For example, a large resort may have an executive pastry chef to oversee the pastry programs at all of their on-site restaurants. Salary.com reports that the average executive pastry chef salary is $69,607, with most ranging between $55,895 to $83,672.2
Baker Salary
While a pastry chef is usually focused on desserts or sweet pastries, a baker may make a variety of sweet or savory baked goods from muffins to cupcakes to bread to doughnuts and more. Bakers can work in restaurants, bakeries, grocery stores, and high-volume commercial bakeries where they bake hundreds of loaves at a time.
Since a baker isn't usually a managerial position, the average salary is lower than other types of baking and pastry careers at $29,400, as reported by the U.S. Bureau of Labor Statistics.3 But there are opportunities to make quite a bit more as a baker, especially if you open your own bakery!
Bakery Manager Salary
A bakery manager could be in charge of a single department or the entire bakery operation. These managers must be both great leaders and great bakers, so that they can guide their team and ensure quality control. The national average bakery manager salary is $42,368, with an average range of $20,500 to $64,500.4
Cake Decorator or Designer Salary
Cake decorators and designers know how to turn a cake into a showpiece. They may work in high-volume bakeries or grocery stores. Or they can work in boutique cake shops, making specialty creations for birthday parties and weddings.
The average cake decorator earns between $22,000 and $27,000 annually.5 But there is more to be made in some niches of the cake design and decorating business, with high-end wedding cake designers earning an average of $65,291.6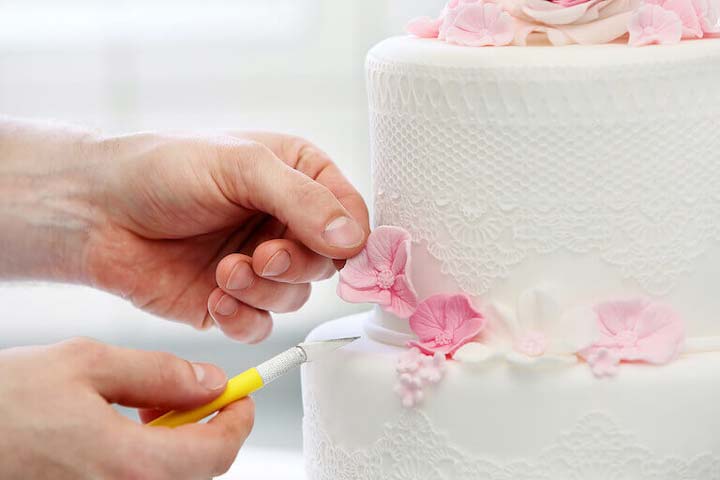 While it's easy to source some salary averages, these numbers don't tell the whole story. An average salary across a country as large as the United States and an industry as varied as the baking and pastry arts can only give you a hint. It's important for job seekers to conduct their own salary research for related positions in the positions and industries in which they're hoping to be employed.
There's a lot more that goes into a pastry chef's salary than you might think!
What Variables Can Impact a Pastry Chef's Salary?
A Degree or Diploma From a Reputable Baking & Pastry Program
Pastry school is not a requirement for a career as a pastry chef. But it can impact your earning potential.
Our research from an Oliver Wyman study shows that pastry professionals with a pastry arts-related certification earn an average of 20.5% more than those without.7 Based on average pastry chef salaries, this could add up to some sizable additional earnings over a 30-year career!
What could you do with that extra cash? Buy a house? Save for retirement? Start your own pastry shop?
"My experience in the Pastry Arts program made all the difference for me. I went into the program as a good baker; I came out a professional baker."Stacy Walker, Co-Owner, Happy Bakeshop; Boulder Pastry Arts graduate
Your Years of Experience in the Baking & Pastry Industry
Like all industries, more experienced pastry chefs and bakers can command a higher salary than those who are just starting out.
A pastry chef with five years of experience may be able to earn nearly double as much as an entry-level pastry chef.8 And over time, that earning potential can increase. It's not uncommon for people to switch careers many times over their working lives. But if a pastry chef stays the course, they may be able to earn a high five-figure or sometimes even a low six-figure salary in the right shop and the right market.
Type of Pastry Establishment, Like Restaurant, Bakery, or Hotel
Not all establishments pay pastry chefs at the same rate. A small neighborhood bakery will bring in less revenue than a fine-dining restaurant, which will bring in less revenue than a hotel or resort. In general, foodservice businesses can pay higher wages when they bring in more revenue—especially at the executive-level positions.
Cost of Living in the Market
The cost of living in a pastry chef's city will impact their earning potential, with more expensive cities paying higher salaries. While executive pastry chefs earn an average salary of $69,607, a quick search for these jobs might turn up results that pay between $80,000 and $130,000 in places like Los Angeles and New York City.
But the differences in cost of living between big, expensive cities and smaller cities and towns can make a pastry chef's dollars stretch further away from a metropolis. A pastry chef who earns $60,000 in Lincoln, Nebraska might expect to earn just over $76,000 for the same job in New York City. But the cost of living in NYC is also 83% higher, leaving the NYC-based pastry chef with less disposable income, despite their higher salary.
Additional Certifications that Show Industry-Leading Expertise
A degree or diploma from baking and pastry school is a foundational credential that can show a pastry chef's dedication and commitment to their career. Many pastry chefs chose to go further, seeking additional credentials and certifications that prove that they've stayed current in the industry and are continually working to improve.
The American Culinary Federation offers certifications in baking and pastry like Certified Pastry Chef™, Certified Executive Pastry Chef™, and Certified Master Pastry Chef™ to those with the requisite skills and experience. And the Retail Bakers of America offer certifications for commercial bakers and cake decorators.
These certifications can give bakers and pastry chefs additional support in their salary negotiations and help them to prove that they are worth a higher wage.
"You have to have a good foundation, set realistic goals, and then not get discouraged."
Colette Christian, Escoffier Online Pastry Chef Instructor and Master Baker
Starting Salaries Impact Lifetime Earnings
It's a well-documented fact that a worker's starting salary has a major impact on their lifetime earnings.9 By negotiating a higher entry-level salary—even by just a few thousand dollars—and a slightly higher annual raise, an employee can earn hundreds of thousands of additional dollars throughout their working lives.
When pastry chefs start their careers with a pastry school credential, they can start out with a valuable and desirable ace up their sleeve that may be able to help them earn a higher wage earlier in their career. Having a pastry credential may be able to help position you better for salary negotiations. And a good place to start credentialing is with a pastry education from Auguste Escoffier School of Culinary Arts.
To learn more about the baking and pastry arts, try these articles next:
1Salary.com, Pastry Chef Salary
2Salary.com, Executive Pastry Chef Salary
3U.S. Bureau of Labor Statistics
4ZipRecruiter
5PayScale
6Zippia
7Oliver Wyman Study, 2017
8Salary Explorer
9Business Insider