Do you dream of baking the perfect loaf of sourdough? Of producing delicate puff pastry that flakes apart when you bite into it? Of constructing tiered wedding cakes as tall as the flower girl?
Then you may be cut out for a delicious career as a baker or pastry chef.
Baking and pastry is a unique culinary science, which is why it's taught separately from other cooking skills. Learn more about the baking and pastry arts and find out if you're the type to thrive in this detail-oriented industry.
What's the Difference Between Culinary Arts and Baking & Pastry?
The culinary arts is a cooking discipline that generally includes appetizers, side dishes, and main courses. This area focuses on cooking with a variety of vegetables, grains, and proteins (often meat, seafood, and dairy, but they can be plant-based as well).
Baking and pastry arts, on the other hand, concentrate on breads and desserts. Cakes, pies, petit fours, donuts, cookies, croissants, artisan breads, chocolate… and lots more fall under the "baking and pastry" umbrella.
While they're distinct disciplines, there can be some crossover between the two. For example, a savory pot pie could be an entree filled with meat and veggies within a perfectly baked pie crust. As such, many successful culinarians are skilled in both culinary and pastry arts.
Culinary school students can choose to study culinary arts, which may include some coursework in breads and desserts. Or, they can focus exclusively on baking and pastry to become specialists and aim for the top of their field. After completing studies in one discipline, some students return to Escoffier to complete a complementary program.
Is Baking & Pastry a Good Career?
Not only is baking and pastry a great career—it's a surprisingly versatile industry with opportunity in many niches.
Escoffier Baking & Pastry Arts Executive Chef Anne Lanute says, "A common misconception is that if you're going to pastry school, you can really only work in a bakery. Bakeries are just one place. Restaurants, hotels, cruise ships, chocolateries… there are a lot of specialty-focused places to go."
Some bakers concentrate exclusively on bread, while others prefer to bake cakes, cookies, pies. Some stick to pastry and other desserts, like chocolate, macarons, or laminated doughs for croissants and puff pastry. There are also specialty shops, like donut shops and patisseries (French pastry shops) where a pastry cook can focus on one niche.
And of course, foodservice establishments like restaurants and hotels need pastry chefs to design and make plated desserts, and bakers for breads and baked sweets.
Who Should Consider Baking & Pastry For Their Career?
Chef Anne says, "There tend to be pastry people and culinary people."
"Pastry people" enjoy fine detail. They follow a recipe to the letter, and they know that they have to strictly adhere to laws of baking science if their creation is going to turn out well. They often consider their approach to cooking to be more scientific.
"Culinary people" can often be more adaptive and fix things in the moment. They should taste as they go and season or adapt. That will not work in baking and pastry! Last minute changes can spell disaster, and many raw pastry ingredients aren't suitable for tasting until after they've emerged from the oven. Culinary arts are sometimes considered more art than science, since there's more leeway in how you complete a recipe.
"Pastry students and pastry chefs tend to be finicky about precision and accuracy and having everything weighed and measured. It's a very delicate balance, but we thrive in that kind of environment."*
Anne Lanute, Executive Chef, Escoffier Online Baking & Pastry Arts
The best bakers and pastry chefs know that precision and attention to detail is vital. You have to follow every step in a recipe—even if it's a different method than what you were taught in baking school! Your employer may be asking you to use a specific technique to achieve a special result. There's always a reason. And above all, you must be consistent if you're going to make several dozen perfect croissants or macarons.
Baking and pastry is also a great career for people who want to specialize. In the culinary arts, you may be responsible for a wide variety of cooking styles and methods. In baking & pastry, specialization is more common. You may only make gluten-free artisan breads. You may fashion complex chocolate creations. Others choose to only make decadent wedding cakes. There are countless opportunities for specialties in baking and pastry.
"One of the reasons I love pastry is it's the perfect combination of science, technical skill, and creativity. You need a little bit of each."*
Frank Vollkommer, Certified Master Pastry Chef®, Culinary Olympics Gold Medalist & Escoffier Director Of Culinary Industry Development
Is Education Important for a Baking & Pastry Career?
Some think that baking requires simply following a recipe. But a recipe is a formula. If you adjust or remove anything, you have to replace that ingredient's role in the formula. And that means you have to understand the ingredient's function.
Baking school can teach you these functions and roles and allow you to practice ingredient substitutions.
Eggs, flour, the types of protein in each flour, chemical leaveners—each of these does its own job, and you omit or change the amount at your peril. This kind of foundational education is usually not available in a bakery or restaurant, which is why many successful bakers have attended pastry school.
Plus, education can be eye-opening in terms of what you end up pursuing after baking school. Chef Anne says, "You come to the industry saying you want to bake cakes, for example. But [in baking and pastry school], you may find an area that you love even more. There are many things we make that you may not have been exposed to."*
What Classes Can You Take in Baking School?
Pastry school offers comprehensive coursework in a variety of specialties. Depending on campus and program, some of Escoffier's baking classes may include:
Fundamentals of Baking and Pastry
Contemporary Pastry Arts
Global Pastry Arts
Foundations of Bread
Confiserie
Cake Design and Decorating
Menu Design and Management
Food and Beverage Cost Control
Building Your Own Business
…and more!
Escoffier offers both degree and diploma programs in baking & pastry arts. Students have the option of studying in Austin, Texas, Boulder, Colorado, or from home with our online programs. Graduates can come away from these baking classes mentioned above – depending on their program – with an understanding of the fundamentals of baking and pastry, breads, a wide variety of desserts, and business and entrepreneurial skills.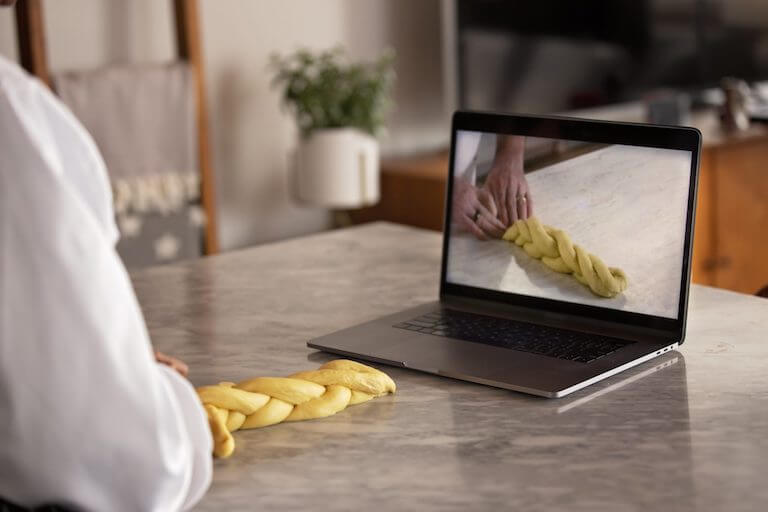 Chef Anne also shared an unexpected benefit to going to online pastry school—a better understanding of cost control, which is a huge benefit to employers. Baking school students who make a mistake on a physical campus can just grab another pound of butter from the shelves and start over. Online students receive a uniform, toolkit, and starter supply of pantry ingredients – depending on their program – but after that, they provide their own supplies. This may make online students more diligent about careful preparation before they begin baking, and thorough reviews with their Chef Instructors before they try a recipe again.
"You may find that you have a talent in an area you didn't know you had. Give it a shot."*
Anne Lanute, Executive Chef, Escoffier Online Baking & Pastry Arts
Professional Development for Bakers and Pastry Chefs
There are further opportunities for professional development even after baking and pastry school. Chef Anne encourages students to join professional associations like the American Culinary Federation, Bread Bakers Guild of America, or the Retail Bakers of America.
You can also study trade magazines and stay in contact with your fellow pastry school graduates through the Escoffier Alumni Association. Even the experts are still learning. Chef Anne says that two of her Chef Instructors are doing intensive training in viennoiserie, which are sweet breakfast pastries like croissants and Danish. Often made from complicated laminated doughs, these are another area of baking specialization!
"I'm a big proponent of taking charge of your destiny. Find people you admire. Seek them out and emulate them as much as possible as you find your own style and niche in the industry."*
Anne Lanute, Executive Chef, Escoffier Online Baking & Pastry Arts
Find Your Path With Pastry
Baking and pastry can be a fun and rewarding career. Whether you're making whimsically decorated cookies or baking and decorating elaborate cakes for special occasions, this is a path that can certainly benefit from a formal education.
In just 30 to 60 weeks, students can be on their way to a career in the most delicious of industries. Request more information about pastry school programs at Escoffier!
To learn more about the baking and pastry arts, explore these resources:
*Information may not reflect every student's experience. Results and outcomes may be based on several factors, such as geographical region or previous experience.
This article was originally published on July 16, 2021, and has since been updated.