Not every culinary school graduate has the same dream of working in a restaurant. While employment in a kitchen or front-of-house position is undoubtedly a fantastic career choice, that path simply isn't for everyone.
So, what can you do with a culinary degree? Here are a few ideas to get your wheels churning.
Restaurant Careers
A role in a restaurant is the obvious choice for someone with a culinary education. But even within one establishment, there are a host of different positions to choose from.
Back of House Roles
Working in the kitchen is considered employment in a "back of house" position. This might include being an executive chef, a sous chef, a line or station chef, a cook, a prep cook, or something else. There are also many positions outside the kitchen, such as an expediter – the liaison between kitchen and waitstaff, who acts as a kind of quality control supervisor for kitchen-to-table operations like food running.
Any of these positions may require some type of culinary training, and for more prestigious roles like the executive or sous chef, it can be extremely useful to hold a culinary degree or diploma.
Front of House Roles
From the host who greets and seats patrons to the general manager who oversees the entire restaurant operation, front of house positions typically require a certain level of savvy with communication and customer service – since interaction with guests is a big part of the gig.
Shift managers, servers, bartenders, and bussers are all part of the front of house team as well. Depending on what kind of responsibilities you'll have in your particular front of house position, you might benefit most from an education in food and beverage operations, like the Hospitality & Restaurant Operations Management programs at Escoffier.
Pastry Chef
If you decide to specialize in pastry arts you might have a wide array of employment opportunities at bakeries, some grocery stores, hotels, fine dining, and many catering companies.
But many restaurants employ a pastry chef to exclusively deliver – and sometimes even design – the items on the dessert menu. Hands-on experience is especially important if you want to work your way up in this profession.
The Essential Culinary Career Guide
The Essential Culinary Career Guide
What's your ideal culinary career: Fine dining? Your own restaurant? Pastry? Get our self-evaluation guide to find out!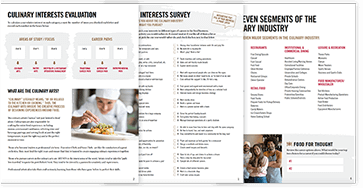 We've compiled a checklist of all of the essential questions into one handy guide: career options, culinary interest surveys, educational opportunities, and more.
YES, I want the guide!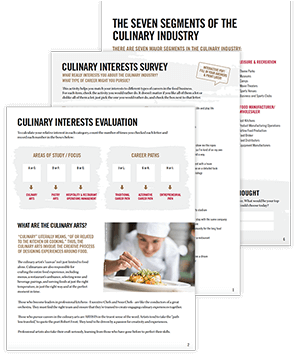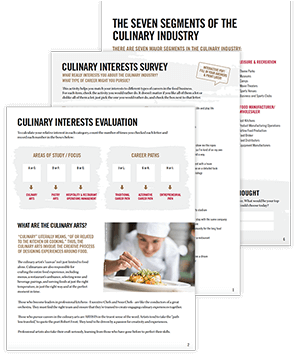 Personal/Private Chef
A unique and potentially lucrative option for culinary school graduates is to be a personal or private chef. If you're entrepreneurial, like the idea of working for yourself, and want more control over your schedule, this career path might be a good fit for you.
As a personal chef, you can work with clients directly and create dishes that are suited to their needs – whether for a young family, a busy professional, or someone who isn't able to cook for themselves.
As a private chef, you may work for one client only, sometimes be expected to travel with them, and often customize meal planning to suit a specific dietary need. If you like the variety and challenge of running your own small business, this is an interesting career path.
"So a private chef is someone who is hired to work in a home or for a company or whatever it might be, as an independent contractor. You could consider a personal chef to be working for a family. But the idea is that we're trained chefs who can cook, and we're hospitality professionals. First, we take care of our clients. So really, we can do anything anywhere." Austin Yancey, CEO and Founder of Elite Personal Chefs*
Traveling Chef
Working in the hospitality industry can make the world your oyster. Tourism offers a variety of vehicles for traveling chefs – think cruise ships and food trucks, to name a few.
Keep in mind that a lifestyle of constant travel can get tiresome, and sometimes pricey. You might find that in your time off, you want to explore… leaving little room for downtime. In order to avoid burnout, you'll want to carefully consider your schedule and capacity. If you want to take your craft on the road, you might take this option into consideration post-graduation.
Recipe Developer
R&D isn't just for technology, personal care products, or pharmaceuticals. In fact, research and development is a big part of the creation of new foods, innovative menus, or even entirely novel restaurant concepts.
After all, fusion cuisines come about through much culinary experimentation. If you enjoy getting crafty and creative in the kitchen, and you're willing to do the constant research required, working as a recipe developer can be a very rewarding career choice.
"I can go to Spain and have the best paella. But what I need to understand is, what is paella? What are the building blocks of it? What are the ingredients? What are the techniques? How is it presented? And what's the kind of typical version now? What are variations of it? So you start to think through iterations, versions, gold standards, which is something we use in R&D." Robert Danhi, Research Chef, Educator, TV Show Host, and Award-Winning Cookbook Author*
Whether you're working in a commercial kitchen or in your own test kitchen, there are lots of jobs for culinary graduates in this field – creating recipes for restaurants, special catering menus, and recipe books.
Nutrition Coach
If you're on fire for holistic health and love the culinary aspects of this discipline, becoming a nutrition coach could be the perfect path for you. Nutrition coaches educate their clients about making smarter food choices in order to achieve specific health outcomes.
Many nutrition coaches work with special populations, like athletes or clients focused on weight loss. This type of coaching may require additional training and credentialing, but starting with a foundational education in Holistic Nutrition and Wellness can certainly pave the way for an exciting career in this ever-expanding field.
Food Writer
Love food? Love language? Want to merge these two passions? You might make a great food writer. There's a demand for writers both online – on digital outlets like blogs or social media, for example – and in print publications like magazines and newspapers.
You could be reviewing particular cuisines, restaurants, or chefs. You could work in marketing for a food service establishment. Or your talents might be put to use writing a memoir, recipe book or commercials.
People employed in this field often work on several projects at once for many clients and companies over the course of their careers. Having an extensive culinary vocabulary can go a long way in your success as a food writer.
Food Stylist
When considering jobs for culinary graduates, food stylists are often overlooked. This career might sound glamorous, but don't get things twisted – it's tough work to make it as a food stylist. You'll need to prove your competency in both artistic flair and culinary skills.
"If you're trying to get on the union roster [for film or television work], it helps you if you have that culinary degree. A lot of those final plates on a lot of baking and cooking shows are done by food stylists. If you see a tower of macarons, it's gonna be the food stylists doing it."
Chef Billie Sutton, Escoffier Chef Instructor And Food Stylist, Imagine Food Styling*

Food stylists arrange food in beautiful ways so it can be photographed or displayed. Graduates of culinary arts programs tend to make some of the best food stylists. Many people in this profession work as independent contractors, and although it can take some time to gain a reputation, it can be a very rewarding job.
Food Podcaster
Gained a lot of knowledge in culinary school, or want to interview others who have? Podcasting is an increasingly popular avenue for culinary school graduates, especially since it can often be done as a side hustle while working full-time in a kitchen or elsewhere.
There are thousands of food-related podcasts out there, so your best bet to stand out in the sea is to find your niche – whether that be the topics you're covering, the format you use, or the guests you feature. And while you're getting the lay of the land in the world of podcasts, check out Escoffier's very own show, The Ultimate Dish.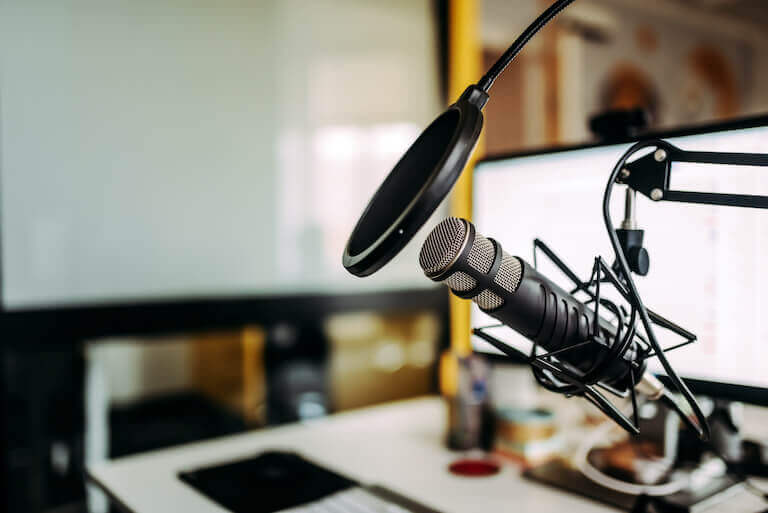 Culinary School: A Foundation for Your Future
Regardless of what type of career path you choose post-graduation, studying at a good culinary school can help you obtain the skills needed for a wide range of food-related industries, not just restaurants. A high-quality school can give you a well-rounded set of skills and tools you can take with you wherever you go.
Get more information on the various culinary education plans available at Auguste Escoffier School of Culinary Arts, no matter what job you plan to pursue in the future.
Check out these other culinary career articles you might like:
This article was originally published on June 29, 2015, and has since been updated.
*Information may not reflect every student's experience. Results and outcomes may be based on several factors, such as geographical region or previous experience.