Culinary school marks the beginning of an exciting new career in the art of food. But it's only the first step. Once students finish their programs, it's time to head out into the working world…and for many, that means applying for a position in a commercial kitchen.
If you're considering culinary school, it helps to know what hiring chefs are looking for from culinary school graduates. You'll want to have an opportunity to practice and gain industry experience before that first interview with a hiring chef. For example:
What culinary skills will you be expected to demonstrate to a hiring chef?
What will you need to know about the business side of the food business?
What are the current hiring trends for culinary school grads, considering the post-pandemic world we're entering?
Don't worry — a good culinary school program will have helped prepare you well for your first kitchen job, or for a better kitchen job if you're already working in the field. Either way, here's what chefs will be looking for from recent graduates, and how Escoffier students set themselves apart.
Knowledge of the Fundamentals
Hiring chefs know that a recent culinary school graduate will still have skills to learn, but they'll also be looking for a solid foundation of culinary or pastry techniques to build upon.
To start, aspiring chefs will need to know basic knife skills like uniform chopping and grip technique. They'll also need to understand safe food handling and storage to keep products fresh and prevent cross-contamination.
A recent graduate should know how to use common kitchen equipment like fryers, grills, broilers, and commercial stand mixers. And they'll need to be aware of different flavor profiles and how to balance them in a dish.
"I recruit Escoffier graduates because they come to us ready to hit the ground running…What I think makes Escoffier the best culinary school for us to recruit from is the fact that their graduates are predictable. I know what to expect from them. I know that they've been trained properly."
Mary Ann Mathieu, Sodexo Recruiter – Denver
Culinary school graduates come to potential employers well-equipped with these foundational skills. A diploma or degree from an institution like Auguste Escoffier School of Culinary Arts on your resume could signify to hiring chefs that you're ready to compete with the very best in the culinary job market. Plus, the completion of a required industry externship may show that you have the experience required to work in a professional kitchen.
Organization and Cleanliness
The well-known chef Auguste Escoffier, after all, was the originator of the professional kitchen. He recognized the need for organization in a restaurant. That's why he invented the kitchen brigade system where cooks and chef supervisors each had specific roles and stations. It's an important part of every commercial kitchen that must be taken seriously for both speed and safety.
Employers will expect culinary school graduates to understand the intricacies of this hierarchy system and how to thrive within it. They'll also be expected to take cleanliness seriously, keeping their stations organized, clean, and sanitized to prevent accidents or spills that slow down the team.
"I love hiring Escoffier students…they're trained in how to handle food properly, they're trained on how to cook food properly. They're trained in how to do all of this in a very short amount of time, and they're organized doing it."
Holden O'Leary, Culinary Arts graduate and Executive Chef at Jolynn's Food & Spirits
Proper organization is also a matter of food safety and controlling costs. Maintaining the correct temperature of the walk-in freezer and refrigerator keeps possible contaminants away from food products. Following rotation and first in, first out policies reduces food waste and keeps costs down.
Passion for the Craft
Working in a kitchen is rewarding and fun, but it requires passion and dedication to achieve success. Chefs must really love what they do to maintain their enthusiasm over a long and fruitful career.
Chefs can tell when an applicant is excited about food and cooking. The fact that a graduate has invested in a culinary education shows commitment to the art of cooking and a culinary or pastry career.
"Everyone is very passionate about what they do here. They are proud of having the 'Escoffier' name. Everything that the school stands for—I fell in love with it. I couldn't see myself going to any other school. There is just something extremely special about Escoffier schools."
Jamie Warburton, Pastry Arts graduate
Passionate chefs love to come up with new ideas and play with recipes. But they also understand that the best way to become great is to continue to learn from those around them. So graduates must also be coachable, eager to gain new skills and techniques from their more experienced colleagues.
A combination of passion and eagerness to learn are the hallmarks of a culinarian with a bright future.
The Essential Culinary Career Guide
The Essential Culinary Career Guide
What's your ideal culinary career: Fine dining? Your own restaurant? Pastry? Get our self-evaluation guide to find out!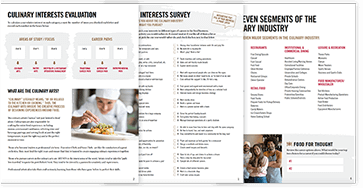 We've compiled a checklist of all of the essential questions into one handy guide: career options, culinary interest surveys, educational opportunities, and more.
YES, I want the guide!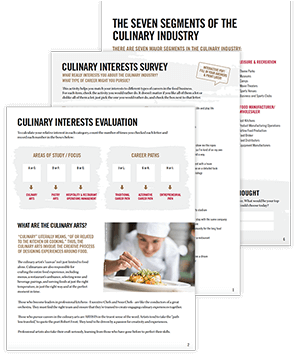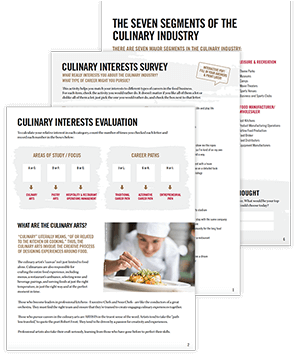 Practical Business Skills
In the post-COVID-19 landscape, a new hiring trend for culinary school grads is likely to be a combination of kitchen & business knowledge. As restaurants tighten their belts to cope with limited capacity in dining rooms and fewer customers, every employee will need to demonstrate that they can add value to business operations, marketing, and other areas of running a business.
A young chef that can take responsibilities off the shoulders of the sous chef and executive chef will be invaluable. This means recent graduates should know how to calculate and control food costs and labor costs. The ability to place orders and knowledge of basic government regulations also proves useful.
"A balanced [culinary] program starts with obviously understanding the fundamentals of cooking – classes that include how to saute, how to bake, how to roast, steam – the entire cooking methods. It has to have some type of marketing strategy, cost analysis, how to break down numbers, the business side, understanding spreadsheets, how money comes and goes, and how to pay bills."
Curtis Duffy, Michelin Star Restaurateur, Celebrity Chef and Escoffier Partner
Escoffier's Associate Degree in Culinary Arts blends the creativity of the culinary or pastry arts with practical skills in business operations, accounting, and management. Students taking the program's entrepreneurship course even have the opportunity to create their own restaurant business plan.
While skills such as how to handle a knife or make a perfect hollandaise are important, graduates might consider combining them with overall business knowledge in this competitive and evolving landscape.
Sense of Urgency — with a Positive Attitude
Kitchens move quickly, and staff has to hustle to keep up. So culinary school graduates have to demonstrate a sense of urgency to prove they can maintain pace with the crew on a busy shift.
This doesn't mean racing around the kitchen, putting yourself or others at risk. Instead, hiring chefs need graduates who move with purpose, always thinking ahead.
Since they're often working on more than one dish at a time, chefs have to prioritize and multitask. Making several dishes at once in a hot, enclosed space while more orders continue to roll in can make untested chefs frazzled and short-tempered.
Chefs must be high-energy, but they must also contribute to a positive environment for the rest of the staff. An upbeat demeanor in the face of pressure can change the whole feeling of a kitchen from one of stress to one of camaraderie.
Executive Chef Josh Hasho of Omni Hotels & Resorts explains, "I hire Escoffier students because I've noticed a different work ethic that they possess that maybe some other culinary students don't have. It was very consistent, hard working, positive attitudes. When you're interviewing someone, you're really looking for that connection, that high energy level, someone that's really into getting their foot in the door. I think that goes a lot further than what's on the piece of paper. That energy level is really what we're looking for."
An executive chef may not be able to gauge these traits from a simple interview, so culinary or pastry graduates may be asked to "stage" their skills. A stage is a trial shift where the hiring chef can assess your skills in the kitchen in real time. Chefs will be looking for movement with purpose, high-energy, and of course, culinary school fundamentals.
When Can You Start?
Basic culinary knowledge is the foundation for any aspiring chef. But it must be supplemented with practical business skills, passion, organization, energy, and coachability to turn an applicant into a must-hire.
To start down the path towards your culinary career, learn more about the Culinary Arts and Pastry Arts programs at Auguste Escoffier School of Culinary Arts. We work with dozens of employers to help match graduates with industry externships and provide career assistance.
Did you find this article helpful? Learn more with these resources: