Maybe you're an experienced baker who knows the difference between a poolish and a biga, but you're looking to refine your baking skills. Or perhaps you're just getting started with baking, and your technique and knowledge don't quite match your passion.
No matter the case, you've started exploring the option of a formal education. However, before you commit, you might like to know more about what baking school can teach you.
Here are some subjects that students in Escoffier's Baking and Pastry program can explore.
The Science of Baking
If you're interested in baking school, you might already know that baking is more of a science than cooking. Sure, there are still some artistic elements involved, but understanding the chemistry behind a dough rising or what makes a cookie chewy vs. crumbly can allow for successful experimentation.
Escoffier baking students can explore this type of science during the Fundamentals of Baking and Pastry course. By spending time creating various doughs, sauces, crusts, and custards, they can practice their ability to recognize how precise measurement and temperature control are crucial to the success of a dish.
"School can teach you each ingredient's function and the science and chemistry so that you understand what's happening. And when something does go wrong, you can recognize it and prevent that from happening in the future."*
Anne Lanute, Escoffier Executive Chef
Not only can baking school provide the opportunity to see what success looks like, but it also can offer a safe arena for failure. Imagine you overmix a batter and end up with a dense rather than fluffy cake. If you make this mistake while working at a bakery, it may cause panic or upset customers. However, in baking school, it's just another opportunity to learn!
If you have a hard time understanding the nitty-gritty details of the chemistry, biology, and physics of baking, you're not alone. However, rather than struggle and become frustrated, you can turn to your Chef Instructors for insight and further explanations.
"As a former student here I learned early on that baking is actually a true science. Learning the 'why' behind the ingredients being used, understanding why a certain technique is being used, allows you as a student to strengthen your skills. Understanding all the ins and outs of ingredients and techniques allows you to take your skills to the next level and even allows you more creative freedom to start creating your own recipes. So never stop asking 'Why?'"
Chef Jen Gross, Pastry Lead Chef Instructor
How to Handle Different Doughs
Whether you're interested in the sweet or savory side of things, baking school can introduce you to different types of doughs as well as the intricacies of each one.
Students in Escoffier's in-person and online baking school can discover how to mix, shape, proof, and bake various types of yeasted breads, including brioche and whole grain loaves. However, they don't just complete the steps, they can also explore the why behind each action.
Since bread can be mysterious and intimidating, students dive into details such as percent hydration levels, gluten formation, and the differences between cold proofing and warm proofing.
"I went into that class with such an incredible desire to learn how to make bread while also having a paralyzing fear that I was never going to figure bread out. Not only did I get over that fear from the first week on, but I am so passionate about bread now that I am planning to incorporate it into my business plan."*
Megan Acurso, Online Pastry Arts Graduate
Along with exploring the individual steps required to produce a tasty loaf of bread, students can also practice a crucial skill for bread bakers: time management. For example, students may explore how to execute time-sensitive steps like shaping and baking loaves while also making the most of their time when the dough is proofing.
While bread is a crucial part of baking, any baker knows it's just one type of dough. That's why Escoffier's Baking and Pastry Arts program also introduces students to puff pastry, laminated doughs, and cookie doughs.
The Essential Culinary Career Survey

The Essential Culinary Career Survey

What's your ideal culinary career: Fine dining? Your own restaurant? Pastry? Get our self-evaluation survey to find out!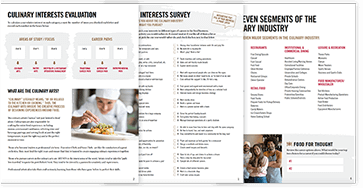 We've compiled a checklist of all of the essential questions into one handy guide: career options, culinary interest surveys, educational opportunities, and more.

YES, I want the survey!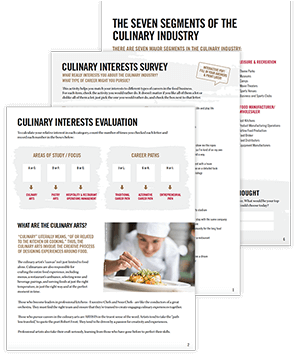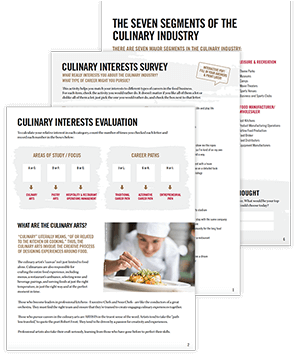 How to Design and Decorate a Cake
If you have dreams of using cake as canvas, you may enjoy Escoffier's Cake Design and Decorating course. In this class, students can practice layering and frosting a cake as well as complete decorating techniques such as fine line piping and fondant work.
Along with developing these decorating skills, students can also explore emerging cake trends from professionals such as Chef Instructor and wedding cake designer Chef Steve Konopelski. Not only can this help you become familiar with what modern customers are looking for, but it may also give you the confidence to experiment with new cake decorating styles.
"Other schools don't offer students the ability to try different flavor profiles, work on the presentation aspect, and bring your own personality into it. Because I had the opportunity to try anything in school, I was more confident in bringing different flavor profiles to my cakes and pastries in the shop."*
Lezlie Mills Gibbs, Austin Pastry Arts Graduate and Head Pastry Chef at La Pâtisserie by Luxe Sweets
How to Create Treats Like Ice Cream and Truffles
Not only can baking school introduce you to the methods used to bake a cake and a loaf of bread, but it can also expose you to the skills needed to produce non-baked (and equally delicious!) sweet treats such as decadent chocolate truffles, creamy ice creams, and rich semifreddos.
By practicing how to make these various treats, you may discover you're interested in becoming a chocolatier rather than a wedding cake decorator!
No matter where your pastry career takes you, being familiar with a wide variety of sweets may help you increase your options.
Explore Baking Styles From Around the World
Regardless of what kind of baking you're interested in, it can be beneficial to dive into a diversity of flavors, ingredients, and techniques. And that means experimenting with and tasting treats from around the world.
Even if you're not a globetrotter, baking school can help you travel to foreign lands by introducing you to a wide array of breads, desserts, and pastries. Once you recognize the various baked goods available, don't be surprised if you find yourself aiming to try treats such as the crispy, sweet, fried jalebi from India, spongy canelés from France, and custard-filled sonho from Brazil.
Menu Design
Just because you've perfected a classic macaron or developed a decadent signature cupcake, it doesn't mean customers will come flocking to try your fare. Instead, you'll have to utilize a menu to communicate your baked goods' appeal to the public.
Escoffier can show students how to view the menu as a communication tool as well as a way to assess financials. Baking school courses like Menu Design and Management can give you the chance to explore how to articulately describe your dishes and set prices that make financial sense.
Cost Control and Accounting
Even if a baker produces the city's flakiest croissants and fluffiest layer cakes, they can still fail if they don't know how to track and control their income and costs. That's why Escoffier introduces students to these concepts in the Food and Beverage Cost Control course and the Foodservice Math and Accounting class.
Through these courses, students can dive deep into the numbers involved in running a successful business. By understanding how to scale a recipe, read a profit and loss statement, and raise your prices to account for higher ingredient costs, you may be better prepared to run a successful business.
While these skills are especially valuable if you want to open your own bakery, they can also make you a more valuable team member, no matter where your career takes you.
"Knowing how to order and process food gives me an advantage in this industry. I think my future employers will see that, know this is a great program, and observe that I put extra effort into building my career."*
Breanna Ortiz, Pastry Arts Graduate
Advance Your Knowledge at Baking School
If you'd like to pursue a career in baking and pastry, a quality education is a great first step. With both online and in-person options, Escoffier's Baking and Pastry programs may fit into your schedule better than you imagined.
To learn more about which program can match your aspirations and interests, contact us today.
To learn more about baking and pastry, read these articles next:
*Information may not reflect every student's experience. Results and outcomes may be based on several factors, such as geographical region or previous experience.