According to the Organic Trade Association, the sale of organic food in the U.S. increased by 7.7 percent between 1990 and 2010. More home cooks and culinary arts students are realizing the benefits of eating organic. Sustainable farming has also become a buzzword in the culinary industry as more chefs seek local ingredients. However, you may not be aware of the difference between organic and sustainable practices. Here's a look at each to help you choose the right sources for your dishes:
Organic practices
To be certified as organic, farmers must follow certain guidelines when growing their crops. In fact, this growing method is concerned primarily with the production side of farming – the products used to grow crops. The U.S. Department of Agriculture awards the organic label to produce that is grown following these guidelines:
Soil management: Organic farms must rotate their crops to maintain the nutrient quality of the soil. Instead of using unauthorized synthetic fertilizers, farmers must use animal waste and certified products to add nutrition to soil. Cover crops and tilling practices are also used.
Pesticides: Organic crops are maintained without the use of chemical pesticides.
Organic seeds: Farmers plant organic seeds to produce organic crops.
No genetic engineering: Food cannot be altered using genetic engineering, sewage slug or ionizing radiation. That means that organic foods are inherently free of genetically modified organisms (GMOs).
The USDA also awards organic labels to dairy and livestock production as well as multi-ingredient products. Animals are raised without hormones. Unfortunately, organic farming doesn't ensure sustainability. The food can still be grown in winter, using energy-eating heating systems to keep crops alive. Furthermore, the cost of feeding livestock organic feed is huge. Many farmers can't afford it.
Sustainable practices
Sustainability is all about growing food without depleting natural resources. The nutrients taken from the soil by crops must be replaced using natural methods. The USDA defines sustainable farming as agriculture that:
Enhances the natural resources upon which society lives
Efficiently uses resources by implementing natural controls and biocycles?
Is economically viable
And enhances life for farmers and those eating the products
The grand hope of sustainable farming is that mankind will be able to continue living off the land without depleting natural resources and ruining the earth. To be sustainable, farmers must also be able to afford their business.
Bringing concepts together
Organic isn't necessarily sustainable, and vice versa. However, the food you cook for yourself and your diners can be both. Source your ingredients from farms that utilize both practices. You can also buy seasonal produce, which is grown in the optimal conditions for that plant. This ensures that energy wasn't wasted to get you a certain vegetable. Furthermore, you can purchase local ingredients, which are much more sustainable than products that have to be shipped.
Attend farmers markets near your Texas culinary arts school and ask the vendors how they produce their food. Support those farmers who provide organic, sustainable, local and seasonal foods. Build relationships with farmers who use practices of which you approve. When you take charge of your own kitchen, you can buy straight from the farmer, giving your diners the farm-to-table experience.
The Essential Culinary Career Survey

The Essential Culinary Career Survey

What's your ideal culinary career: Fine dining? Your own restaurant? Pastry? Get our self-evaluation survey to find out!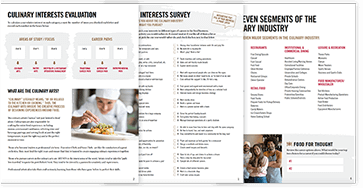 We've compiled a checklist of all of the essential questions into one handy guide: career options, culinary interest surveys, educational opportunities, and more.

YES, I want the survey!