If you've ever started cooking a dish only to realize you didn't have all the necessary ingredients or cookware, you know the frustration the situation can bring. At best, you've wasted a couple of minutes running around the kitchen. At worst, your dish ended up a total failure.
Fortunately, spending some time organizing your workspace and planning your cooking process can eliminate unnecessary kitchen fumbles. In the culinary world, this preparation practice is known as mise en place. This French term means "everything in its place." And that's exactly what you're aiming for.
While mise en place may sound simple, it's a vital part of all successful kitchens and a required skill of talented chefs.
How to Practice Mise en Place
So, what is mise en place's primary function? The goal of this culinary practice is to have everything ready to go when it comes time to cook, bake, or assemble your final dish. This involves completing a few crucial steps prior to getting started.
Check the Recipe
First, carefully read over a recipe's ingredients and take notes of necessary components and cookware. If you need to translate any measurements, do it now.
Collect Your Tools
Round up all the tools you'll need for both prepping ingredients and assembling the final dish. If you'll need a few different spoons, various types of knives, or any other basic utensils, make sure to grab multiples — you don't want to be washing dishes or running to grab a new spoon while you're in the middle of cooking.
Gather Ingredients
Head to the pantry and cooler to obtain all your ingredients. Using your recipe as a guide, measure out the proper quantities. Place each of these ingredients in separate bowls so that they're easy to grab when the time comes.
Complete Basic Prep Work
Prepping ingredients ahead of time will streamline the dish's final assembly. This type of prep work may involve tasks like trimming meat, washing fruits and vegetables, grinding spices, toasting nuts, and chopping, paring, or dicing your ingredients.
The History of Mise en Place
While mise en place is now ingrained in kitchens across the world, this wasn't always the case. Near the middle of the 19th century, Auguste Escoffier, a former soldier, entered the culinary world. As he advanced through kitchens, he used his experience with strict military systems and clear rules to develop the mise en place system.
At first, not everyone agreed with Escoffier's rigid organizational methods. However, once they saw how mise en place helped with kitchen workflow, these previous naysayers adopted the practice. Today, this technique is one of the foundations of any functioning kitchen.
The Essential Culinary Career Survey
The Essential Culinary Career Survey
What's your ideal culinary career: Fine dining? Your own restaurant? Pastry? Get our self-evaluation survey to find out!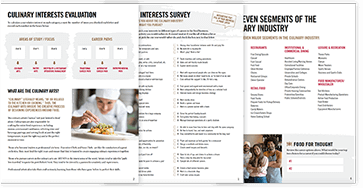 We've compiled a checklist of all of the essential questions into one handy guide: career options, culinary interest surveys, educational opportunities, and more.
YES, I want the survey!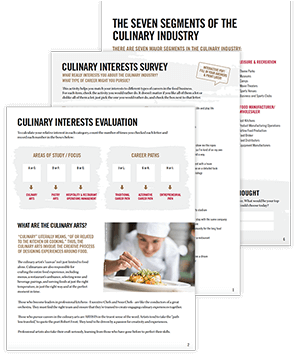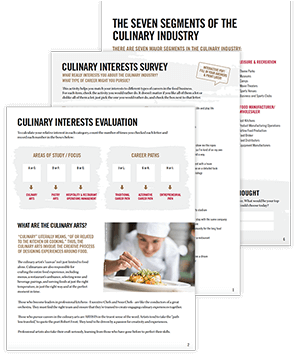 The Importance of Mise en Place in a Kitchen
Mise en place is a key to keeping any kitchen – home or professional – running smoothly. That holds true whether you're making fresh pasta, baking a wedding cake, or firing dishes during dinner service.
By making sure ingredients are prepped and workstations are organized before you begin assembling a dish, you'll save time. And not only will you waste fewer precious minutes completing prep work, but you'll also eliminate unnecessary steps or duplicate work in the kitchen.
This means you can focus on time-sensitive actions, like stirring a sauce so it doesn't burn or flipping a scallop as soon as it's perfectly seared. Plus, when people aren't running back and forth grabbing ingredients and tools, kitchens are calmer (and therefore safer) places to work.
Mise en place also allows for better service. When diners walk into a restaurant, they expect to promptly receive well-composed dishes. Forcing guests to wait an hour for dinner or churning out flawed dishes with missing ingredients are surefire ways to end up with unhappy diners and poor reviews. To keep delectable, perfectly-cooked dishes coming out of the kitchen on time, proper preparation and organization are vital.
Imagine you're making shrimp spring rolls. If you have to slice vegetables, steam shrimp, and then chop peanuts for every individual roll you make, it will take quite a while to make each roll. Add in searching for the herb garnish in the cooler and grabbing serving plates, and it might take you over an hour to make one roll! This kind of chaos also makes it easy to forget important steps, potentially leading to an imperfect spring roll.
Practicing mise en place ahead of time – by, for instance, having the correct amount of pre-chopped ingredients on hand for the quantity of rolls needed – allows you to remain at your station and make a stellar spring roll in a few minutes. By mastering mise en place, you'll help keep the kitchen a more composed and orderly place to work. Not only will this benefit you, but it will also make you a valuable member of the culinary team.
"Culinary school taught me to be in touch with the classic dishes from around the world. Most of all, it was a concentration on technique. Also, it provided the opportunity to work in a team environment with a bunch of other chefs to put together a meal."*
Jeffrey Lammer, Boulder Culinary Arts Graduate and Kitchen Manager at Root Down Restaurant
How Culinary School Teaches Mise en Place
Along with basics like knife skills and food safety, mise en place is one of the first techniques students learn at Auguste Escoffier School of Culinary Arts. Culinary Arts students learn about this method in the Culinary Foundations class and Baking & Pastry students explore it in Fundamentals of Baking and Pastry I.
Once students learn mise en place in the classroom, they practice in the kitchen and then get the chance to fine-tune their skills during hands-on industry externships.
While mise en place sounds like a pretty straightforward concept, it can take some time to properly learn and execute. That's why culinary students can benefit from the guidance and advice of professional chef instructors. These experts have years of real-world experience in the kitchen, which they use to help students grow their own skill sets. For example, instructors can explain how prepping a few more ingredients ahead of time could prevent an improperly cooked fish filet during dinner service. They might even provide personal anecdotes that help make the concept really stick.
Put Mise en Place to Work
If you dream of a career in culinary arts or pastry arts or have the goal of becoming a chef, you can greatly benefit from mastering culinary basics like mise en place. By spending time preparing your ingredients and organizing your workspace, you can find your hours in the kitchen more enjoyable, and you could stand out from the competition.
If you want to learn more about mise en place and other culinary fundamentals, check out the various programs that Escoffier offers. All of our degree and diploma programs can help you hone sought-after skills and provide you with valuable connections that may make it easier to pursue your dream culinary career.
"I chose Auguste Escoffier School of Culinary Arts because of the hands-on environment, the attention to detail, and the reputation of the school. My education far exceeded my expectations. The Chef Instructors really care about teaching and are open to working with any student that wants help."*
Aaron Lande, Boulder Culinary Arts graduate
To learn more about culinary arts, check out these articles:
*Information may not reflect every student's experience. Results and outcomes may be based on several factors, such as geographical region or previous experience.