It's safe to say that if food was the only draw to dining out, most of us would either cook at home or order takeout. While food quality is important, the restaurant experience is about so much more. It's about how the restaurant makes the diner feel while they're at the restaurant. That feeling is called atmosphere.
Before you can create the right atmosphere, you need a clear vision of the mood you're after. This will help you make long-term operational and decorative decisions. And it will also inform how you respond to the unexpected — like a global pandemic, for example.
But how is an atmosphere created? What are the components to a cohesive vibe?
Here are four of the most important factors to get right when establishing your restaurant's atmosphere.
Lighting
The lighting in your restaurant may be the very first thing that a diner notices when they walk through the door. Before they're even greeted by the host, they'll take in the soft warm glow; cheery brightness; or (hopefully not) the harsh glare of the lighting.
Generally, casual and family-friendly restaurants use brighter lighting. Upscale and romantic restaurants tend to turn the lights down low. Many also have two "pre-set" lighting levels — a brighter setting for daytime, and a dimmer setting for the evening. Correct light levels are so important that it's common to hide the controls under lock and key, so only the managers can change them.
Professional lighting designers can help restaurant owners to establish the number and placement of fixtures to get the right lighting effect. But if that's out of your budget, you can work with what you have. Swap out bright bulbs for dimmer ones, or add floor lamps or candles for a bit more light. You may also be able to install more sensitive dimmers to give you more control over light levels.
A solid foundation in culinary entrepreneurship will be invaluable when establishing your own restaurant. Knowing how to write a business plan will help you understand how much you'll be able to spend on important factors like lighting design, and how much you'll have to DIY.
Before finalizing your lighting design, ask a friend or relative to come by the restaurant to test it out. Low lighting may be romantic, but if your guests can't read the menu, they won't have a good time!
Furniture
Once the guest's eyes have adjusted to the light, they'll start looking around.
Seating and furniture layout are another major factor in a restaurant's atmosphere, even if the guests aren't as aware of it.
Rows of 2-tops will indicate that this is a place for date night. Long communal tables say this is a place to gather with friends. Seating for groups of four to six could mean the restaurant is family-friendly. But when combined with low lighting and high-end furnishings, it could actually be a perfect place for swanky business dinners.
The COVID-19 pandemic has forced many restaurants to rethink their seating layouts. Restaurants that used to rely on large tables to create a sense of community, for example, are removing some tables from the dining room and putting up clear plastic partitions to keep diners separated.
Beyond the layout, there are furniture design factors as well. Dark, heavy furniture is often associated with traditional upscale restaurants, like steak houses. Lighter furniture in both weight and color may show that a restaurant is more casual, like a family eatery or cafe.
The Essential Culinary Career Survey

The Essential Culinary Career Survey

What's your ideal culinary career: Fine dining? Your own restaurant? Pastry? Get our self-evaluation survey to find out!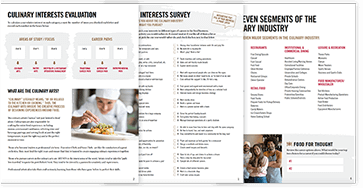 We've compiled a checklist of all of the essential questions into one handy guide: career options, culinary interest surveys, educational opportunities, and more.

YES, I want the survey!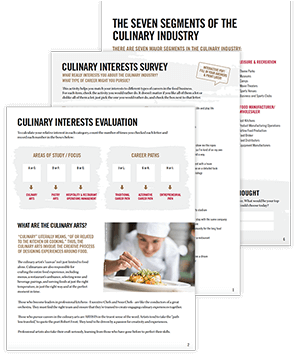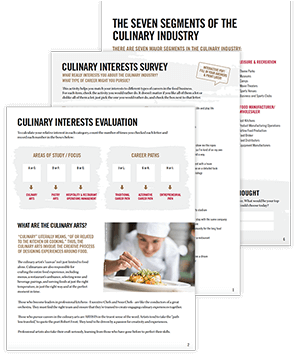 Decor
There are as many styles of restaurant decor as there are types of food. And it's the area where having a clear vision for your restaurant's atmosphere may be the most vital. It's easy to see something you like and pick it up for the restaurant. But you have to know where each piece fits into the overarching mood.
Hard Rock Café, for example, built on its musical theme by bedecking its walls in rock-and-roll memorabilia.
A restaurant that wants to create a hyper-local atmosphere may want to display art by area artists. A Provençal-style restaurant may want to bring in antiques and decorate with fresh lavender to evoke southern France. The possibilities are endless.
Signage is another important part of decor, from your street-facing sign to the basic safety signs within your restaurant. Messages about washing hands, wearing masks, and social distancing policies should all fit in with your decor. Invest in attractive, on-brand signs, instead of relying on flimsy printouts that get dirty or torn.
If you don't have the "designer's eye," reach out to your network to see if you know anyone who can help. Auguste Escoffier School of Culinary Arts graduates have access to the Escoffier Alumni Association, making it easy to keep in touch with former classmates and ask their advice.
"I feel my experience at [Escoffier] has truly gotten me on the right path. I feel supported in a way no other school has ever offered. It's reassuring to know I have a sounding board for my career decisions."
Rama Kho, Chef/Owner, Kitchen Freedom; Boulder Culinary Arts Graduate
Music and Sound
Since restaurants tend to be large, open spaces with lots of hard surfaces, they can have noise and echoing problems. This can make a dining room of 150 sound like a stadium of 5,000!
Minimize echos with rugs, upholstered furniture, curtains, and soundproofing panels on the ceilings and walls. It may require an up-front investment, but noise levels are one of the most frequent complaints among restaurant guests.
Once you've got the noise level under control, what kind of music will you bring to your restaurant?
That Provençal restaurant from earlier just needs a little French guitar jazz to complete their mood. A western-style restaurant may want to play country music. But make sure to get specific! Country is a very wide genre that spans everything from Hank Williams to Taylor Swift. So make sure you know not only what genre, but what era of music is right for your restaurant.
Finally, consider this — fast music may encourage people to eat more quickly. So if speed is an important part of your service plan, keep those beats per minute up. On the other hand, if you only need to turn each table twice each night, play slower music to encourage your guests to savor and relax.
Make sure you also have proper licensing in place to play music in your restaurant, or you could be subject to big fines by the music publishing companies!
Atmosphere is the product of dozens of little touches. This is why restaurant owners need to begin with the end in mind, to make sure each element is working together to create the right vibe. If design and decor aren't your strong suit, there are restaurant design specialists that can help you.
And if you still have a lot to learn about culinary entrepreneurship, a degree or diploma in Culinary Arts, Pastry Arts, or Food & Beverage Operations from Escoffier may be a great place to start. Get more information on all of our programs today!
If you found this article helpful, try these next:
This article was originally published on April 18, 2016 and has since been updated.