Taking a break from booze, but still want to enjoy a fun, flavorful drink? Consider making a "mocktail." Mocktails are simply cocktails without the liquor – they use a variety of tasty ingredients to create a flavor fusion, providing a sophisticated beverage sans alcohol.
Whether you imbibe or not, mocktails can be a treat for any social gathering or night in. And as trends in non-alcoholic beverage consumption continue to change, putting mocktails on the menu is a smart move for any bar or restaurant owner.
What Is a Mocktail Made Of?
Whether it's due to a problematic relationship with alcohol, a focus on low-calorie or low-sugar options, or other personal or health-related reasons, choosing not to drink alcohol – occasionally or at all – doesn't mean you can't enjoy a tasty mixed drink. And well-made mocktails can help create the classy, contemporary atmosphere that many restaurant owners are after.
Mocktails use a wide range of ingredients that cover a spectrum of flavors, with many even mimicking the taste of bourbon, gin, vermouth, bitters, and other staples in the bartender's kit. Crafting a mocktail isn't easy – in fact, it can be nearly as complicated as making an excellently balanced alcoholic drink. Common ingredients include juices, sodas, infused waters and many other non-alcoholic ingredients, mixed in just the right ratios.
World-Famous Mocktails
Some of the most well-known and longest-lasting mocktails are named for celebrities from the early and middle 20th century. While you might see these options on a menu, you may not know exactly what's in each.
Shirley Temple
A ginger ale, lemon-lime soda, lemonade or other non-alcoholic base mixed with grenadine syrup and frequently garnished with a maraschino cherry. Named after the famous child actress.
Roy Rogers
A cola base, similarly mixed with grenadine syrup and garnished with a maraschino cherry. Named after the famous Western film actor and entertainer.
Arnold Palmer
A mix of iced tea and lemonade. The exact ratio and type of tea, whether sweetened or unsweetened, is open to interpretation and local tastes. Unlike the other two drinks, which simply bear the name of a popular celebrity, champion golfer Arnold Palmer was known to make this drink at home and order it at country clubs after finishing a round.
These three drinks can be seen as the forebearers of the modern mocktail, and many current day drinks are variations of these. However, most modern mocktails tend to be slightly less sweet than these original versions.
Changing Trends in the NA Beverage Industry
Dedicating blocks of time to sobriety is becoming increasingly popular. In 2021, as many as 15% of Americans planned to participate in "Dry January."
The "sober curious" movement has gained traction in the past several years, with Millennials in particular reexamining their relationship with alcohol and seeking to drink more mindfully, if at all.
According to Nielsen data, non-alcoholic beverage sales increased 33% to $331 million over 2021.
Modern Mocktails
Who says mixology requires alcohol? These innovative recipes can be prepared for a refreshing beverage on a warm day or as a specialty drink served with a meal.
Chili-Lime-Pineapple Soda
This creative concoction, shared with Bon Appetit and originally developed by the Seattle Seltzer Co., marries heat, sweet, and citrus sour. It's relatively simple to make the infused juice and blend it with club soda – an important consideration for the many restaurants that don't have a full soda fountain and all its accouterments on hand.
Mango Mule
Some mocktails draw close inspiration from existing alcoholic versions. The mango mule from Food & Wine swaps the vodka of the Moscow mule for honey syrup and mango puree, nectar, or juice, maintaining the sweetness without the alcohol. It's an excellent substitute for the established drink and stands well on its own, too.

The Essential Culinary Career Guide
The Essential Culinary Career Guide
What's your ideal culinary career: Fine dining? Your own restaurant? Pastry? Get our self-evaluation guide to find out!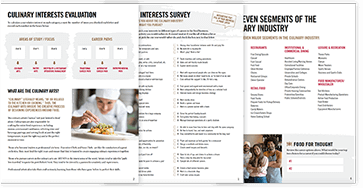 We've compiled a checklist of all of the essential questions into one handy guide: career options, culinary interest surveys, educational opportunities, and more.
YES, I want the guide!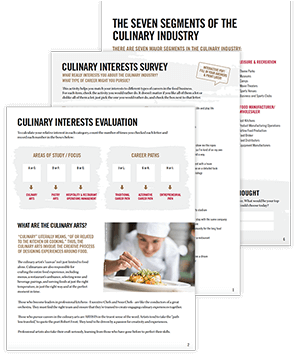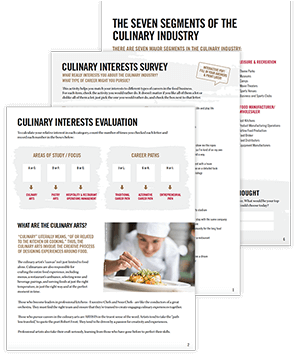 Lemon-Lavender Mocktail
The lemon-lavender mocktail draws on lavender-infused simple syrup, fresh lemon juice, and a touch of grenadine to create a nuanced flavor. From essential oils to lattes, lavender is certainly trending, and the Merrythought has a quick recipe for both the drink and the syrup.
Virgin Mary
The Bloody Mary is perhaps the most beloved among brunch cocktails. This one is made without the vodka, but still packs a punch of sweet and savory flavors that offer a robust experience for everyone who drinks it. The Spruce suggests you simply use an existing Bloody Mary recipe and just leave out the booze.
Pina Colada Mocktail
If you're a sucker for the tropical combination of pineapple and coconut but want to skip the rum, try this virgin version from Oh So Delicioso. This creamy chilled drink is easy to throw together – the recipe requires just two steps – and makes a refreshing option from beach to backyard.
Engaging Food and Beverage Experiences
The drinks that accompany a dish influence the overall flavor of a meal and the dining experience itself. Drinks are an especially important topic to consider when creating a restaurant menu or simply serving food to friends at a dinner party. While beer, wine and cocktails can all complement a meal, non-alcoholic drinks are sometimes overlooked.
The Menu Design and Management course at Escoffier, for example, can help you discover how to enhance your food with perfectly paired libations – alcoholic or non. A culinary education is always a solid start for anyone looking to get crafty in a professional kitchen or behind the bar.
Want more recipes and insights on the world of drinks? Try these articles:
This article was originally published on April 20, 2013, and has since been updated.
*Information may not reflect every student's experience. Results and outcomes may be based on several factors, such as geographical region or previous experience.