Like many of our students, Shari Spooner's love of the culinary arts began in her childhood kitchen. With much of her years spent making Latin-inspired dishes with her Venezuelan mother or out on the grill with her father, it was a fast love that grew into a deep passion. Now working for the Cattleman's Beef Association in the Denver area, she has finally combined her love of cooking with her career in marketing and communications. Having always wanted to attend culinary school and realizing an option for major growth for her and her career, Shari started shopping around for programs that best fit her and her busy life. When she realized an on-campus course at our Boulder campus wouldn't fit into that, she was delighted to discover the online culinary arts certificate program. Now approaching the externship, last part of the program, Shari couldn't be happier about her online culinary arts education experience.
We caught up with Shari and talked about her favorite part of the programs, why she wishes she would have discovered online education sooner and what she looks forward to achieving in her career down the line.
AESCA: Why did you want to receive a culinary education?
SS: When I was growing up one of my fondest memories was cooking alongside my mom and grandmother and learning how to grill alongside my dad. I grew up in a household that when you walked in you were immediately greeted, given a hug and asked if you were hungry. My house always had a variety of delicious smells and we were also the house that all my friends wanted to come over for dinner at. I grew a passion for food and culture throughout the years. I am now lucky to be working in the food industry, where I represent farmers and ranchers and am able to not only share the good news about their product but also help them think innovatively about recipe development and food trends. I was excited to go to culinary school to learn more about food cultures, grow in my career but also cross it off my bucket list.
AESCA: Why did you choose an online education?
SS: I have a full time career that I love and recently married. I have a previous degree in communications and women's studies, and I was hoping to not take on another full load of student loans. I wanted to achieve a goal but also in the end be realistic about my current position in life.
AESCA: You currently work in marketing and advertising for the National Cattleman's Beef Association. How are you hoping the certificate program helps in your position?
SS: Food trends and nutrition information are key to educating consumers about beef. Not only do I work in marketing and social media, but I am also part of the recipe development and testing team. We triple test every recipe that you see on the "Beef. It's What's For Dinner" website so that no matter where or how you choose to execute a recipe, we have a cooking method that works for both consumers and chefs. I wanted to be able to speak about food flavors and trends as well as the execution of recipes with the knowledge to back it up.
AESCA: You are approaching the externship part of the program. Where are you doing your externship and why did you choose that establishment?
SS: I will be doing my externship at work at the National Cattlemen's Beef Association's culinary center. I chose to stay in office because I will be surrounded by chefs, scientists, registered dietitians and doctors that can share the knowledge they have attained through a variety of different experiences. I will also have access to all types of equipment—equipment that an at home cook would use as well as those in a restaurant or food service setting.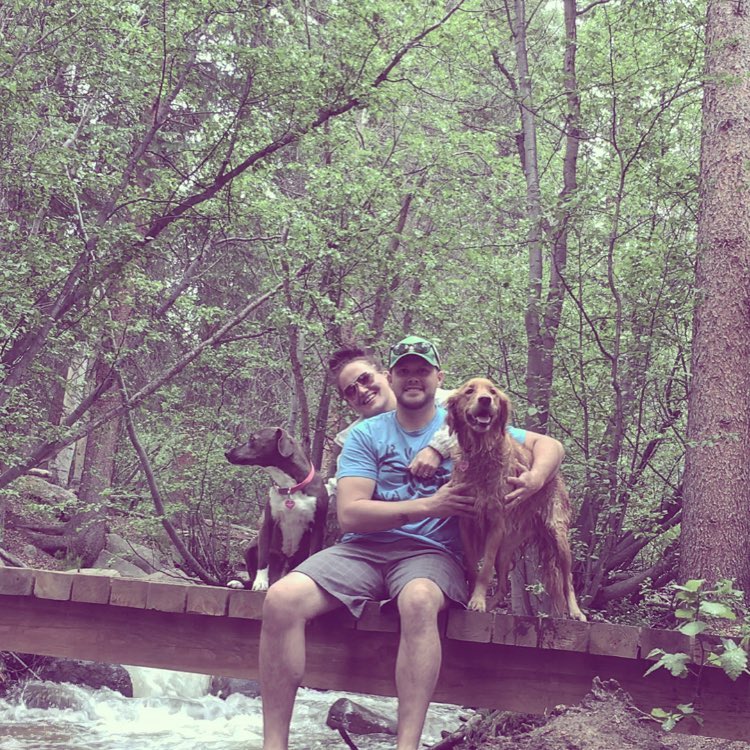 Boulder Online student Shari Spooner with her husband and their two dogs.
AESCA: What do you hope to gain from your time in a professional kitchen?
SS: I hope to be put out of my comfort zone. I have cooked for a majority of my life with flavors that have a Latin influence, as my mother is from Venezuela. I want to learn the nuts and bolts of many techniques as well learn how to make do with what you have available. I also think that it is extremely important to think about nutrition in the kitchen and having that gut check with fellow employees is exciting to take on.
AESCA: As someone with a full-time career, what advice do you have for people worried they won't be able to balance school, work, family, etc.?
SS: It's a cliché but—there is no time like the present. I work more than 40 hours a week, I travel and I also balance family life with my husband and two dogs. Escoffier Online has made it possible for me to join a class live or watch an archived session at 10:30 at night when I have had a long day. I can wake up early to get my assignments done, and I know that an instructor or fellow student is there to help me navigate the waters. If online classes were like this when I was in college for my bachelor's degree , I guarantee I would have gravitated more towards those types of courses. This is not your traditional online course—it is challenging, flexible and inspiring.
AESCA: Many people wonder about the learning model and how online culinary education works. In your own words, how would you explain it?
SS: I was also skeptical in the beginning. I would have been able to attend the Boulder campus but the drive time and the time commitment just was not feasible.The biggest question I had was, "Well, who is going to try my food?" The answer is—I am, my family is, colleagues, etc. They are all there to lend a helping hand as well as provide much needed feedback. The setup of these courses help you to learn a whole set of flavor profiles that, as an at home cook, I didn't know existed. Learning about the flavor wheel helped to keep me in check as far as flavors go.
Typically I go "salt happy" and through the courses I was able to keep myself in check and also educate myself on the flavors that herbs, spices and different cooking techniques can highlight in all types of food.
AESCA: What is your favorite part of the program?
SS: Choosing one favorite part is difficult. I like the flexibility, but I also love the community you are able to build with like-minded students and professionals. We all come from different backgrounds and have different goals. We are in different states and even parts of the world yet we can all agree on one thing—food is our passion
AESCA: Do you have any tips for those just beginning the program?
SS: Don't let the initial work load overwhelm you. Believe in yourself and trust your gut and remember that everyone has different preferences. Not everyone will love what you love. I guarantee you will burn things, you may cut yourself and you may want to give up, but I can honestly say the minute you make that perfect dish, the most beautiful soufflé or exquisite Coq Au Vin, all the blood, sweat and tears is worth it!
AESCA: Where do you hope to see your career in 5 years?
SS: Unlike maybe the majority of students in the courses, my goal is not to be a chef or own a restaurant but to continue to work on the supply chain side of the food industry. I am passionate about food and recipe development, but I am also passionate about the creative thinking behind building a great brand. In five years I see myself working for or owning a progressive food company, brand or agency that cares about where their food comes from, who produces it as well how they effectively communicate with consumers.