There are plenty of food lovers who want to work in the culinary industry, but not necessarily on the front lines of a restaurant. If you don't see yourself as a full-time chef for your whole career, pivoting to a chef consultant role could be an exciting alternative!
This flexible, interesting career can give chefs a chance to stay involved in food and cooking, while also maintaining a flexible schedule and working on a variety of projects.
If this is your first time hearing of a chef consultant, you inevitably have questions, like…
What Is a Chef Consultant?
Instead of working in a single restaurant or culinary establishment, chef consultants work short-term with food service businesses and food producers to improve products or operations.
Each job could be different, but consultant services could include:
Why bring in a consultant for these services? Freed from the day-to-day operations of a restaurant or food production facility, consultants can study trends, look for efficiencies, and read case studies to see what works and what doesn't. They can bring a fresh set of eyes and a new perspective into a kitchen to help the team make improvements.
In product development, chef consultants can help companies to come up with new product ideas, develop those products into their final form, and may even help with some marketing.
Auguste Escoffier School of Culinary Arts graduate Chris McAdams is a Chef Consultant and Research Chef for Culinary Culture, where he's worked on a wide variety of projects. He calls himself a "gun for hire" within the culinary industry.
"I've done everything from helping small mom-and-pop cafes get off the ground, kitchen designs, menu design, cross utilization training, culinary training, and we've gone all the way up to product commercialization. For example, several products that are currently on the shelves in grocery stores and markets are ones that I've helped consult to get off the ground."
Chris Mcadams, Escoffier Boulder Graduate & Chef Consultant/Research Chef*
Benefits of a Career as a Chef Consultant
A chef consultant is a problem solver, a think-outside-the-box type person. Consultants get the chance to be creative and work on unique, complex challenges on a daily basis.
A consultant's job is rarely boring! Since they're usually working on a specific project with a short-term client, each day can be different. This role also requires keeping on top of new culinary and product developments.
Another bonus — hours are often more consistent than the hours in a commercial kitchen. Consultants tend to work "office hours," although there may be some late nights if you're trying to meet a client deadline.
If you work as an independent consultant, you get to choose your projects and set your own hours. This also means you're responsible for bringing in new business, which may lead to an inconsistent income while you get established.
An additional option is to work as an employee for a consultant group. This comes with office support and a steady paycheck, but you may have less freedom in choosing your own clients and projects.
How to Become a Chef Consultant
Educate Yourself in Culinary Arts and Restaurant Operations
Consultants should have a firm grasp of the industry if they're going to help experienced culinarians to create new products or solve procedural issues. An education in proper sanitation, classical cooking techniques, and restaurant operations can help start the future consultant on the right path.
Consultants may also need to have expertise in managing food costs, improving inventory procedures, and money-saving techniques. In the culinary industry where margins are slim, it's highly likely that some of your clients will be looking for help with cutting costs. To get a good start, look for a culinary school with a business-focused curriculum that includes coursework in entrepreneurship, cost analysis, portion sizing, and accounting.
The Essential Culinary Career Guide
The Essential Culinary Career Guide
What's your ideal culinary career: Fine dining? Your own restaurant? Pastry? Get our self-evaluation guide to find out!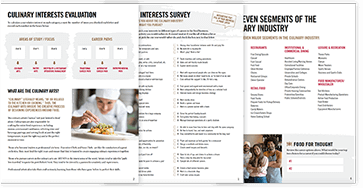 We've compiled a checklist of all of the essential questions into one handy guide: career options, culinary interest surveys, educational opportunities, and more.
YES, I want the guide!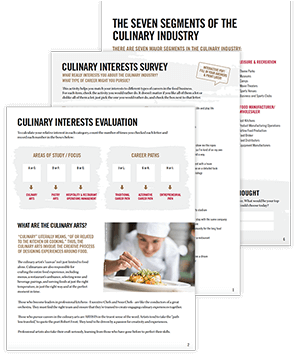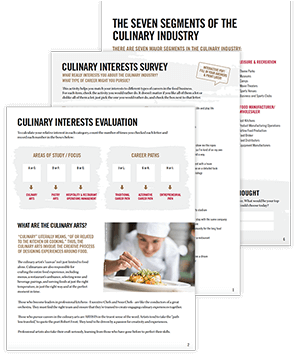 A degree or diploma can also make the right impression on potential clients. If they're going to spend thousands of dollars on your services, it may give them peace of mind to know that you have the credentials to support your offerings.
"I talk with many prospective students who are wondering if it's worth going to culinary school. And in my position and in my career, it's absolutely necessary. You have to have a culinary school background in order to enter the R&D field."
Chris Mcadams, Escoffier Boulder Graduate & Chef Consultant/Research Chef*
Gain Practical Experience Working in a Restaurant
A chef consultant will ideally have experience as… well, a chef. A culinary education can provide some of that foundational skillset, but you may also need the hands-on experience to become a valued consultant. The more comprehensive your industry knowledge, the more helpful you'll be.
A great consultant understands not just the back of house, but the whole restaurant or culinary ecosystem. Hone your skills in both the kitchen and the front of house, and learn all you can about the business side of the industry. It may take a few years and several jobs before you feel confident in your ability to be a valued consultant!
As you're getting started, you may want to look for a job or externship assisting a current chef consultant. This can let you "test out" the field to see if it's for you before you commit to this career. All Escoffier graduates are required to complete a hands-on industry externship as part of their programs, and this would be the perfect time to learn more about the life of a consultant!
Continue Developing Your Business and Leadership Skills
As a solo chef consultant, you should continue to develop your skills as you build your client roster. Being a consultant takes certain skills that don't necessarily relate to culinary expertise. For instance, communication skills are among the most important for any leader or entrepreneur. Consulting, by nature, involves working directly with clients. The ability to clearly and consistently communicate is a must – while ensuring that busy restaurant managers aren't overwhelmed with the communication either.
If a client hires a chef consultant to help overhaul their staff training program or find efficiencies in the kitchen workflow, they're probably going to anticipate that the consultant will be as organized, if not more, than they already are. Disorder and disarray can convey lack of organization and potentially diminish clients' trust, so organization is also vital.
And being an independent consultant means you'll not only have to manage your client load but also deal with all the elements of running your own business – think marketing, bookkeeping, scheduling, and invoicing, to name a few. Depending on the size of your operation, you may eventually opt to hire someone else to help you with this.
Build Your Personal and Professional Network to Gain Clients and Make Connections
Part of working as a consultant is finding clients. And your network of chefs and culinary professionals could be the first place to look.
In culinary school, students are surrounded by like-minded food lovers, from their fellow students to their Chef Instructors. This can form the foundation of your culinary network, which could eventually grow to include coworkers, employers, and future culinary students.
Escoffier graduates can also have access to the Auguste Escoffier Alumni Association where they can keep in touch with classmates and other graduates. This network could be a valuable resource for finding your first resume-building clients as a chef consultant.
Get Started on Your Journey to Chef Consultant Extraordinaire!
A chef consultant is an exciting career for future culinarians to consider. With a wide variety of projects and a consistent schedule, you may prefer this career path to one that requires long nights behind the line. But a valuable consultant is no beginner. They must have a strong culinary foundation, plenty of industry experience, and a network to call on both for clients and for help when they run into a new challenge.
Depending on what type of chef consultant you'd like to be, one of our programs in Culinary Arts, Pastry Arts, Plant-Based Culinary Arts, Hospitality & Restaurant Operations Management, or Holistic Nutrition and Wellness could be the first step!
To learn more about culinary and pastry careers, try these articles next:
This article was originally published on March 9, 2021, and has since been updated.
*Information may not reflect every student's experience. Results and outcomes may be based on several factors, such as geographical region or previous experience.