The coronavirus (COVID-19) pandemic still has the world confined at home. Restaurants are closed. And that leaves all of us in the industry wondering: what does the future hold? What are the potential permanent changes we can expect from consumers, and how will restaurants need to adapt?
First, some good news: Thomai Serdari, Professor of Luxury Marketing at New York University, contends that while "social distancing and deprivation is really intense — perhaps the restaurants and bars will be the first to recover."
In other words, restaurant jobs will return. But how will those jobs be different? People are consuming less. Will that trend continue? Will they be more selective with their spending decisions once restaurants reopen their doors? Let's have a look at some recent studies, and what they suggest the long-term impacts on consumer behavior will be, particularly in the foodservice industry.
Here are some of the new consumer trends that we are likely to see in the post-pandemic world:
E-Commerce and the Rise of Ghost Kitchens
While on-premise spending won't cease to exist, there is a growing trend, spurred by the younger generation, that favors convenience when it comes to shopping.
A 2018 report from Nielsen found that 46% of consumers saw shopping as a chore and that more people are buying fresh groceries online – a trend which is expected to continue. Although overall online shopping has decreased due to the economic slowdown, a bigger proportion of consumers have shifted their spending habits online, including "online dining." 1
One online dining trend we are likely to see more of is the rise of ghost kitchens. Ghost kitchens are a delivery-only concept where food is solely sold online or through a mobile app, instead of traditional brick-and-mortar establishments. Food is prepared in kitchen spaces rented from companies like Kitchen United and others, reducing much of the direct overhead costs faced by traditional restaurants.
Interestingly, due to the effects of stay-at-home orders, virtually every restaurant at the moment has had to become a quasi-ghost kitchen. This accelerates the already-growing trend of online food delivery, with digital ordering growing by over 300% since 2014.
As consumers, especially younger ones, shift towards more digital ordering, we might expect to see an increased tendency to order from ghost kitchen restaurants. As a result, traditional foodservice businesses will likely need to adjust their business model to include online offerings and embrace delivery-centric operations.
Emphasis on Quality Dining Experience and Visible, Obvious Sanitation
Even though online delivery is growing, when people do decide to spend money dining on-premise, the quality of the experience is likely to be a significant factor.
According to recent studies done by AMC Global, a market research firm, while 33% of consumers are spending more money on takeout now due to the quarantine, they expect to go back to more traditional modes of dining once the situation normalizes. That's great news for those of us whose passion is to create amazing dining experiences by pursuing a career in the culinary or pastry arts.
Although food quality will continue to be the most important variable for people in choosing a restaurant, the quality of a restaurant's atmosphere and service will be increasingly vital to attract consumers to dine-in in lieu of ordering online.
One trend that is likely to accelerate is the current proclivity towards hygiene and clean environments. In a recent consumer survey from Shekel, a weighing technology manufacturer, 87% of consumers in the U.S prefer shopping in places with self-checkout or touchless options. Restaurants might consider adding automatic doors, or having a host or hostess open doors for patrons entering the restaurant or restrooms. Constant, visible cleaning will also be likely a must…even when counters and other surfaces are already clean.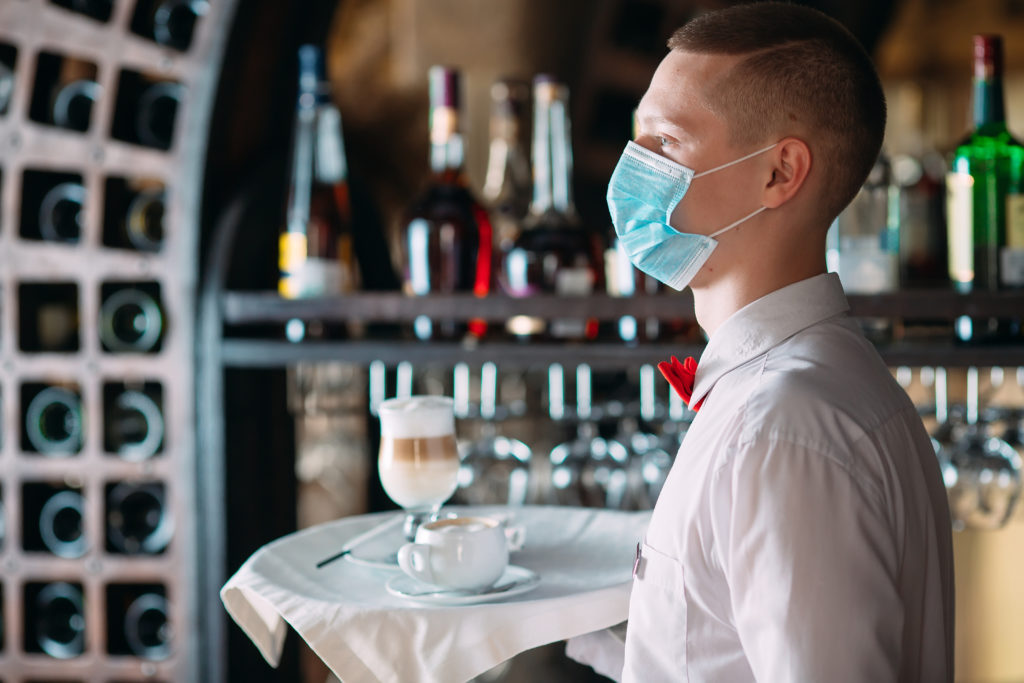 Bottom line: it is likely that consumers will put a greater overall weight towards choosing establishments that emphasize cleanliness in their marketing, in addition to those that offer a higher quality of service.
Preference for Locally-Sourced Foods
With international trade severely disrupted and traditional food processing facilities and markets closing, local food companies have had to meet the overwhelming demand and innovate how they get products to their customers.
For suppliers, sourcing locally makes perfect business sense at this time because reliance on local companies can reduce the pressure of international supply chain shocks.
There is also a psychological element at play which is shaping consumer outlook on where they want their foods to come from. Amy McCann, co-founder of Local Food Marketplace, a farm software company, explains that people feel that foods that have been produced at their local farm are less prone to viral spread, whereas "if you're buying something from more traditional channels … the same product has interchanged hands many times before you go and pick up that head of lettuce or the bunch of carrots."
In fact, it is reasonable to assume that consumers will continue to shift their tastes to more locally-grown produce to reduce the perceived health risk.
Do-It-Yourself Cuisine and E-Learning
One of the positive outcomes from being at home has been that many people are using the time to develop new skills online.
Acquiring new skills gives people a sense of empowerment in a time of uncertainty. Moreover, throughout human history, activities such as cooking and baking have long been a way of bringing families together.
The AMC Global Survey noted that a third of customers are baking more than they usually do, and Nielsen's report found that sales of yeast were up by 650% by the end of March 2020 as compared to the previous year.
These positive trends are likely to continue as 32% of people polled in the same survey plan to continue more home-cooking after the virus subsides.
This opens up even more opportunities for those pursuing a degree or diploma in the culinary or pastry arts. Teaching others how to cook, creating a food blog, working as a personal chef or a recipe developer are all potential professional career paths.
What Foodservice Businesses Can Do to Adapt
All of this research shows us that this extreme social distancing has created pent-up demand for social interaction. And once the economy opens up, customers will likely prioritize those businesses that have adapted the quickest to the new trends. The restaurants that win will likely be those that put a greater emphasis on customer outreach during the quarantine, visible cleanliness, boosting their online offerings, and upgrading their in-house dining experiences.
The Essential Culinary School Planner & Checklist
The Essential Culinary School Planner & Checklist
Thinking about culinary school? Get the workbook!
We've compiled a checklist of all of the essential questions into one handy workbook: Career options, academic plans, financing your education, and more.
YES, I want the workbook!
This could be the time to think about your business' suppliers. Sourcing from local companies could reduce supply chain shock and also be used to market health-consciousness to consumers.
A poll conducted by e-commerce marketing platform Yotpo suggests that if certain products are unavailable, over half of consumers would wait until their favorite brands are restocked, or they would seek out other stores to find them. Just over 40% of respondents said that they would switch to a less-familiar brand. This suggests the importance of building a solid brand as people fall back upon businesses they trust during times of hardship.
The same poll also reveals that consumers are beginning to respond more to digital marketing messages, including email and social media ads. Foodservice businesses can take advantage by taking the time now to directly reach out to customers via digital mediums, strengthen relationships, and augment their brand presence. This has the added benefit of keeping them on top of any new changes to consumer behavior.
If you are considering entering the culinary profession at this time, there's obviously a lot of uncertainty. Escoffier's mission is to stay on top of these changing consumer trends to help our students and graduates prepare for whatever the future holds.
If you are looking to expand your education, consider our 100% online diploma or degree in Culinary Arts or diploma in Pastry Arts, or reach out to an advisor to learn more.
Enjoyed this article? Here are a few more to consider:
1Alexander Babbage, Impact of Coronavirus on US Customers, April 2, 2020